You can write a complaint letter to an airline for an overbooked flight and ask them for compensation. This type of complaint letter should include all the relevant information about the flight like the flight timings, flight number, destination as well as the departure date of the flight.
The important contents which should not be missing to include in the letter are:
The name of the passenger
The name of the airline
All the relevant information about the flight such as flight date, number, destination and other details about the overbooked flight
Ask about compensation as it is your right because you have gone through a bad experience
You can also use attorney-prepared forms to protect your rights
Also, add your booking reference and your contact details which should include your address and your telephone number
Mention the days within which you want your problem to be solved
Once you have written the complaint letter sign the letter and also write your name
Don't forget to make a copy of this letter
Preview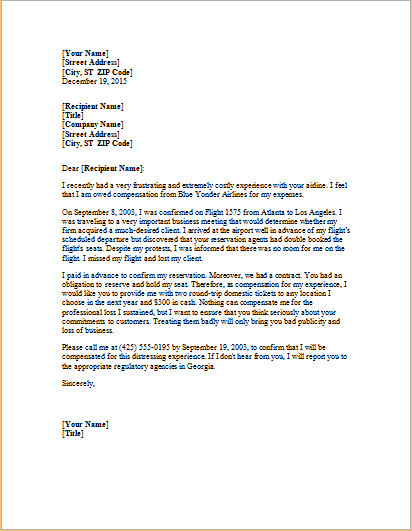 File: Word (.docx) 2007+ and iPad Size 26 Kb |
Download
---
Sample Letters
1-
Resie Ehsnak
324 H-10 sector, Brooklyn
New York, USA
20th December 20XX
The Senior Manager
Skied Airlines, New York, USA
Re. The complaint about an overbooked flight
Dear Sir,
It is to inform you that I reserved seat number A34 in your airline on 13th December 20XX to fly from New York to California on 18th December 20XX through Flight no 3320. I received all of my booking details through text messages and emails. I was informed to arrive before two hours of flight time due to the rush of the holiday season.
When I reached the airport on the exact reporting time, I was told that my seat was already reserved. Through inquiring further I came to know that my seat was overbooked. I tried a lot to get another seat on the flight, but I was not heard. I also reported this event to the complaint section on the airport but it did not do any good.
As a result of that mistaken reservation by your team, I bore huge loss as I was to fly to California for an important meeting related to my business, and not attending the meeting resulted in a tremendous loss on my end. It not only did cost me monetarily due to business but also affected the reputation of my company as not attending such an important conference-cum-meeting was considered high unprofessional
Now, I demand you to compensate for the loss due to the trouble created by the mismanagement of your airline company. I claim you two high-class seats being reserved in your airline from Brooklyn to London along with a payment of $500 as compensation. I am waiting for your response which should not exceed the limit of ten days otherwise I would be compelled to take legal action against your airline and the trouble fell on me due to this.
Thank you
Sincerely
(Signature)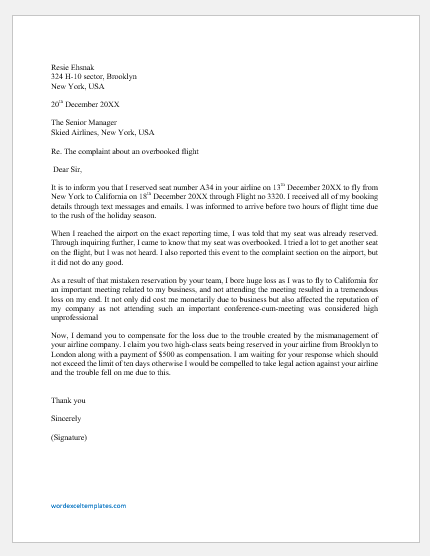 File: Word (.docx) 2007+ and iPad Size 21 Kb |
Download
---
2-
Narmeen Jaffery
34-C MM Alam Road
Lahore Pakistan
20th April 20XX
The Senior Manager
PST International Airlines
Islamabad, Pakistan
Re. Complaint letter for Double-booking of the flight
Dear [Recipient],
I am penning this complaint letter to you to inform you and get assistance from you on an abrasive experience with your airline.
On April 10th, 20XX, I reserved two seats for in the name of Mr. and Mrs. Jeffery to fly from Islamabad to Toronto, Canada. I was scheduled to fly on 18th April 20XX from Islamabad International Airport at 23:00 on flight number 4543-KN. Shortly after arriving at the airport, I was told that I cannot fly by this plane as my seat was overbooked due to some misunderstanding. Despite making all the payments and confirmation emails from your company, I could not travel.
I and my husband were traveling to Canada to attend a funeral and missing the flight ended up missing the rituals. Due to such a great mental stiffness caused by the mismanaged done by your team and the frustrating experience, I feel I am entitled to compensation. I would claim a refund of the payment made for the scheduled flight along with an amount of $600 as a penalty.
I am looking forward to your immediate response within one week to resolve the matter compensating for the problem caused by your airline. In other cases, I shall report your airline to the authorities and will maintain my plea to take strict legal actions against your company which may cost you more.
Thank you
Sincerely
(Signature)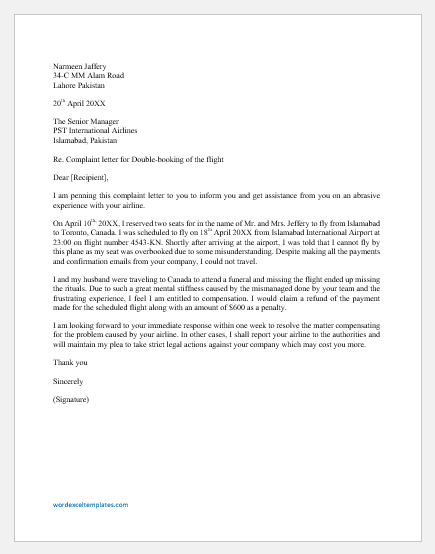 File: Word (.docx) 2007+ and iPad Size 21 Kb |
Download
---