If your luggage is damaged during traveling then you can write a complaint letter about damaged luggage. While writing the letter you should not forget to include the following details.
Describe your problem of damaged luggage and the solution to your problem which you want
Include the dates when your luggage was damaged and when you came to know about the problem of damaged luggage
Also, mention the action(s) which you have already taken to solve the problem and what you want further
Mention your reasonable time period within which you need your problem to be resolved
Don't forget to attach any documents related to the luggage. It may include an invoice or receipt
Start writing your complaint letter with a greeting such as Mr., Mrs., Madam, etc. you should explain your reason and can also express your dissatisfaction.
Your tone should not be aggressive but must be polite because an aggressive tone may annoy the reader. Don't use an abusive language no matter how aggressive you are.
Once you have finished writing your letter you can close it by writing 'yours sincerely'. Do your signature and also write your name beneath your signature. The letter can be customized to use as a complaint letter for lost luggage.
Preview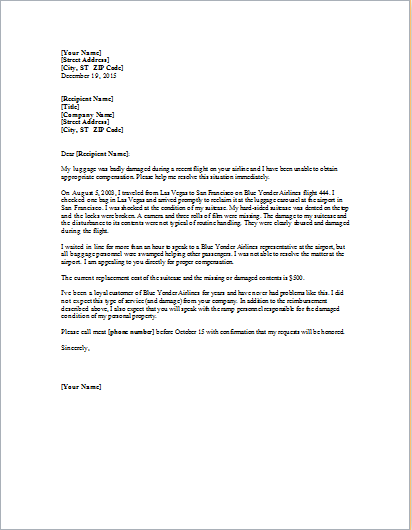 File: Word (.docx) 2007+ and iPad Size 26 Kb |
Download
File: OpenOffice (.odt) Writer [Writer] Size 18 Kb |
Download
---
Sample Letters
1- Detailed Letter
Noah Derrick James
2628 JC Housing, Brooklyn
New York, USA
20th April 20XX
The Administrator
American Airlines Customer Care
NU Area, NYC, USA
Re. Damage of Luggage on Flight [X]
Dear Ma'am/Sir,
I am very unpleased while writing this to you. I need to report to you a serious concern about mine with your airline company. I regret that it was a really bad experience traveling by your airline as I experienced an extremely unprofessional attitude at the end of your staff that cost me a lot of trouble and frustration.
I flew via American Airlines through Chicago Airport on flight-43A. I was traveling from Chicago to Dubai, UAE which had a stop by Toronto. After reaching the hectic flight of more than eighteen-hour, when I checked out, I realized a more than usual delay in receiving my luggage.
When one hour passed and I did not receive the luggage, I started being anxious about the problem as I thought there might be some issue with my luggage. I kept on asking the agents of your airline there but no one reported the genuine event. After keeping me wait for three hours, a senior member of your team approached me saying that they are having some problem in searching for my luggage. In short, my luggage was never approached with me and they kept on lying to me.
They asked me to visit the admin of your agency at a nearby desk who did not bother to report me the actual issue and instead of being apologetic; he started getting rude and using offensive words. After an exchange of harsh talk, another member of your team intruded and acted out to help me in searching for my luggage. In fact, my luggage was not in Dubai, they had left me luggage in Toronto. After spoiling and wasting five hours of my day, they finally approached me with truth i.e. telling me that there has been committed some sort of mismanagement, and due to that my luggage has been left behind in Toronto. Moreover, they assured me that I shall get my luggage the very next day. After taking all of the requisites to contact me, they permitted me to leave the airport and assured me of the safety of my luggage.
After two days, I got a call from your agent who reported to me that I can get my luggage from their customer care office situated in Abu Dhabi. I rushed to the airport to get my luggage back. When I reached the office of your airline, I was shocked to look at the condition of my luggage. I was even unable to recognize it as my luggage. Then I reported the Assistant Admin sitting right in front of me but he did not take any action and asked me to leave the office when I got rude.
After opening the luggage I realized that many of my luggage stuff was lost or stolen and the rest was in really bad condition. Many of my delicate things were broken and damaged. I would like you to entertain me with the compensation I deserve, otherwise, I will be compelled to take serious legal action against your airline which would cost you with not an only penalty but also a notorious name. I have enclosed the pictures of my damaged and poor conditioned luggage and claim compensation of $1500 or replacement of my luggage with a new one. I am looking forward to getting a response from you within four days otherwise I will let you get a court notice.
Sincerely
(Signature)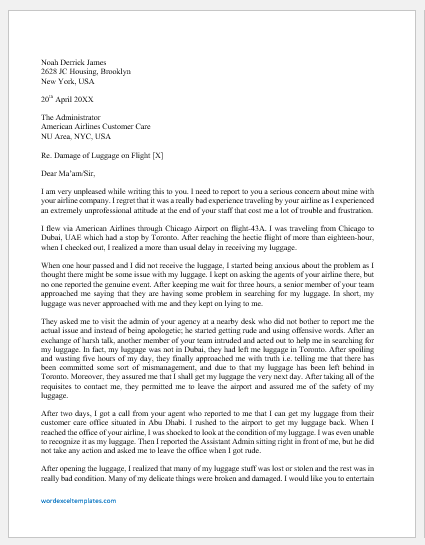 File: Word (.docx) 2007+ and iPad Size 26 Kb |
Download
---
2-
Emma Smirnov
0121 V-0 Brooklyn
New York, USA
20th April 20XX
Kmal Stirk
The Manager
Green City Bus Services
K-c7 Yorkshire Town, NYC, USA
Re. Damage of Luggage During Travel
Dear Stirki,
I am very upset with the poor service provided by your buses. Your buses have a contractual obligation to make passengers arrived at their destination safely and sound along with their luggage especially when luggage safety is charged separately.
I had a terrible and griming experience traveling through your bus services. It was my first experience of traveling by your bus service. I was traveling from Paris, France to Brussels, Belgium on 16th April 20XXon the premium category of bus number 450, at 5:50.
Due to heavy and excessive luggage, I was asked to pay an extra amount of cargo so that my luggage could be made reached at my destination without any hassle. I paid an amount of $100 to cargo my luggage safely but when I reached the terminal in Belgium, I was astounded to look at the condition of my luggage. Half of my luggage was broken because of poorly fixed stuff in the trunk of the bus.
It had very important and expensive things in my bag that were broken. I am very dispirited to travel through your bus service. When I approached the customer care office they completely neglected the importance of the matter and talked in a very offensive tone.
I hereby would like to request you to replace my luggage or fill up the required penalty. As I am entitled to a handsome compensation, I would sue your company and services in the court if you do not reach back to me within five days of the deliverance of this letter. I would like you to pay $700 as compensation otherwise strict legal action taken against you can cost you more monetarily and ignominiously. I am looking forward to your immediate response.
Thank you in anticipation
Sincerely
(Signature)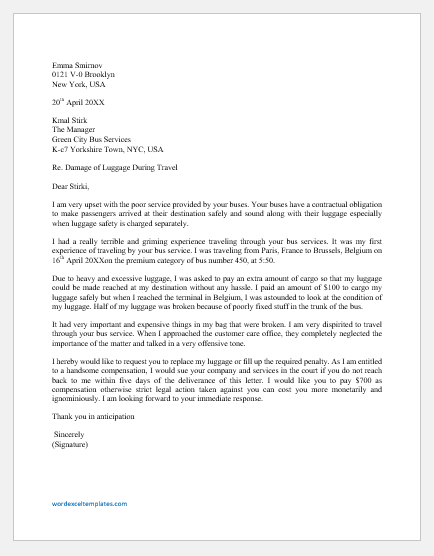 File: Word (.docx) 2007+ and iPad Size 21 Kb |
Download
---