You are all planned and prepared for the upcoming trip. All the joy and happiness are at peak along with financial and resource arrangements done. Well, if you come to know the trip has been canceled just before leaving all of your planning goes in vain. It may cause some troubles from finance to job vacations. A complaint letter can be written to highlight the trouble created due to the cancellation of the trip.
The contents which should be included in a complaint letter about the canceled trip are as follows
It should include your address, name, and your work and home contact numbers
The letter can be handwritten or printed. If you prefer writing a complaint letter with your hand then make sure that it is easy to read and neat and with a good handwriting
Make your complaint letter brief and straightforward. Include all the information about the trip which should include the date and place of the trip and all other information
State what you want to be done for the canceled trip and in how many days you want the problem of a canceled trip to be solved
Include all the documents and slips of the trip in the letter
Always send a copy of the letter and keep the original ones in your record
Don't use aggressive words and avoid writing any sarcastic, angry, or threatening letter.
Keep a copy of the complaint letter about the canceled trip on your record
Write about the background of the trip in the letter so that the reader should know the whole scenario and he should make effort to solve the problem
Preview and details of templates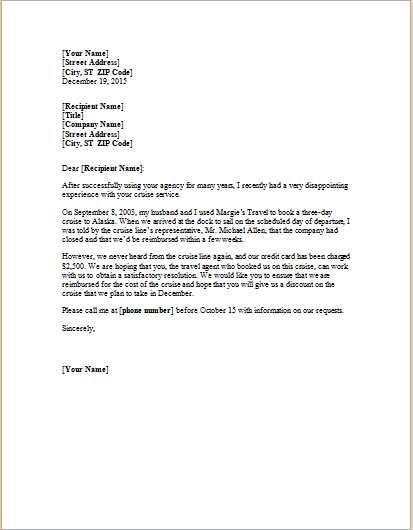 More Samples
23 May 20XX
Sant Lorie
Hampshire St.25, Block 23
Dear Mr. Lorie,
This letter is a complaint against XYZ Airlines regarding the last-minute canceled trip. I had to attend an international meeting on the 12th of this month and I was connecting with many other flights but due to this last-minute cancellation I faced a lot of issues at XYZ Airport in Los Angeles and it resulted in a big loss for me.
This kind of attitude is extremely saddening and inappropriate as this was a business meeting with overseas clients and it had left a bad impression on clients from my side to arrive late there. There is no denying the fact that flights often do cancel but this is an improper way to inform at the eleventh hour when passengers have no other choice. 
You should have informed this well before time about cancellation so that one may able to make other reservations. I was not informed about this before time and because of this, I remained stuck in the airport for almost 18 hours.
The purpose of writing this letter to you is to suggest you remake your policies and in case of flight cancellation, you should inform them well before time to the passengers so that they may able to make other reservations for them. Thank you.  
Regards,
Eustacia Vye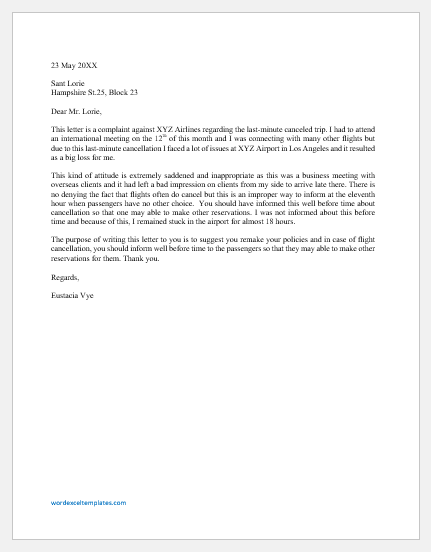 2-
23 May 20XX
Benet William
New York St.26, Block 23
Dear Mr. William,
I am writing this letter regarding my bad experience with your airline and it has put a really bad impact on me not to travel again with this airline. I had my flight 6789 to Australia on Monday 22nd May and I had to go there to attend a seminar regarding my Ph.D. degree. I was informed about the flight cancellation just two hours before the departure time and I had to face a lot of inconvenience due to this cancellation.
Due to this cancellation, I missed my seminar and remained in stress for almost a week. Not only me but also my family got disturbed due to this sudden news. I was waiting for this seminar for a long time and the university holds it once a year. Now I have to wait for almost the whole year to be part of this seminar. It is only because of you that I lost this opportunity. 
Your staff informed me just two hours before about the flight's cancellation and at this time I tried my level best to reserve for another airline but it remained of no use in this short time and there was not a single seat available anywhere.  You should have informed me at least well before the time in case of any technical fault. In this way, you are losing your customers. Now I want you to give me my money back in the next three days.
Thank you.
Regards,
Michael George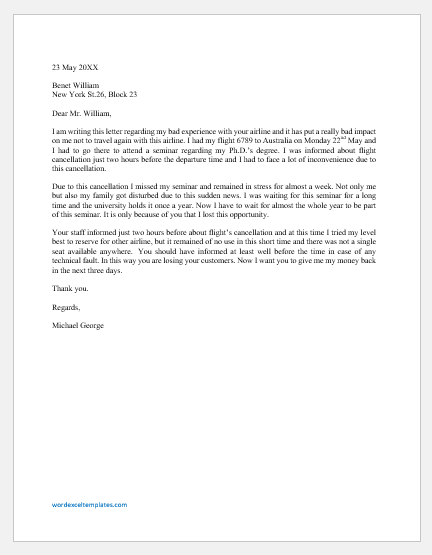 More sample letters…