Trainee employee termination means to expel someone from the job because of bad performance during his job time. It is quite minded derailing the decision to terminate the trainee without any due cause.
When you have an authentic reason for terminating the trainee employee due to his bad performance then you do not let your institute or company go back into the darkness rather you terminate a trainee and give a termination letter to the trainee employee due to his bad performance.
What you mention in the termination letter becomes quite reasonable and valid. In the letter, it is the most effective way to communicate directly with the trainee employee, whom you are giving a termination letter due to bad performance in his/her work.
This is a job to do so but after all, there are few ways of terminating a trainee employee due to bad performance.
For example, in the termination letter, you first regret when you are terminating someone. As you say in the letter on behalf of your organization that we are sorry to let you know or inform you about your termination because of your bad performance and repeated complaints against you, such as very poor performance in the work and the work is not up to the mark or it is not up to the demand of the company.
The second reason that you mention is that abandonment from the job and long breaks during jobs and also sudden breaks during duty timing. You also mention the reason that you gossip more in the office during office time. The first and foremost and last reason you mention is the misconduct of the trainee during working time or hours. And lastly, you mention the use of abusive language by an employee with the office staff.
All the above-listed complaints have compelled the management to your termination as you have been warned many a time earlier and your verbal assurance that you will rectify your mistakes but you did not follow that. So, you are hereby terminated from the job and the human resource team will have an inquiry against you, and if you have any objection, then you may contact the respective department. You are terminated from the job dated 31/1/20XX, you are asked to leave immediately.
Preview and detail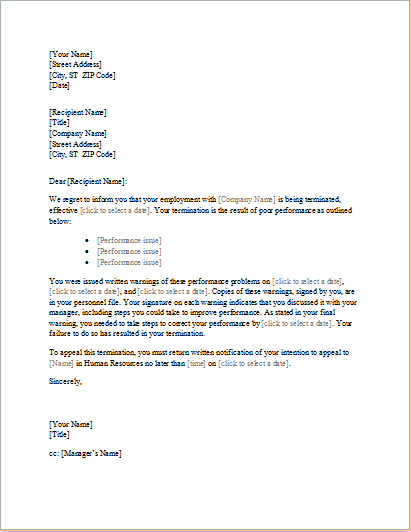 File: Word (.docx) 2007+ and iPad
Size: 28Kb
More Samples
#1
This letter has been written to bring to your notice that we are terminating you and it will bring an end to the contract between us. You had joined us on [mention date] and it was meant to continue till [mention date]. The management has unanimously decided to terminate you permanently.
You had a clear understanding of your working nature and tasks but you continuously behaved unprofessionally. You did not show interest in your work and this has disappointed us a lot.
We have found a lot of errors in your accomplished work and warned you many times to not repeat this. Time and again you were corrected but you did not listen to it. We also did not find your presence in the company's official meetings and training sessions. All this has made you incapable to be part of our organization anymore. I have forwarded this message to our CEO who is head of this training session.
#2
Please be informed that [mention date] will be your last working day in ABC Organization. This decision has been made after a thorough consideration with higher authorities. You were hired on a contract basis and after the probation period, you were supposed to be a permanent part of our organization.
We have observed your performance and found many miscalculations in the reports you submitted. This is our final decision and no changes will be made to it. After [mention date] you cannot enjoy any benefit of being part of ABC Organization. You will be given your salary for three months. You are requested to please delete all the important data of our company you were provided during your training here.
#3
Dear trainee, please be informed that your tenure in ABC Organization is ending on [mention date]. The organization has decided to terminate you for some obvious reasons. They have scrutinized your monthly performance and you have failed to meet your supervisor's expectations. Your current month's salary will be credited to your account and you will also get discontinuance wages. You will no longer be able to enjoy any other benefit.
You will return the organization's belongings under your use before [mention date]. On the basis of your low performance, you have been terminated permanently from the organization. If you have any questions in mind, then please feel free to ask.
#4
We regret to inform you that your employment with ABC Organization has been terminated. I concede that you endeavored to fit in your supposed role during your term of office in ABC Organization.
Unfortunately, your performance was not up to the organization's standards and for this reason, we have come up with the decision of terminating you. From [mention date] you will not come to the office. We are making bills of your final payments and till [mention date] the amount will be credited to your account. This is not the end of your career. I have high expectations from you and I believe that in the future you will excel in all fields of life.