Every organization needs some form of identity proof to ensure that only authorized personnel enter the office premises or have access to official resources. Given the security situation around the world, employee ID cards have become essential for employees to carry at the workplace. Many organizations take employee ID very seriously and an employee may not be allowed to enter their premises no matter how well recognized.
Whether you are a new company looking to create employee IDs for the first time or an existing company that is trying to change to new ID cards, we have made your task easier. Take a look at our range of creatively designed employee ID card formats. These are editable and easy to use. Simply download in MS Word, customize the text, and print the ID cards. Our employee ID card formats will save you considerable time and effort.
Free Templates
#1
This graceful employee ID in a simple purple and yellow color is our favorite. It is decent and the vertical separators make it look very neat and ordered. You can add all basic information about the employee on this card and it still looks organized.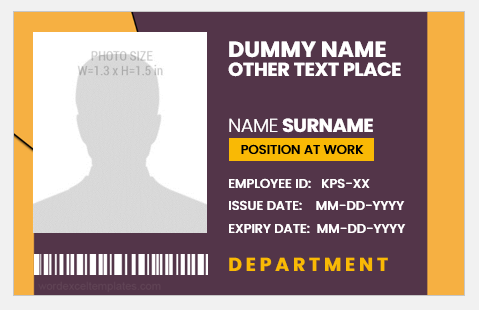 #2
If you don't want too many details on the ID card, this brightly colored ID card format is for you. This card is simple. You add the company name, employee name, and the dates of issue and expiry. This card has a barcode on it, where you can feed all other details. If you are thinking to install swipe machines in your offices, you can use this card.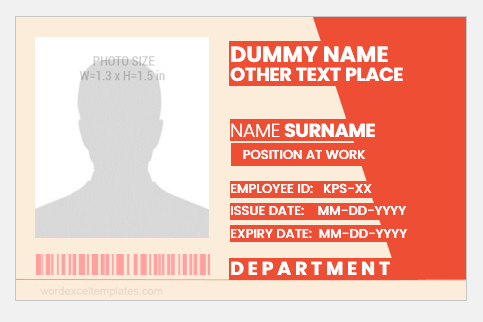 #3
Employee cards are mostly in blue and purple hues. You can dare to be different with this deep terracotta and sand employee ID. This format is quite creative in its setting. The employee's name goes at the end of the card, and a small barcode is fitted into the left corner. This card is for those who want to be different than the ordinary ID formats.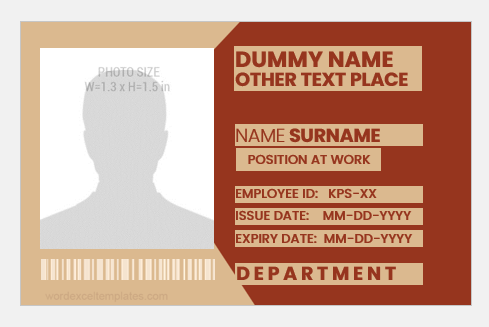 #4
At number four, we again have a purple and teal ID card format. This card mainly emphasizes employee identification through the employee's picture and not other information. The employee's name is on the card but the focus of the card is on the company logo and employee picture.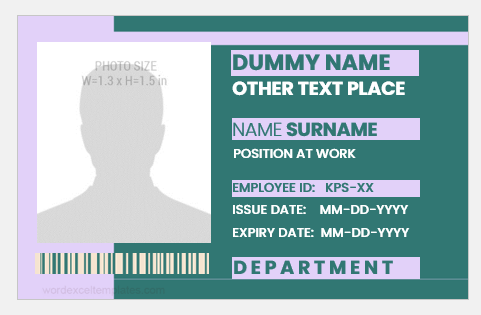 #5
This classic combination never goes out of style. Again the picture of the employee is the main focus of this card. This is a simple card without any barcode for those who simply need identification at the entrance. This card is most suitable for small enterprises.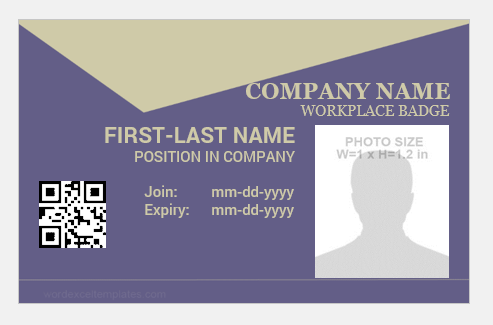 #6
Forest green is another classic theme for ID card formats. This one emphasizes both the picture and employee name. The employee's name is made prominent through big text size and placed in the middle. The card provides basic information such as the name and employee ID. Cards that emphasize the names of employees are most useful in customer-oriented settings, where the customer can immediately see the employee's name and reach for inquiry.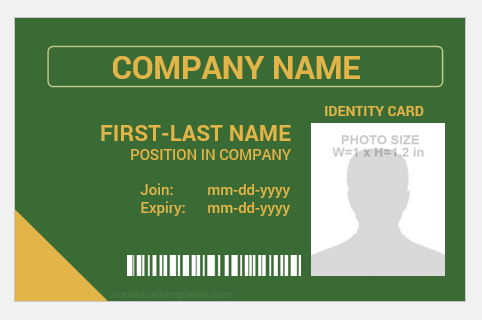 #7
This employee ID format is again organized and detailed. It provides all essential information on the basis of which, he/she can be verified as a genuine employee of the organization. The card also makes space for a QR code. The employee identification number and photo are the focus of this card format.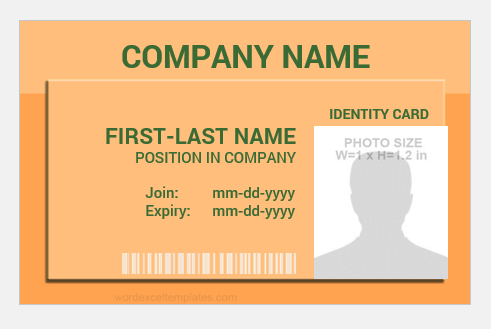 #8
This black & silver gradient employee ID card format is very pleasing to the eye and catchy. The company name and employee photo are the focus. The employee's name is also prominent in the middle. This format also includes a barcode for security checks.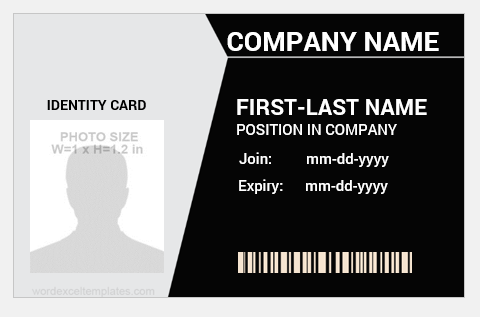 #9
This ID format again focuses on employee recognition through an employee's photo. If you are a geometry fan, this card might appeal to you for it has a geometric design on the right corner. The card only gives basic information such as the employee's name and ID.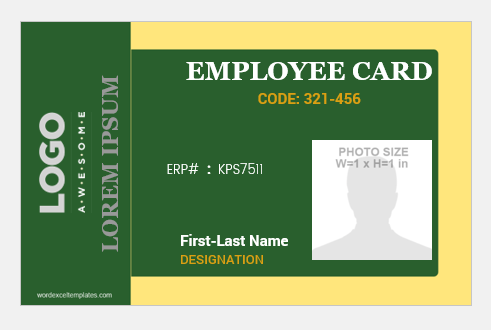 #10
On number 10 is again a unique ID format. The turquoise and warm sand theme make the card unique. The employee's name and picture are equally emphasized. This card also has a barcode for scanning into the work premises. This card is ideal for customer dealing as it emphasizes the employee's information.