Miscarriage sympathy cards are a heartfelt way to express compassion and support for someone who has experienced the loss of a pregnancy. These cards are designed to convey your empathy, understanding, and encouragement during a painful time for a loved one. Let's take a look at the different aspects of these cards.
Design
The design of this card plays an important role in providing a comforting feeling to the receiver. Therefore, appropriate artwork should be used that is neither celebratory nor depressing. Using images of nature, such as flowers, birds, and beautiful scenic views, is safe.
At the same time, choosing the right scheme of colors also plays an important part in the overall design. Stay away from depressing tones, such as black or brown. Instead, using pastel colors or soft shades can create a soothing effect for the mind.
Remember, whatever images or artwork are chosen for the design, they should provide comforting feelings to the recipient.
Messages and Sentiments
The words inside a miscarriage sympathy card are carefully chosen to offer comfort and express the sender's condolence. There should also be space for a personalized message that can be penned down in the sender's handwriting for a personal and loving touch.
However, avoid posting messages that are too long. A beautiful message can be conveyed in a few words, without overwhelming the mind of the recipient.
Choosing the Right Font
The choice of font and text layout is equally important in the design of a miscarriage sympathy card. Elegant fonts should be used, avoiding anything too bold or flashy. Moreover, the text should be easily readable. For this purpose, it is important to choose the right font size and spacing. Overall, the font style, size, and layout should lead to a well-balanced design.
Personalization Options
Many miscarriage sympathy cards offer options for personalization. This can include adding the recipient's name, a personal message, or even a photo. Personal touches can make the card more meaningful. It shows that thought and care have been put into it.
Using Templates to Design the Card
There are templates available for miscarriage sympathy cards that can make the design process easier. These templates offer a well-balanced design. Created by professionals, every feature, from the color theme to the artwork, is perfect. In addition, many of these templates offer customization options. The users simply have to download the template and use it according to their preferences.
Where to Find Miscarriage Sympathy Cards
Many stores carry specialized sympathy cards for miscarriages. However, the easiest way to find them is online. Many websites offer a collection of beautiful cards. Most of them are free or ask for a reasonable price.
On the other hand, some people choose to create a handmade card that adds a personal touch. However, this can only be done if you have good design skills and have the time to make a card from scratch. In this case, it is better to opt for templates that help you create the best miscarriage sympathy cards effortlessly.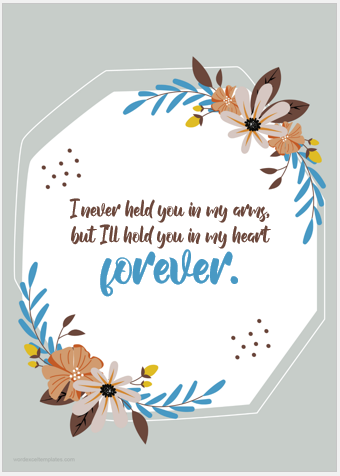 Card File Size: 3 MB
Feature(s): Editable Text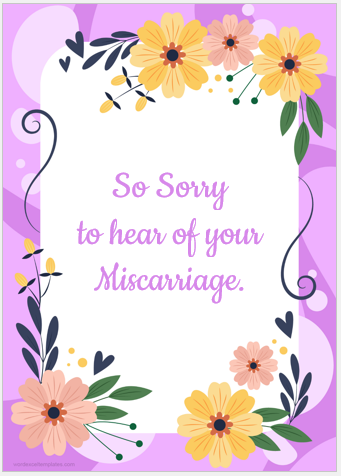 Card File Size: 3 MB
Feature(s): Editable Text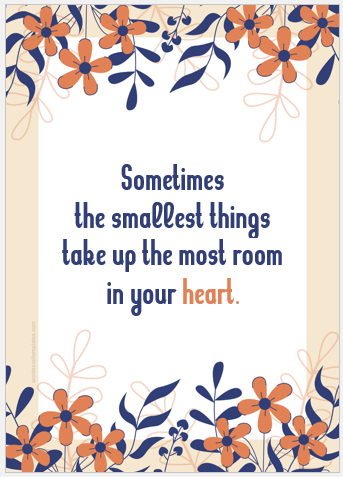 Card File Size: 3 MB
Feature(s): Editable Text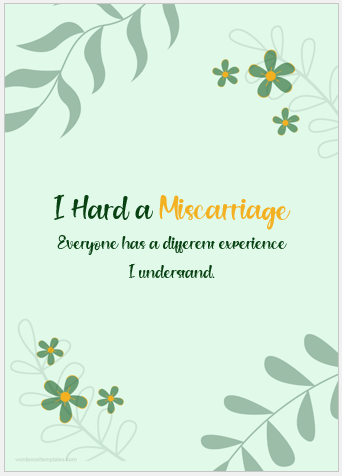 Card File Size: 3 MB
Feature(s): Editable Text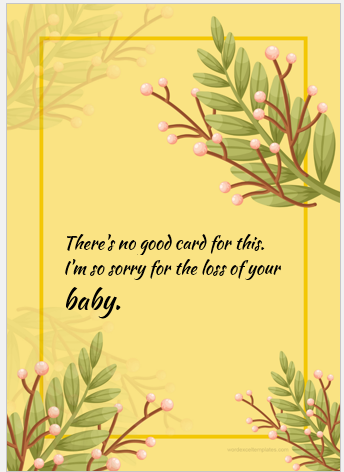 Card File Size: 3 MB
Feature(s): Editable Text