Whenever you find that a Christmas event is just around the corner, you must get ready for accepting party invitations. Socializing during the time of Christmas is one of the common activities that people enjoy. So, it is very common for you also to get ready to throw a party.
As a host, inviting people to the party is a very overwhelming task. However, the use of invitation cards makes the entire process so smooth. All you need to do is design a card that represents you and the party you are hosting and the name of the person you are inviting.
Having an invitation card for Christmas event:
When you are hosting a private party, an invitation card gets closer to your heart. It is not something that you do because you feel any kind of obligation. The urge to make an invitation card for your loved ones comes from within and you feel happy when you send a beautifully designed invitation card to those you love and want to be with you during the blissful event of Christmas.
Having an invitation card for the party allows you to stay free from the worries of adding content to the invitation. The card includes everything on it beforehand. So, when you have to send a card, you only mention the name of the person you are inviting and then send it away.
Designing a Christmas party invitation card
Although people render the services of individuals who are adept at designing invitations, it is not always viable to fall back on someone who can do it for you especially in the situation when you are organizing a small party and everything you have done is so basic and simple. In such situations, you can design an invitation card of your own. Read the tips given below:
Get inspiration from pre-designed cards:
Not everyone is so good at designing invitation cards, and it is totally fine if you are also not so adept at it. You can simply see various designs online to get inspiration from. Mixing and matching different design ideas from numerous pre-designed invitation cards will make you end up with a design that is unique and aesthetically pleasing.
Get a readymade template:
Various websites are replete with templates specially designed for people who want an invitation card without putting much effort. At the onset of the Christmas season, new designs are launched. It becomes very easy for you to choose something completely in accordance with your personal choice and preference. The template can be personalized to make it tailored to the needs of the user.
Adopt simplicity:
It is not mandatory to make a very fancy invitation card just because you are going to invite people to a party. Your card can look simple yet beautiful if you do the designing in the right way. There are many ways you can adopt simplicity in the invitation card designed for a Christmas party.
Preview and Detail of Templates
1-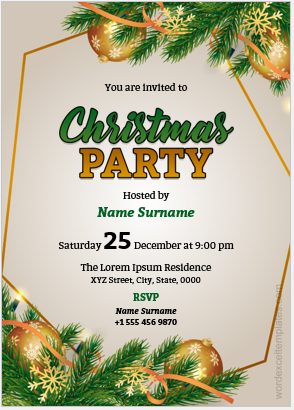 File: Word (.doc) 2007+ and iPad
2-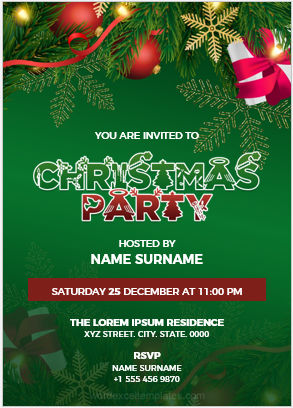 File: Word (.doc) 2007+ and iPad
3-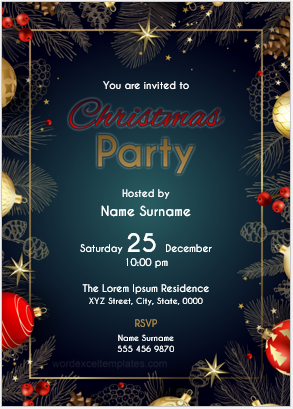 File: Word (.doc) 2007+ and iPad
4-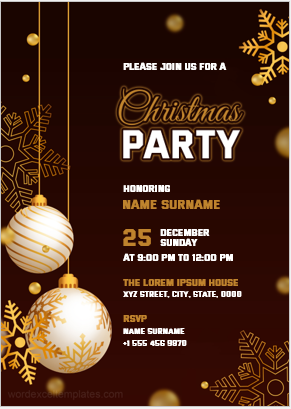 File: Word (.doc) 2007+ and iPad
5-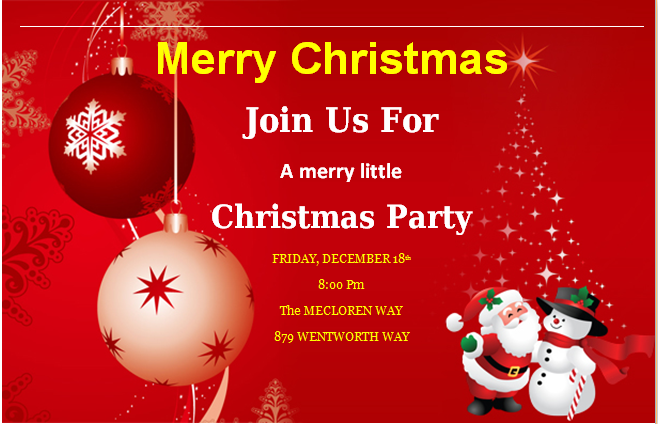 File: Word (.doc) 2007+ and iPad
Size 172 KB
6-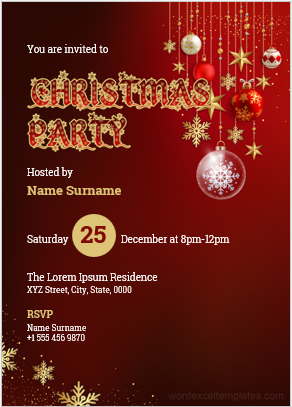 File: Word (.doc) 2007+ and iPad
7-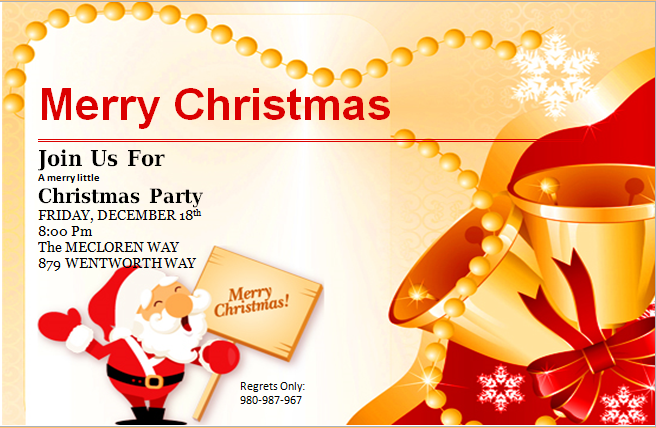 File: Word (.doc) 2007+ and iPad
Size 172 KB
Invite your friends to your Christmas party with beautiful invitation cards. An enormous variety of Christmas party invitation card templates is found on the internet. These templates can be edited and customized. Pick different colors, add beautiful images, and include a short message.
These are only a few of the ways through which a personal touch can be added to the cards. All you have to do is select the template and print it. This turns out to be extremely economical in comparison to making a purchase from the market. Therefore, you can save money and invest it in other party things.
You can follow different ideas for the perfect invitation cards. Those who like it simple and elegant can go for sober-looking cards. On the other hand, you can also go for more fun-looking ideas. Choose colorful templates with fun icons.
Alternatively, you can also select innovative party cards with unconventional shapes. For instance, your invitation cards can be shaped like an ice crystal or a Christmas tree. These cards are sure to catch everyone's eye. Such attractive and innovative invites can be chosen for a really fun party. Make sure you select the right size.
Invitation cards should not be too large. It is not suitable and might also cost more. Make your cards small, but noticeable. More people would look forward to your party if you put some effort into the invitation cards. Therefore, choose the ones which are colorful, beautiful, and eye-catching.