Thanksgiving is a national holiday celebrated in Northern America and Canada. The concept of thanksgivings is to thank God for his blessings. Thanksgiving is celebrated on the fourth Thursday of November every year. Thanksgiving is an important holiday just as Christmas and New Year's holiday.
This holiday has several origins. In America, it was originally celebrated at harvest to thank God for his blessings. However, colonials from New England were also documented to regularly celebrate Thanksgiving after every victory. The 'First Thanksgiving' was celebrated by the pilgrims after their first harvest. Thanksgiving has been celebrated since the 16th century; however, it was proclaimed a federal holiday by Abraham Lincoln in 1863.
While Abraham Lincoln specified the last Thursday of November as Thanksgiving Holiday, it was Roosevelt who changed it to the fourth Thursday of November during the Great Depression. The reason for this change to be implemented and made into law was to allow more time for shopping before Christmas in efforts to boost the economy.
An important part of Thanksgiving is a charity for the poor. Many individuals and organizations deliver food to the poor as part of the Thanksgiving tradition. It is a holiday of thanking God, being generous and forgiving.
Thanksgiving celebrations are mainly in the form of a Thanksgiving dinner where a roasted or stuffed turkey is the main feature at the dinner table. For this reason, it is also popularly known as 'Turkey Day'. It is a family affair when the entire family comes together and has dinner. However, many people also give large parties to celebrate the holiday.
There are several important events on Thanksgiving such as:
Parades
American Football games
Elimination games for other sports including Basketball, Golf, Auto racing, Hockey and Wrestling
Turkey Pardoning – where the President is given a live Turkey, which he spares as a tradition. The turkey is sent to a zoo or sanctuary
Radios and televisions also have special programs for Thanksgiving dinner
On this occasion, churches, individuals and other private organizations give Thanksgiving dinner or arrange thanksgiving events. For such occasions, flyers are the most cost-efficient method to send out invitations to large neighborhoods. Flyers are also short and easy to disseminate. There are many thanksgiving event flyers available here on our website. You can browse through them to save time and effort of designing a flyer. These flyers are in MS Word format; thus they are editable.
Editable flyers are good for use because you can easily play with the text, font; and even colors to some extent. Download Thanksgiving flyers from our website and spread the message for the upcoming event.
#1
Here is one of our editable thanksgiving event flyers. This cozy and inviting flyer with a wooden textured background is a great choice for your event. Simply add a brief description of your event, and the date, time and place. Your Thanksgiving flyer is ready in a few minutes. Simply print and hand out.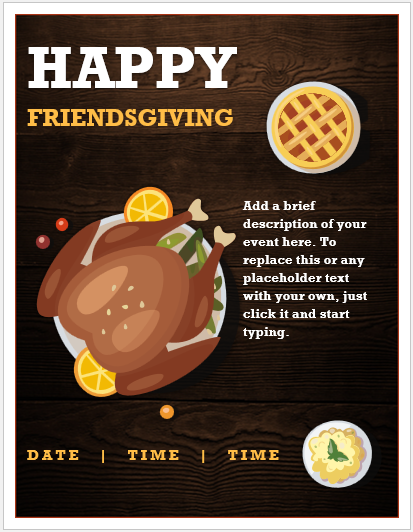 File Format: MS Word [.docx]
Size: 4 MB
Download
---
#2
Our second choice is this maroon and gold colored invite which you can use if you are an organization such as a university, college, church or other such institutes. The date is highlighted in the middle. You just have to add the address and adjust the time if you wish to.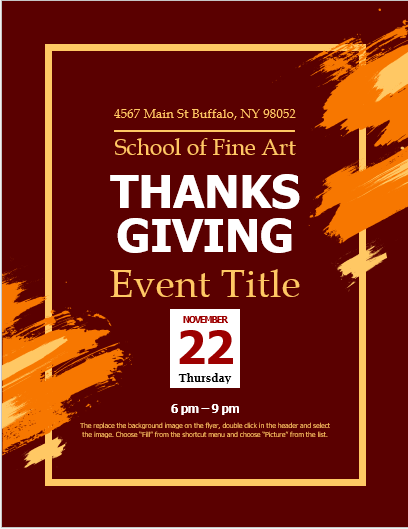 File Format: MS Word [.docx]
Size: 5.2 MB
Download
---
#3
If you don't prefer plain backgrounds, then here is a twist to the design above. This one has a fall background which looks very inviting. Again the colors are a great contrast and make your flyer stand out!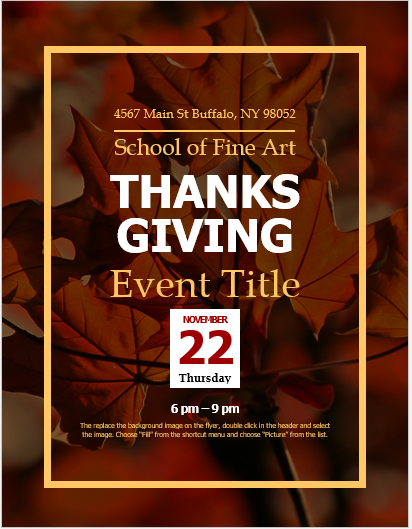 File Format: MS Word [.docx]
Size: 1.78 MB
Download