What is Halloween and why it is celebrated?
Halloween has become an international day of celebration across the world, but few people know about its history. Halloween is celebrated on the evening of 31st October, before the holy day 'All Hallows Day' on November 1st. All Hallows Day or All Saints Day is celebrated by Celtics even before the Christians.
The Celtics who lived in Ireland, UK, and northern France, believed that on 1st November, all ghosts and spirits returned to earth. They celebrated the evening with bonfires. Halloween did not have any link to Christianity. When Christianity spread to the region, the church used this holiday to bring people together and make the conversion to Christianity easier for the locals. From then onwards, Halloween became a part of Christian holidays.
It was believed that ghosts, witches, demons, and spirits of the dead roam around on the earth welcoming and celebrating Autumn; and frightening mortals on earth. To escape the demons and spirits, humans disguised themselves in frightening costumes and joined them in the streets as one of them.
The tradition of 'trick or treat' by children also differs today from what it was originally. In ancient times, children would take soul cakes door to door and sing prayers for the dead. Today, soul cakes have been replaced by candy and disguises have been replaced by costumes.
Another interesting addition to the original celebrations of All Hallows Eve was gifting apples. This custom of gifting apples was inherited from the Romans. Today, this custom is celebrated with what we commonly call 'dunking for apples'.
When the Halloween tradition caught on in America, the situation in America was different. Mischief and vandalism occurred in the name of Halloween by people in disguise. In efforts to discourage mischief and vandalism, people began to host parties in their houses.
Halloween parties have now become a popular culture and the Americans spend over $5billion. In fact, according to the National Retail Federation (NRF), this year spending on Halloween is expected to touch $9 billion.
People celebrate Halloween with great excitement and vigor. They purchase special Halloween costumes, accessories and makeup all of which boost the economy.
Special party invitations are sent to family and friends. In colleges and universities, students or organizers publish Halloween party flyers to invite large groups of students.
If you are planning to host a Halloween party, you will need to create invitations or flyers. Halloween party flyers are generally the most cost-effective way of drawing crowds to your party. You can make your own flyers, but if you prefer Halloween party flyer templates, you can download from our website for free.
Our Halloween party flyers are made in MS Word and thus are easily editable. You can browse through our Halloween party flyers and download for free.
Editable flyers are most convenient as they allow the user to make changes in fonts, colors, and text as per their own requirements and customize the design.
Here are a few of top Halloween party flyers provided by Microsoft Word this year.
#1
This dark purple and an orange flyer is the perfect choice for your Halloween party this year. The party invitation has a spooky look to it with a haunted house in the middle, bats and spooky faces scattered around. You can add date, time and place to this flyer and you are good to go.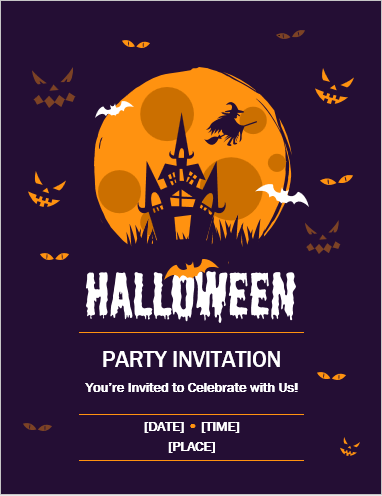 File Format: MS Word [.docx]
Size: 188 KB
Download
---
#2
Our second interesting flyer is in the classic black and white theme combined with orange that is strongly associated with Halloween. This cute flyer also gives the incentive to come to your party, by announcing a prize for being the best dressed. This flyer is bound to attract loads of crowd with its smart graphics.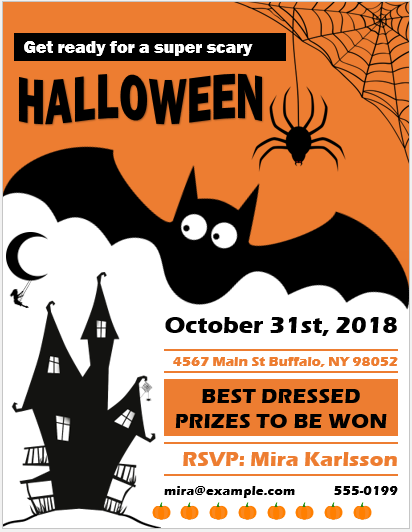 File Format: MS Word [.docx]
Size: 1 MB
Download
---
#3
Here is another full of colors Halloween party flyer. Its striking colors make this flyer truly stand out. The blues and orange go really well together. Simply add your address and contact details and your Halloween party flyer is ready.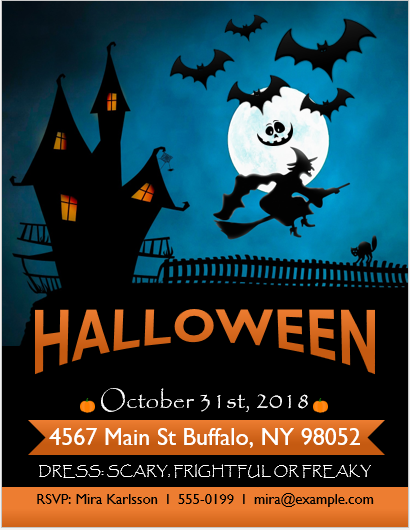 File Format: MS Word [.docx]
Size: 3 MB
Download
---
#4
A different twist of colors makes this flyer stand out from the crowd of dark and spooky posters. The text is artistically fitted and nice purple banners telling you when, where and RSVP. So just add in the details and print out this flyer for your party now.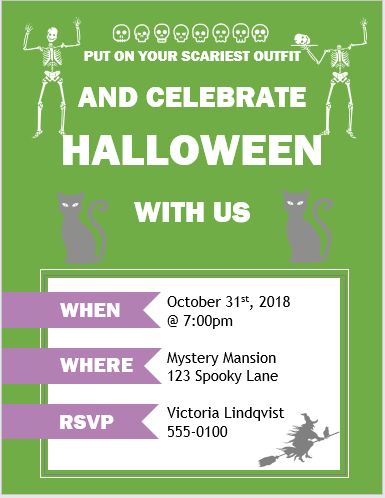 File Format: MS Word [.docx]
Size: 2 MB
Download