Halloween is a holiday celebrated in many parts of the world primarily, in the USA, Canada, and the UK on the 31st of October of each year. It is celebrated in full spirit and follows many traditions of historical as well as modern basis. It is an event full of laughter and joy which gives people to come together and celebrate one another. On Halloween, people usually dress up as scary creatures or movie characters, which actually makes up for the whole spirit of Halloween.
Houses are decorated and parties are arranged to rejoice in these events. Halloween is especially joyful for children because they roam around their neighborhood and collect treats and candies. This tradition is also known as trick or treating.
Halloween parties are arranged on different levels either people invite their immediate families for dinner or a large-scale Halloween party for all friends, family, and relatives. These parties are based on themes and lift the mood of every attendee. Halloween party flyers are papers or documents that provide information about a specific Halloween party. These flyers can be used as,
Invitation cards for inviting friends and family over to enjoy this event together.
As a promotion paper to spread the word about the grand Halloween party.
To share information regarding the theme, venue, and timings of the party.
Contents of Halloween party flyers vary but they generally provide the following information to the invite receivers,
Mostly Halloween parties are based on complex themes therefore flyers have titles of the parties through which these parties are named.
The theme of the Halloween party is mentioned on the flyer so that every attendee dresses up in the related costume and follows the rules
The venue of the party is included to help people to locate.
Timings of the party for convenience.
Templates for Halloween party flyers can be downloaded from this page and used after adding information related to the party. Hundreds of templates with a variety of themes make it easier to choose.
Moreover, flyers can be designed by oneself to add a personal touch to the whole event. These flyers can be designed by following the simple steps given below,
Choose a theme for the party and include related pictures or graphics for making up the border and background of the flyer.
Add information in correct alignment because it will signify the importance of the flyer. Although, flyers are informal documents proper planning and design can increase their worth.
Use appropriate font size and style for adding information so that it is readable for everyone.
Use funky colors and graphics for adding text to add Halloween spirit to the flyer.
Do not provide too much information or rules to keep the flyer simple yet worthy.
These flyers can be sent to all the guests as digital invites through a click of an electronic device or they can be printed on paper and sent to the guests with refreshments. These flyers can be saved as reminder of great time spent together therefore a lot of effort are put together to make it a success.
Sample MS Word Editable Templates
This dark purple and orange flyer is the perfect choice for your Halloween party this year. The flyer has a spooky look to it, with a haunted house in the middle, bats, and spooky faces scattered around. You can add a date, time, and place to this flyer, and you are good to go.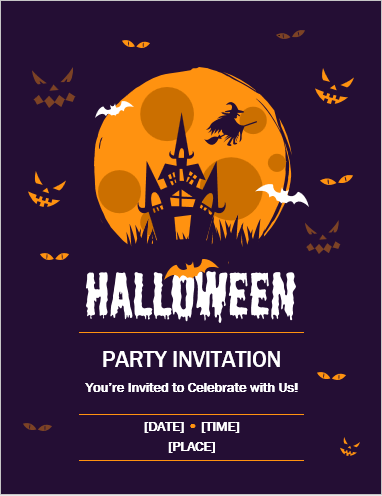 File Format: MS Word [.docx]
Size: 188 KB
Our second interesting flyer is in the classic black and white theme combined with orange, which is strongly associated with Halloween. This cute flyer also gives the incentive to come to your party, by announcing a prize for being the best dressed. This flyer is bound to attract loads of crowd with its smart graphics.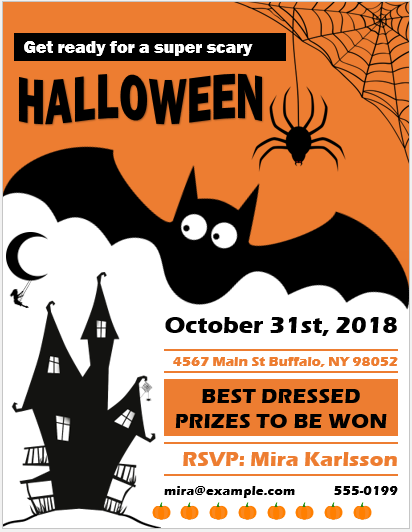 File Format: MS Word [.docx]
Size: 188 KB
Here is another full-color Halloween party flyer. Its striking colors make this flyer truly stand out. The blues and orange go really well together. Simply add your address and contact details and your Halloween party flyer is ready.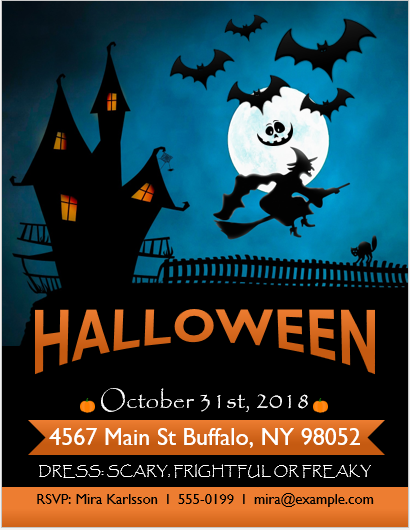 File Format: MS Word [.docx]
Size: 188 KB
A different twist of colors makes this flyer stand out from the crowd of dark and spooky posters. The text is artistically fitted and nice purple banners tell you when, where, and RSVP. So just add in the details and print out this flyer for your party now.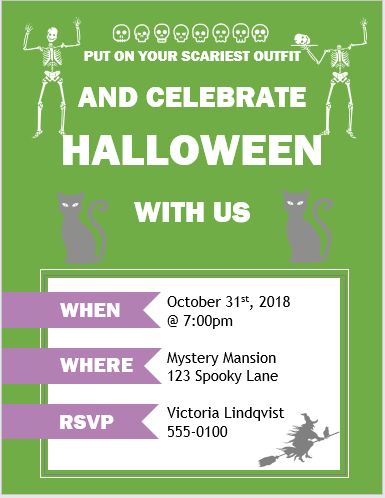 File Format: MS Word [.docx]
Size: 188 KB