When someone receives a formal job offer, the professional way to reply is to write a salary acceptance letter if you agree to the job offer. A salary acceptance letter informs the organization that the chosen candidate has agreed to the terms of service and the corresponding salary. Writing this letter shows professionalism in responding to your employer.
When you are writing a salary acceptance letter, here are a few things to keep in mind:
Your tone must be strictly professional; this shows your professionalism
Don't forget to add a statement of thanks: saying thanks for the job offer shows you are considerate and polite. Your letter should show that you look forward to working with them. Your excitement shows that you are really interested in the job.
Make sure you mention the details that you agree to—reiterate the salary, department, designation, and start date for your new job. It shows you have read the terms and agree to them.
Moreover, there is no harm in adding any queries or questions that you may have regarding your role or responsibilities.
If you have any special considerations that you would like to accommodate, communicate them to your employer in this email. This is also a good time to mention any conditions that you may want to put forward to your employer.
Lastly, don't forget to check your letter for spelling mistakes or any other mistakes. You are writing to give a professional impression; avoid using an unprofessional tone. Make sure you address the concerned person properly (Miss, Mr., or Mrs.), and also double-check the spellings of names. Avoiding these small mistakes counts a lot.
If you are still apprehensive about how to write a salary acceptance letter, here are a few samples to get you started:
#1
I am writing this letter to formally inform you about the acceptance of the ABC job offer at XYZ company as described in the offer letter that I received on __/__/__. I am grateful to you for extending this opportunity to me and I assure you that I will provide the best results.
I have always admired your company goals and the sass with which you represent your clients. Getting a job offer from this company was in my bucket for so bucket list for so long and finally, I have achieved it. I have understood all the terms and conditions of the offer letter and I am also satisfied with the salary package and bonuses that you are offering. I cannot wait to join and work for you on __/__/__.
I have submitted all essential documents to the administration but if there is any further documentation that needs to be accounted for then I would be easily available on [TEXT]. Thank you in anticipation.
#2
I hope you are enjoying good health. I am writing this note to formally accept your offer of the ABC job that you mentioned in the offer letter that I received on __/__/__. I am really excited to join XYZ Company and contribute my best to the company's goals.
I was aware that I performed remarkably well in my interview but to finally receive the offer letter, I am overjoyed. The offer is self-explanatory, as all the rules and policies related to the work environment and code of conduct are mentioned. I accept all these terms and have no issue with salary packages and other benefits as well. I assure you that you will never regret the decision to hire me because I will prove myself to be an asset to the company.
I have completely understood the offer letter but if there are any handouts or documents regarding professional behavior or conduct, kindly email them to me at ______@______. Thank you for this kind opportunity. I look forward to working with the excellent team of XYZ.
#3
I hope this letter finds you well. I am writing this note as a response to the offer letter that I received regarding a job opportunity at XYZ Company on __/__/__. I am currently employed at ABC Businesses and I never pursued any job opportunity at XYZ but to still receive an offer letter from the business competitors is remarkable.
I have reviewed the offer letter quite thoroughly and I am satisfied with all the terms and conditions. After careful consideration of the situation, I have decided to give this opportunity a go therefore, I accept your offer letter and the salary package that you offered. I cannot join the XYZ team immediately because I have to take care of my resignation from ABC business. I would further like to negotiate the benefits and services provided because I find them underwhelming.
Overall, I am excited about this offer and cannot wait to join your company on __/__/__. I hope you will understand my situation and extend me professional courtesy. Waiting to hear your response to everything. Thank you for the amazing opportunity once again.
#4
I am writing this letter to express my deepest appreciation for ABC's job offer at XYZ Company. I received the offer letter a week ago on __/__/__ and have considered all aspects of it in its entirety.
After thorough consideration, I have reached the conclusion that I would like your company to review the salary and benefits package and adjust it based on my work experience and seniority. I am unaware of your policies regarding hiring but I think it is only fair that I am offered a decent amount.
In the competitive market that we are living in today, it is extremely important to value assets and keep them on your side, making sure that they are not up for grabs by the competition.
I understand all the rules and conditions of the working environment at XYZ and I am happy to comply with all this if you consider my request as a priority.
If needed, a meeting could be arranged to discuss important matters as well. Anxiously waiting to hear from you.
#5
Subject: Salary Acceptance letter
Dear Mr/Miss/Ms,
I am very pleased to be considered for the post of [enter designation] at [enter organization name]. I hope to contribute positively to the company with my skills and dedication.
As per our earlier discussion, I agree to a monthly starting salary of [enter amount] and insurance of [enter benefits].
I look forward to joining you on [enter date]. I understand that I will be expected to be in the office by [enter time]. Moreover, I will complete any requirements or examinations required for a new employee. It will be an honor to work with [enter organization name]. Please let me know if you need any other information.
Best regards,
Preview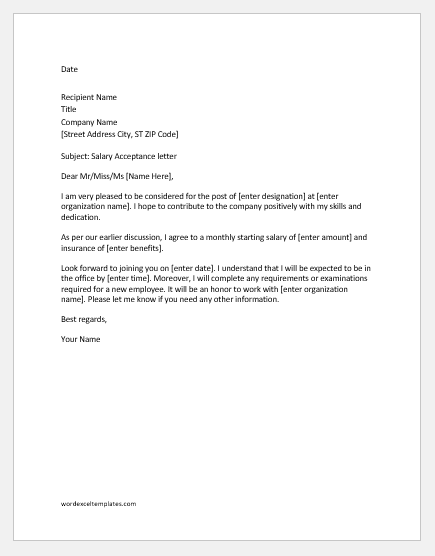 6: Salary acceptance letter with a condition
Subject: Salary acceptance letter
Dear Mr/Miss/Ms,
I am delighted to accept the position of [enter designation] at [enter company name]. I am excited to be a part of the company and use my skills to contribute to organizational goals. I hope to gain valuable experience while at work.
As per our discussion, I agree to a monthly starting salary of [enter amount] for a period of 2 months. However, it would be ideal if my salary could be adjusted by 10 percent at the end of my probationary period.
I have extensive experience in handling teams and project management. My management skills and technical qualifications make me an ideal candidate for the job. I have demonstrated exceptional abilities to lead teams successfully in my previous work experience. Therefore, I believe an adjustment would be fair.
If you think the amount is workable, please let me know, so I can proceed with the requirements or examinations that your organization has for new employees. I will be joining in from [enter date].
Look forward to your response.
Sincerely,
Preview