Advice letter or guidance letter is the formal help provided by a person having authority and experience to make the future work and behavior better. This letter is usually written by a manager or the employer in which he addresses the employee/employees who require rectification.
Through this letter, the manager, based on his experience and knowledge of the situation, provides a guide to the employee. There can be various bits of advice a manager can give to his employees such as:
Advice about the career path.
Advice about the action/issue that needs to be corrected.
Advice about adhering to professional behavior.
Advice about adhering to company policies.
The usual format of the letter is:
Date
Details of the employer or manager.
Details of the employee/employees.
Details of the situation/issue for which advice is being provided.
Statement to motivate corrective behavior or better work. In case of a problem, ask to resolve it.
Any penalty or action by the company in case of no rectification.
Statement of encouragement and showing them their value.
Leave room for any questions.
Conclusively, when a manager is writing this letter, he needs to make sure that the tone of the letter should be professional and not condescending and judgemental. For instance, if there is some issue for which the advice is being given and the manager is being judgemental, it might not affect and correct the employee behavior. Therefore, the letter should be written in a way that it serves its purpose.
Sample -1
Advice letter to be punctual
I have been persistently monitoring employees reporting time from the past few weeks and have concluded that my employees are arriving late at work. I am deeply concerned with this late coming of the employees. I do understand the fact that heavy traffic during the morning is a great hurdle in managing punctuality but still, it is an integral part of efficient working.
Together we can talk about this and will surely devise a suitable solution to the problem as to avoid any future mishaps. Do remind me to discuss the issue in the upcoming meeting.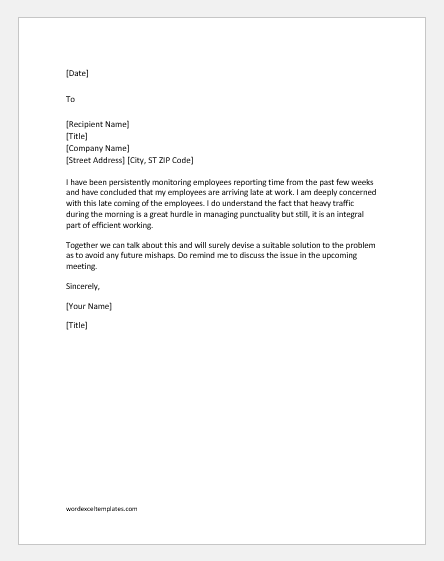 Sample -2
Advice letter for being talkative at work
I have been observing employees talking unnecessarily with each other during duty hours disturbing the working environment. The work efficiency has also lowered down due to increased table talks. This is certainly against the company's rules and regulations. You are given enough lunchtime where you can easily talk with another on topics of your interest but during office hours this kind of behavior is not acceptable.
If there is anything which is disturbing you people, we can surely talk about it in detail at any suitable time. Meanwhile, I advise you to concentrate on your work tasks and start working diligently towards it.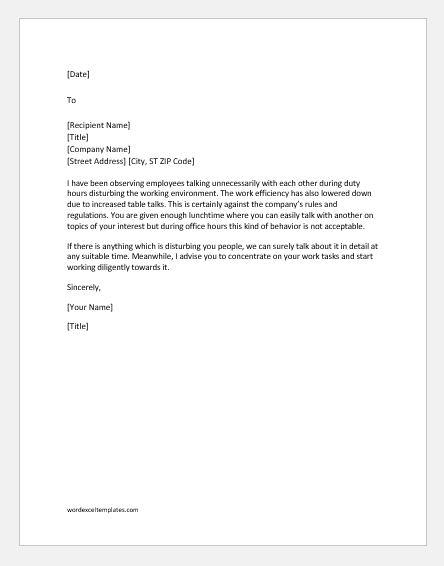 Sample -3
Advice letter on using the mobile phone at work
It was probably from the last week that I have come across employees who have excessive use of mobile phones during working hours. This is certainly against the companies' rules and regulations and any action by you which disrupts the work routine will make you subject to strict disciplinary action.
I understand the importance of mobile phone usage but everything seems good when limited.  I am, therefore, advising you not to use mobile phones during office hours but if there is something which needs to be handled immediately, do talk to the management as to avoid any problems in future.