1. For Parents
Dear Mom & Dad,
As Valentine's Day approaches this year, it reminds me of the beautiful relationship you share with each other. To me, love is defined as what my parents have for one another as a husband and wife. I find myself to be lucky to have grown up in this incredibly loving environment. It is in this environment that you have helped me develop as a kind-hearted girl with a positive personality.
I wish you too many more years of living together happily. I hope to find a partner who would complete me the way you complete each other.
While I wait for my better half to come in my life, I wish you guys a very Happy Valentine's Day. May you always love and cherish each other.
2. For best Friend
Dearest Bestie,
This Valentine's Day, I send all my love to you. No man can ever take your place in my life. Even when Mr. Right comes along, you will always be my favorite person.
This February, it is going to be 10 years since we became friends. It is amazing how we turned into best buddies right from day 1. Remember how I said you looked familiar when we first met? Ten years later, I still don't know why I thought I had seen you or met you before. But I most certainly felt so because you are my true soulmate! It was the connection between our hearts that made me feel as if I had known you for many years.
We have been best friends even though there has never been anything common between us. I wonder how two people with totally different personalities, different tastes, and completely dissimilar traits can be so close to each other. Yet, here we are sharing countless memorable moments together. I call this true love! We adore each other despite all our differences. 
I thank you for always being there for me. I have always been touched every time you supported me during tough situations. Thank you for not abandoning me for all the times I have just been a dull and irritating person complaining about this and that in my life. I don't know how I would have coped with all the troubles in my life without having you by my side.
One day, we are going to get married, have kids and became insanely busy in our own lives. However, I want you to remember that even if we don't find any time for each other in the future, I will always love you the same way I do today.
Happy Valentine's Day to you. You are my true soulmate. I wish the best for you in your life.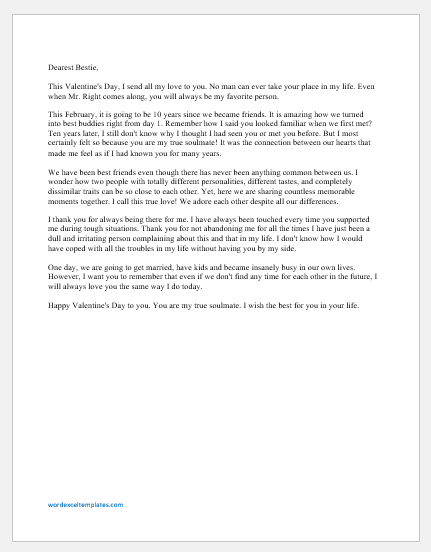 File: Word (.docx) 2007+ and iPad Size 20 Kb |
Download
---
3. for Her
Happy Valentine's day to my lovely girlfriend. You brighten every day of my life with your love and care. Your beautiful smile is all I need to begin my day every day.
I love pampering you and caring for you. But unlike many other women, you are not materialistic at all. I love how you enjoy simple things in life. You are truly one of a kind!
Thank you for your companionship. I look forward to enjoying a lot of wonderful moments with you.
4. for Him
Dear XYZ,
As the 14th of February draws near, I feel excited about celebrating this universal Day of Love with you. Your love, care, and sweet nature make me feel really lucky to have you as my Valentine.
It hasn't been a long time since we started dating. But you have charmed me with your gentle and kind heart. I feel absolutely smitten by you. I hope you feel the same way about me.
A very Happy Valentine's Day to you. Let's make it a memorable one for both of us!
5. for Crush
Dear XYZ,
I believe Valentine's Day is the right time to express my feelings for you. I have been attracted to you since the first time we met 6 months ago at Jane's party. It was your lovely smile that instantly drew me towards you. The innocence in your eyes and your simplicity charmed me.
You are on my mind all the time. I find excuses to visit the coffee shop you work at every now and then just to catch a glimpse of you. You are a beautiful woman with the most charming manners. Susan, you really are the girl of my dreams!
I would be thrilled if you agree to be my Valentine tomorrow. It would be the happiest Valentine's Day of my life. I eagerly look forward to your reply.
6. for Teacher
Happy Valentine's day to my most favorite teacher. I love you for being so kind and friendly. You teach your students like a friend and create an extremely comfortable environment for learning. No wonder my fondness for the History subject has grown since you started teaching my class.
A wonderful person like you deserves the best in life. I wish you lots of happiness, health, and love.
7. for Boyfriend
Happy Valentine's day to the best boyfriend. You make me laugh, you help me up when I'm feeling down and you make me happy. Since the time we have been together, you have given me countless reasons to be grateful for having you in my life.
I wish our love keeps on growing. I want you to be my Valentine every year for the rest of our lives! I love waking up next to you and starting my day with you. I wish nothing ever comes between us and we can always keep our love alive. I love you with all my heart and will continue to adore you.
8. for Girlfriend
I am thrilled to celebrate our first Valentine's Day together. I can't express how happy I am that we are together. With you in my life, the sun is always bright, the blue sky looks wonderful and the birds are always chirping merrily. You are all I need to make my life beautiful. Happiest Valentine's Day to you.
9. for Husband
It has been half a decade since we got married. We have celebrated many Valentine's Days together, but this time I want to take this opportunity to express my feelings about the 5 magical years we have spent together up till now as husband and wife. Thank you for your love, support, and care all these years.
When you first came in my life, I had given up hope in a happily ever after due to a bitter past relationship. But with your immense love, my ray of hope sprang back to life. After tying the knot with you, it was a brand-new beginning for me with a beautifully promising future. You started spoiling and pampering me. Every moment spent with my loving husband was immensely precious. I hated saying goodbye to you in the morning when you used to leave for office.
While you turned out to be the perfect husband, I was quite a sloppy wife. I was no Martha Stewart in the kitchen and showed the tiniest interest in other household chores. I am sorry you always came back to a messy house even before we had our first baby. But all these years, you haven't complained even once! You always make me feel like a Queen. You always appreciate me despite all my flaws! I am extremely grateful for this display of true love.
We have had our ups and downs in this marriage. But our love for each other remains strong. I cannot imagine being without you. Five years down the lane, I still hate to see you leaving when you are off to work. These 8 hours spent without you are the saddest part of my day. But my heart jumps up with happiness as soon as I hear your car pulling in when you return home. I am so glad that half a decade later, the magic of our love is still alive.
I pray for a lifelong companionship with you.
As I wish a Happy Valentine's Day to you, I promise I would try to be a better and more responsible wife in the future. After all, a wonderful husband like you deserves the best!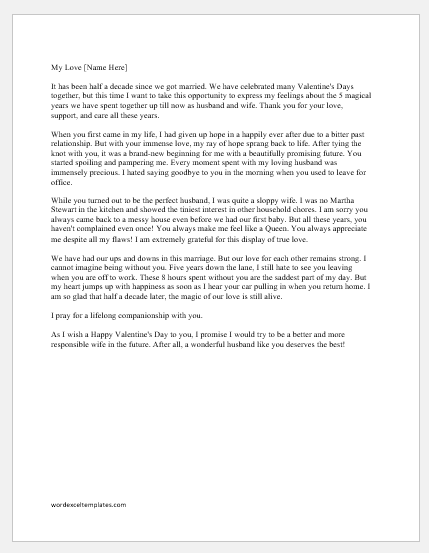 File: Word (.docx) 2007+ and iPad Size 21 Kb |
Download
---
10. for Wife
Happy Valentine's Day to my beautiful wife. You are my true soul mate and my better half. I love sharing my life with you and wish for the happiest future together.
I love you every single day of the year. But there is something very special about the 14th of February. This day of love is celebrated all around the globe. So, I don't want to miss this opportunity to express my love through this letter and your favorite candy and flowers.
You have given me the most precious gifts in life. Firstly, your love and companionship are invaluable. Then, you gave us our beautiful daughter, Emma. She fills my heart with warmth and lights up my life. You are my two best girls. I am ever so grateful to you for bringing this joy to my life.
You are beautiful inside out. Your kindness inspires me to be a better person. My life is full of positive energy because of you. Thank you, my dearest wife, for all the happiness you bring to me.
Words are just not enough to express all I want to. I wish to give you all the love and care you deserve. We share a life-long companionship and I wish it grows more and more beautiful with every passing day. I love you and will always love you unconditionally.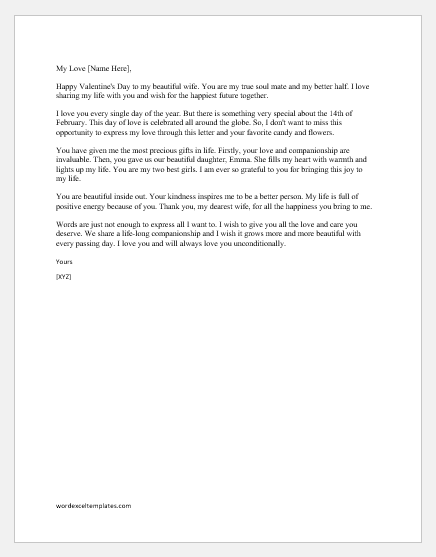 File: Word (.docx) 2007+ and iPad Size 18 Kb |
Download
---