The most important thing for any business is how it is perceived in the open market. The success of a business depends entirely on how many clients does it have, while the business' perception decides the repute it enjoys with them. Just like a wise smart attired receptionist is the first image when you enter any organization's office, similarly, the first distant image in building up a positive repute for any business is its letterhead. Holding a professional likeable letterhead in your hand is a telltale sign of a proficient business team behind it.
With the advent and progress of technology and digitization, more and more companies are going paperless relying on electronic mailing, social media campaigns, and conference calling. Despite that, what every company or business does keep is its letterhead.
The same is the case with optical stores and optometrist's offices. Although such a store's name travels more from their show of professionalism and skill in their area of expertise, yet an optical store's letterhead goes a long way in establishing that repute which further travels by word of mouth.
Optical Store Letterhead             
An optical store letterhead is basically a paper that entails in itself the store's name with few additional details. It fulfills the need of importing that basic information to the customers what the shop/store owner wants them to know.
Simply an optical store letterhead can have, on one leaf of the paper, the store's name, address of the store, contact information, and email id, if any. It can also have the address or contact information of the same store's other branches in the vicinity. On the other leaf, or backside of the same letterhead, it may contain information pertaining to the services that a particular store offers i.e. eyesight check, any deals on spectacles, etc. Normally, the backside of any optical store's letterhead is left blank. If the store offers a lot of items to sell, the letterhead may contain the margins showing the serial number, item description, and rate. Such letterheads also explain the amount received, and any balance, if applicable.
Benefits of Optical Store Letterhead
A well thought out letterhead accrues many benefits and speaks a lot about the store's culture and repute. Some benefits are as under: –
Personalized Touch: A well put letterhead speaks of personalized effort being put in by the store owners. This imbibes in the customers a sense of trust and a feeling that they will be well taken care of and provided with quality items from that store.
Company's Branding: A good letterhead implies that the store cares about its repute. The inherent advantage is that it will play a part in the branding of the store making the customers feel comfortable dealing with it. Every time a customer is issued with a letterhead you are also marketing your brand.
Professionalism: A letterhead gives a touch of professionalism and portrays the store as more professional, competitive, and official. Since this is the first thing that any possible customer looks at, hence it gives an idea of being more competent and cements the trust of the customer in your specific store and the services it proffers.
Saves Time: Instead of detailing all the customers for the services that the store offer and engaging them in conversation, a well-planned and thought out letterhead saves all such trouble. The customer can simply read all the details in their own time and exactly know as to what all deals the store might have to offer and at what cost.
It is important to mention that since optical stores have a lot of traffic and influx of customers; some come for eye checkups, others to change spectacles' glass and some might just come for medicine procurement; designing a letterhead – albeit not the only means – may go a long way in portraying your optical store as a professional and customer friendly option for them. Designing a catchy letterhead is the best possible way that can lend your optical store a big first impression.
#1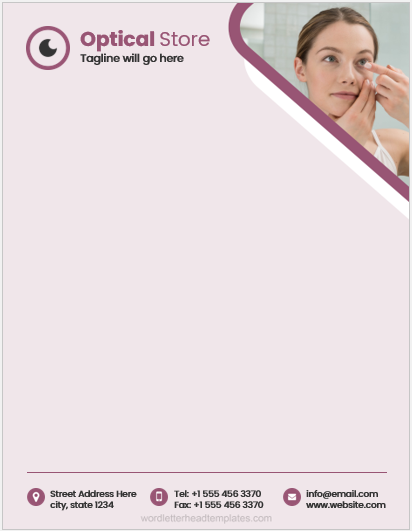 File: Word (.docx) 2007+ and iPad
Size 1128 Kb
Download
---
#2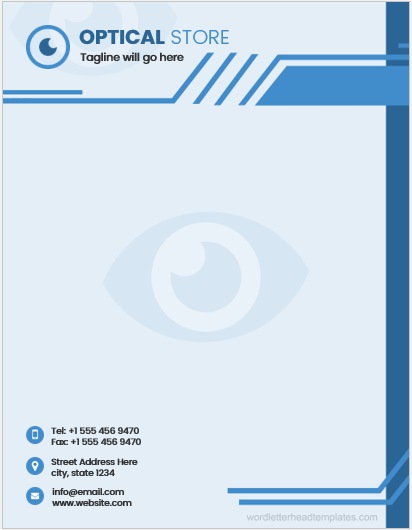 File: Word (.docx) 2007+ and iPad
Size 263 Kb
Download
---
#3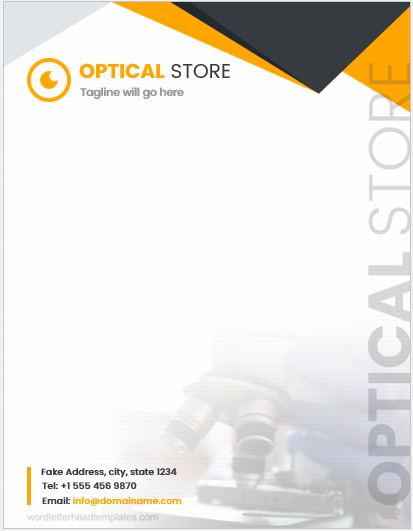 File: Word (.docx) 2007+ and iPad
Size 2128 Kb
Download
---
#4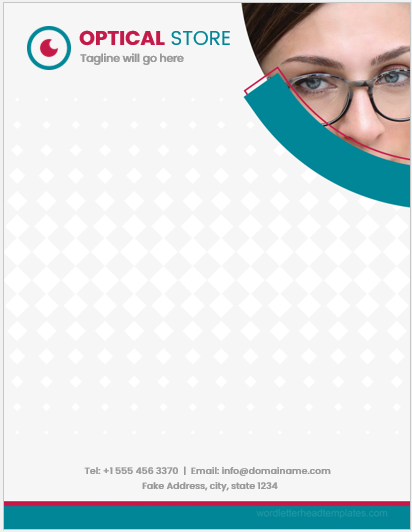 File: Word (.docx) 2007+ and iPad
Size 2128 Kb
Download
---
#5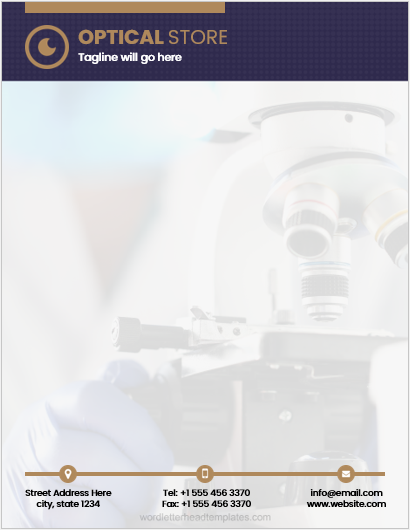 File: Word (.docx) 2007+ and iPad
Size 3028 Kb
Download
---