A warning letter on failure to follow the job description is a letter that is written by an employer. In this letter, the employer addresses the employee and issues a warning to the employee for not fulfilling the duties and responsibilities properly. 
When an employee is showing unprofessionalism and is not showing good performance, the employer would issue this letter. This letter is intended to warn the employee as well as provide a chance to him for improvement, before taking any drastic step.
The employee may fail to follow his job description in different ways, for instance:
The employee is not fulfilling the tasks that fall under his job description.
The employee is attempting to do the tasks that are not under his job description and is trying to use the authority which has not been delegated to him, and his such acts are affecting other employees or the organization.
To improve their evaluation, the employees often try to help even in the tasks that do not directly fall under their job description. However, this may be unacceptable to the company, especially if it is bringing more problems than good. On the contrary, failing to follow even one's own job description would certainly push the employer to issue a warning letter. Usually, the warning letter is written when the employee is doing less than what comes in his job description.
The information and severity of the warning might vary depending on the employee's performance level, company policies, and the severity of the situation. Generally, however, the following details are included in such kind of warning letters:
Date.
Details of the employee.
Details of the employer.
The issue and its explanation.
A specific incident (if any).
Reference to the employee's job description and company priorities.
Warning.
Consequences of recurrence.
Show hope for improvement.
Indicate that the company values its employees.
Signature.
This letter is a written warning. The employer might warn the employee orally as well, before sending this letter. However, once this letter is sent, it is recorded in the employee record file and would be used in the employee evaluation. Therefore, an employee should try to avoid getting such letters. 
Sample Letter
Date
Name
Address
Dear Mr. Ross,
This warning letter is being sent to you for not following your job description properly.
We have received many complaints from your co-workers regarding your non-fulfillment of duties and responsibilities properly. No warning was sent to you, but you were under observation. After looking at various incidents, we have reached to the conclusion that you often refuse your co-workers, and even your supervisor, with the excuse that the task does not come under your job description.
This warning letter is especially being issued to you after your refusal to write the XYZ project appraisal report. It is clearly written in your job description that you are responsible to complete any task related to the project you are associated with. In addition, you are supposed to carry out any job that your supervisor assigns to you.
This kind of behavior is simply unacceptable. We have decided to issue a warning letter initially. However, if you do not follow your job description appropriately, not only your evaluation would suffer, but you might get terminated as well.
We expect you to improve your behavior, and we hope we do not have to lose you, as, for us, our employees are our assets.
We hope to see a better professional behavior and performance.
Regards,
John Thomson.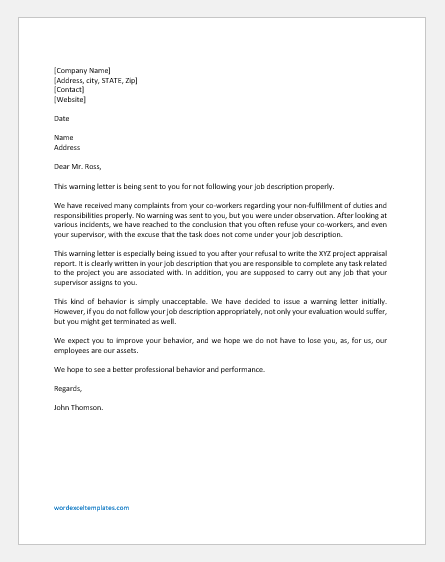 File: Word (.docx) 2007+ and iPad
Size 21 Kb
Download
---