An excuse letter for absence due to a birthday is a letter that is written by an employee, in which he addresses his/her employer, and explains the reason of his/her absence, and put forward his/her excuse and apology. This letter can be referred to as an apology letter as well, as the employee is trying to seek an apology for his unprofessional behavior.
Employees often take a day off to celebrate the birthday of:
Wife/husband.
Girlfriend/boyfriend.
Parents.
Relatives.
Friends, etc.
Based on whose birthday it is, the details and apology included in the excuse letter for absence due to a birthday vary. In addition, the particulars included, and the apology sought are also dependent on whether the employee is writing this letter before the absence or after taking a day off.
If the birthday is planned, the employee might write this letter, along with the leave application, before the day of absence, and explain the importance of attending it, while seeking an apology. However, this letter is, usually, written once the employee has been absent from the office due to a birthday, and hence, is trying to excuse himself, as well as requesting an apology acceptance. The following are the general details that are included in an excuse letter for absence due to a birthday:
Date of the letter.
Details of the employee.
Details of the employer.
Date of absence.
Incident and reason for absence.
Excuse and seek an apology.
Provide certainty that such behavior will not be repeated in the future.
Show hope for the excuse acceptance.
Signature.
A birthday is a personal occasion, companies cannot accept employees taking days off on their birthdays or birthdays of their special ones. Therefore, the management often dismisses such excuses, and consider such absenteeism as an unprofessional attitude. This indicates the employees need to be careful of their absenteeism on the birthdays or occasions of the personal sort. However, if they had made a mistake of taking a day off, they need to write an excuse letter, and acknowledge the mistake, along with an apology. The employee needs to convince the employer about the realization of the mistake and the least possibility of recurrence.
Sample Excuse Letter for Absence Due to Birthday
Date
Name
Address
Dear Mr. Jonathan,
I am writing this excuse letter for my absence on 5th August 20XX.
It was my birthday on 5th August, and my family and friends planned a surprise party for me. They all came at midnight to celebrate my birthday and stayed till 5 a.m. Although I had intended to come to work, as I slept after 5 a.m., I could not wake up till late. 
I know this is a personal excuse and may not be acceptable for being absent. I apologize for my unprofessional behavior, and I ensure that nothing of the sort will be repeated. I am truly sorry and request you to excuse my absence this time.
Looking for a positive response.
Regards,
Sarah James.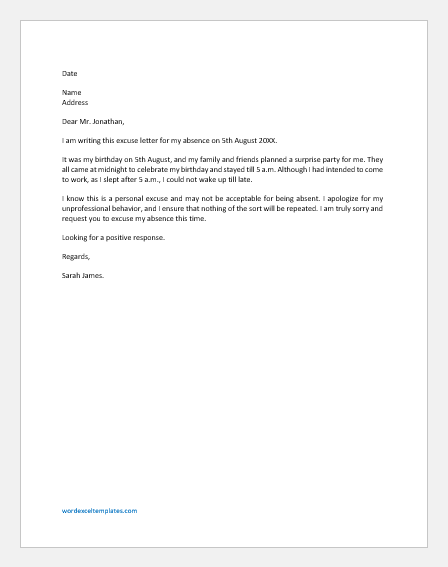 File: Word (.docx) 2007+ and iPad
Size 23 Kb
Download