A letter of termination is sent to the person for non-performance and who is being terminated from his job or duty due to his/her poor performance in the company. These letters are strict and explain the reason for the termination.
An employee that fails to meet the productivity expectations of the company and is bad for a company's bottom line then a termination letter is issued to him. A termination letter is given with an exit interview and is the proper way to end the unproductive relationship.
Commonly, the employee terminations are handled at a termination meeting and a witness is present there.  After the termination meeting, a termination letter is handed over to the employee or is emailed/mailed shortly thereafter.
If you are firing an employee then it is essential to conduct the termination carefully by following all the local laws and internal policies. The termination letter should be clear and simple. It should not contain anything discriminatory, biased, or unfair. It should include the basic facts behind the cause. The language used in this type of letter should be courteous and professional. You should never use the insulting, demeaning, or derogatory content.
Contents of Termination Letter
Depending upon the circumstances of the employee's departure, the contents of a termination letter may vary. However, at a minimum, a termination letter should contain an employee's identification, name, start date, and number. It should also contain an employee's department, positions held the final pay and the cause for the employee's termination.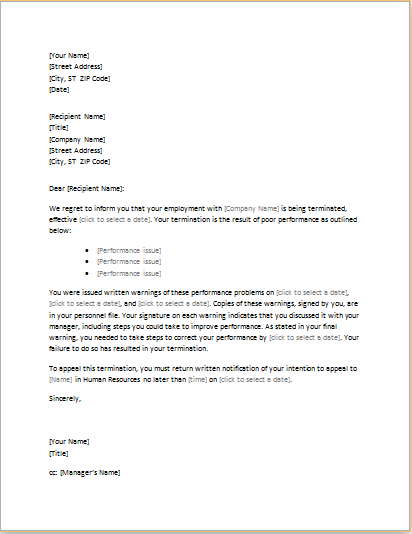 File: Word (.docx) 2007+ and iPad Size 27 Kb |
Download
---
Termination letter for poor performance and attendance
Dear 'Name of Employee',
We regretfully inform you that, due to poor performance, your contract is being terminated with our company effective 'Date'. It is the company policy to keep performance checks on the employees. If the company decides the work requirements are not being met, they have the power to terminate the employees' contract.
According to your work records, you have already been issued two warning letters for excessive leaves and bad quality work. However, there has been no change in your performance. You are being given a 30 days' notice during which you will be allowed to clear your dues with the company.
Thank you for providing us your services.
Sincerely,
Name of Employee
Human Resources
Company Name
Termination letter for poor performance during the probationary period
Dear 'Name of Employee',
It is with regret that we confirm that your time at our company has come to an end. As per our meeting on 'Date', the company has decided to bring your contract to an end. During the probationary period of 'time-period', you have not been able to meet the expectations and work performance requirements. Please hand over the properties provided to you by the company by 'Date'.
Thank you for your services. We wish you best of luck in your future endeavors.
Sincerely,
Name of Employee
HR Department
Company Name
Dismissal letter for misconduct
Dear 'Name of Employee',
We sadly inform you that your contract has been brought to immediate termination. Your actions of misconduct at the office have violated the code of conduct of the company.
You are being given time till 'Date' to pack your belongings and clear out your desk. If there is any act of resistance shown on your part, your belongings will be packed for you while you are escorted out of the company premises with security.
We would like to thank you for your services and we wish it didn't have to end this way.
Sincerely,
Name of Employee
HR Department
Company Name