22-04-20XX
To whom it may concern
It is to certify that Mr. Franklin has been working as a teacher in my school from 01-03-20XX to date. As a teacher, he was teaching the intermediate and secondary classes. He also performed other miscellaneous duties assigned to him at different times. He remained exceptionally good throughout the time he spent in my school. He made himself valuable by performing all the tasks before the deadline and used his knowledge at its best.
Using all his God gifted abilities, he proved himself as unparalleled and a great gift for my school. He can be differentiated from all other staff members through different skills he has been bestowed with. He has been gifted with some traits such as a balanced personality, excellent communication, and verbal skills, self- driven attitude, and enthusiasm to do all tasks before the deadline.
I still remember the time when he was given an additional duty to work as vice principal for some time. He met our expectations, accepted the challenge, and did it nicely. Despite his teaching schedule, he was ready to offer his assistance to all mates in school, and in this way, he made himself coherent with all the staff members from class-6 employees to higher management.
Keeping in view his capabilities, I can say that he will have a deep impact wherever he goes by means of his professionalism and excellent personality traits. I wish him all the best for his upcoming endeavors.
Principal
American Lyceum School System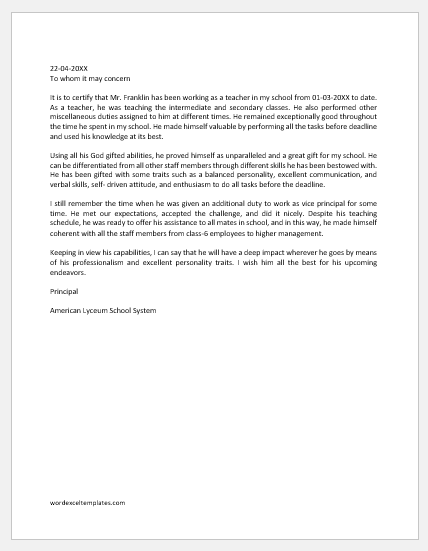 File: Word (.docx) 2007+ and iPad Size 20 Kb |
Download
---
Sample -2
22-04-20XX
To Whom It May Concern
It gives me immense pleasure to certify about Ms. Angelina who provided her services in my institution for almost ten years and exhibited her skills in the best way. Throughout her stay in the institution, she showed a vigilant attitude towards teaching and other duties assigned to her by management.
One thing which made her unique is her regularity. She never remained absent without prior permission. Besides, she worked extra hours for the betterment of the school. She was even available at weekends whenever school needed her. Every time, while performing her assigned tasks, she went beyond our expectations and demonstrated her abilities in an efficient way. Through her hard work, balanced personality traits, and professional attitude towards work, she made herself a popular individual amongst all the employees of the institution.
She was not only a good teacher but also a good counselor. We have established a student-teacher center in our institution. She was made in charge there. By virtue of her friendly behavior, students never hesitated and used to share their study-related problems with her.
Keeping in view all the above-mentioned qualities, it can be said that Ms. Angelina will prove her as a valuable asset of any organization wherever she goes. A teacher like her are beneficial for the society and teachers are found very rare. I wish her all the best of luck for her future endeavors.
Principal
The American Lyceum School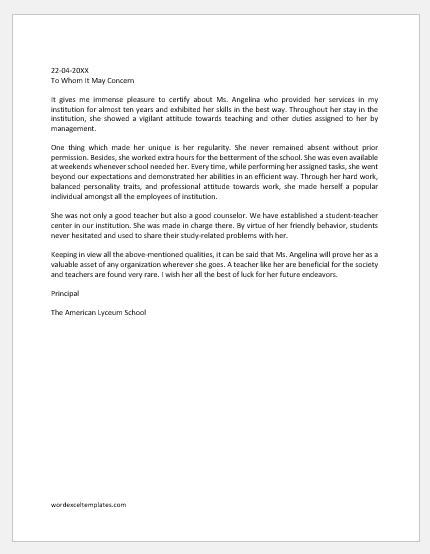 File: Word (.docx) 2007+ and iPad Size 21 Kb |
Download
---
Sample -3
22-04-20XX
To whom it may concern
I am feeling great pleasure while writing about the experience letter of Mr. Johnson. I hereby certify that He has been teaching in my college since the 1st of March, 20XX to date. I am honored to be acquainted with the services he rendered in my college as a lecturer. His teaching skills are as per the demands of a new era where the focus is on activity-based learning rather than surface knowledge. He is not only a good teacher but an outstanding person as well. He proved it through his helpful attitude towards students whenever he was needed.
Although he has done a master's in Physics he is equally good in Mathematics. He was given an additional charge of Manager, Physics Lab. He performed this extra duty very well without taking the burden. He was exceptionally well while taking the practical classes as well. His friendly and caring attitude towards students made him famous amongst them and I saw a remarkable increase in students' enrolment.
Every student of the college is fond of him because he has developed an innovative way of transferring knowledge to young brains. He is developing his teaching style consistently. His behavior within and out of college was excellent both with teaching and non-teaching staff. He will prove his worth wherever placed. I wish him the best of luck for his future.
Principal
Michigan Poly Technique Institute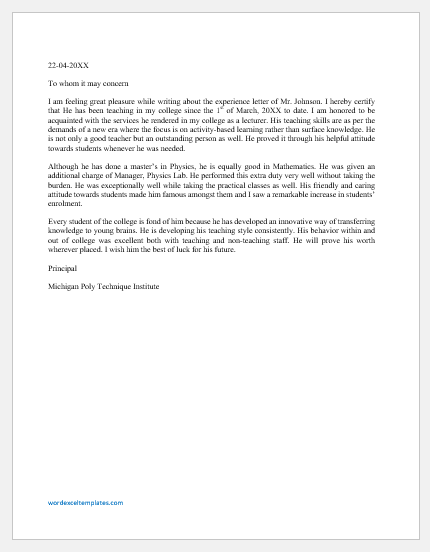 File: Word (.docx) 2007+ and iPad Size 20 Kb |
Download
---
Sample -4
To whom it may concern
It is certified that Ms. Anna Johnson has been teaching Biochemistry at this college as a lecturer since the 1st of March, 20XX. In this short span of time, she has impressed everybody at college with her nice manners and an excellent way of talking. She has been blessed with a pleasant and balanced personality coupled with great interpersonal communication skills. She loves doing research and her publications in many renowned journals speak a lot about her work.
Her general behavior with teaching and nonteaching staff has always been respectful. She has gained popularity among the students by means of her innovative and interactive way of teaching and her supportive attitude. She supports special children in their studies. She will prove herself a valuable asset wherever she goes. I wish her the best of luck for the future.
Principal
Michigan Poly Technique Institute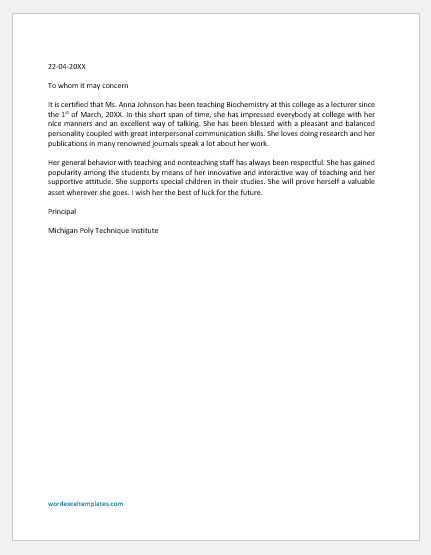 File: Word (.docx) 2007+ and iPad Size 21 Kb |
Download
---