It's vexing to wait for a salary. One receives the salary after one whole month and in case that too gets late, exhaustion is natural. In such a situation a helping tool for an employee is a salary request letter.
A salary request letter can be written to inform your employer that you haven't been given your salary after the work duration has ended. In businesses, most communication is done in writing rather than orally. So in order to request for salary, the same writing medium is used.
Here, note that a salary request letter is sometimes used not during the job but at the beginning of the job to request one's salary requirements. In that case, it is called a salary requirement letter. Or sometimes, it is written during the job for an increment in salary. Then it is an increment request letter. They all are salary request letters but commonly when we say salary request letter, it means to request for one's pending salary.
Brace yourself! Because you're going to write a letter to your boss about your salary: O yeah! Boss. And though your letter is to ask for your due right, there are yet some careful approaches that you should take.
Is there a need to say that your letter should be in a business letter format?
Secondly: Introduce yourself and the post that you're working on
Thirdly: Explain your issue decently.
Fourthly: Request the employer to take review your problem
Fifthly: Close your letter respectfully, reminding the reader again what the letter was for
Usually, businesses do provide their employees with documents and forms of essential use that include salary request letters, but in case your company hasn't provided you, we're presenting to you some professionally made instant to use the salary request form.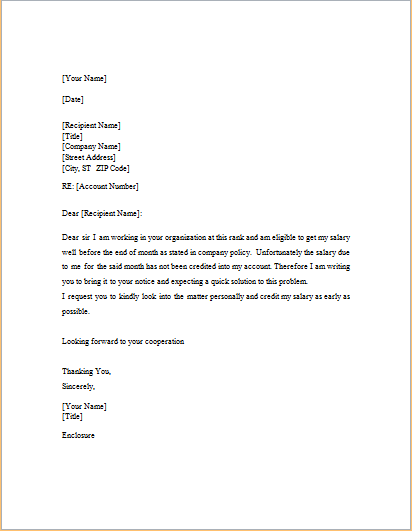 File: Word (.doc) 2007+ and iPad 
Size 32 KB
Salary request letter to Principal
I would like to bring your kind attention to an issue I am facing regarding my salary. I have not received my pay for the month of July. My colleagues received it right on time, that is, on the 1st of the month. However, it has been 15 days and I still have not received the due amount in my account. I respectfully request you look into the matter personally and kindly resolve my issue.
I tried to contact the school's Head office twice in order to get in touch with the finance department. However, my request is still pending with them. Kindly speak to them on my behalf to get the issue resolved at the earliest.
I shall be really grateful for your help.
Salary request letter to boss
I would like to respectfully state that my salary for the month of August has been delayed. The finance department has informed me that my paycheck is being withheld due to some verification issues. I request you to kindly look into the matter.
I have been serving the company for the past 8 months. All of my documents, including my CV, experience letter, and relevant certificates are genuine and have already been verified. I am sure there has been some misunderstanding. Kindly speak to HR to help release my salary since I have to pay my monthly rent by the 10th of this month.
I shall be really grateful for your cooperation.
Salary request letter for medical treatment
This is with reference to my salary for the coming month. I humbly request you to make my payment in advance one week earlier. I have to pay for emergency surgery for my brother. Your cooperation in this regard will be highly appreciated.
Kindly consider my request on compassionate grounds. I shall be extremely grateful to you.
Pending salary request to HR
This is to bring your attention to the delay in my salary. I was supposed to receive my monthly payments on the 5th of this month. It has been 10 days since then. However, my account has still been credited with my salary.
You are requested to kindly investigate the reason for this delay and help me get my salary released as soon as possible. Your help will be a tremendous favor to me.
Early Salary Release Letter to Manager
I am writing to make a special request regarding my monthly pay. I need to repay a bank loan. I, therefore, request you pay my salary for the month of April by the end of March.
I have been serving the company for the past 5 years. My work has always been up to the mark. I have been contributing towards the success of the organization with complete dedication. This is the first time that I have made such a request. I am really hopeful about receiving a positive response from the management in this regard.
Sample letters
---
Salary Certificate

Sample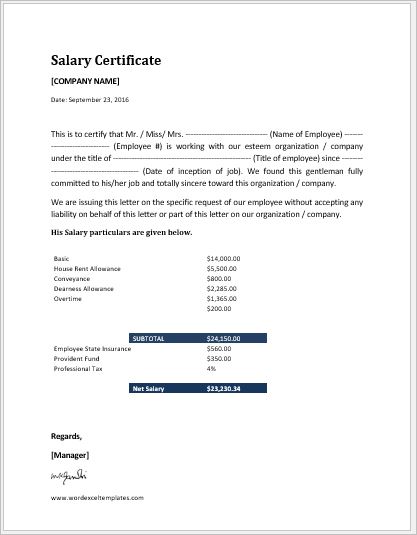 File: Word (.doc) 2007+ and iPad 
Size 32 KB.
License: ENERGY (Personal Use)
(Distribution) by Kate Elizabeth(CEO)
More sample certificates