It is a nobility to keep doing favors for people. One such favor is writing a proof of employment letter. Proof of employment letters is verification letters that are written by ex-employers for their employee as proof that they have been employed at their workplace. Employment proofs are sometimes necessary while applying for a new job, for visa documents, for taking loans, and for other such purposes. They show the professional background history of a person.
In order to write a proof of employment letter, make sure;
You write the letter in a business letter format.
Add the company's letterhead or logo to make the letter look more professional.
Before saying anything about the employee, or verification, introduce yourself to the recipient.
Your letter should contain genuine and honest information about your ex-employee. In case you give him the undue favor, this may cause problems for the new employer.
Since people are more interested to know that the person was actually employed by you, you should take a little length verifying the employment by specifying the year and month during which he has been working for you. The salary that he took, his working hours, his job title, and duties performed, etc.
Remember it's a business letter so remain precise and concise. Being an employer, you can understand how it feels to read lengthy nonsense letters.
Don't forget to give your contact details in the letter, so that the recipient may confirm that you really exist and the letter wasn't a sharpened letter. Hope you won't forget to sign the letter.
Employment proof letters are not always written by employers. Sometimes, the letter is written by the employee himself but is approved by the employer. In both cases, it has to have professional elements. Notice the styles, formatting, and language of this proof of employment letter samples.
Preview and Details of Template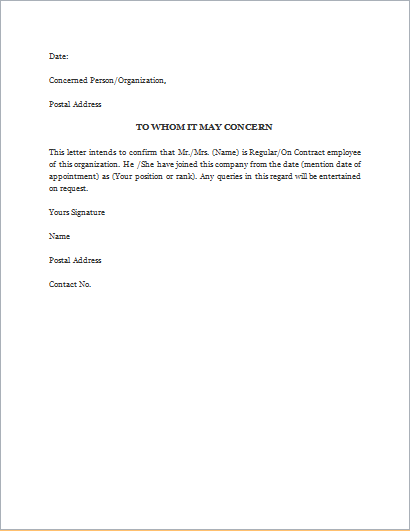 File: Word (.doc) 2007+ and iPad Size 28 Kb |
Download
File: OpenOffice (.odt) Writer [Writer] Size 17 Kb |
Download
License: ENERGY (Personal use only)
(Distribution) by Kate Elizabeth(CEO)
---
Sample -2
Manager HRD
Jackson Alice.
CNBC Company
475- Lawrence Road
Los Angeles.
+1 (034)-456-899XX
Mr. Oliver Frank
Marketing Head
SEC Company.
348 Empress Road
Los Angeles
+1 (034)-456-899XX
Dear Mr. Oliver,
I want to state that Mr. Franklin Hans a former employee of your company has applied for the position of Marketing Manager in our firm. He has given us the Reference of 5 years of remarkable service in your company during the period from January 20XX to December 20XX and has stated that his salary with you was $ 25000/- (basic) plus allowances at the time of leaving your company.
May I request you to kindly affirm the truthfulness of the above facts in writing or by calling us at our office number mentioned above as a gesture of mutual co-operation.
Thanking you
Regards
Jackson Alice
Manager HRD.

Proof of Employment letter for Visa
Andy William
CEO CDGB Company
56784 Banish Road
Japan
[email protected]
Mr. David Lee
Consulate of United States of America
547 White Cross Road
Washington
Subject: Proof of employment letter for visa.
Dear Mr. David,
I am writing this letter to certify that Mr. Brick Thomson (passport # 89076-754-987777) is a reputed employee of CDGB Company for the past 6 years that is from January 20XX till now. He is the Head of the HRM Department and is receiving a monthly salary of $50000/- (basic) plus allowances.
I hope after these assurances you will grant Mr. Brick with a nonimmigrant visa for America.
If you have any questions or need any clarification or verification please reach us at our number. (+1-567-987XX)
Thanking you
Yours truly,
Andy Williams.
Confirmation of employment letter for bank
Daniel Birth
HRM Head
SEMCO textile Industry
234 Grass Field Avenue
2657U Birmingham
Oliver James
Branch Manager
Zilch Bank Ltd.
Cross which Street
2897U Birmingham.
Dear Mr. James,
This letter is written to affirm that Mr. George Addison is an honorable employee of SEMCO Industries. He is a very creative, hard-working, sincere, devoted, and humble person. He has a good rapport with people of all ages.
He joins the industry 5 years back that is from 5th June 20XX till now. He is at the post of Accounts Manager in our industry and receiving a salary of $40000/- per month.
I hope this information is enough for the bank to approve his loan. If you still have questions or need any information feel free to contact us at +1 (654)-5XXX
Thanking you,
Yours truly,
HRM Head
Daniel Birth

Employment verification letter to Whom It May Concern
5th February 2019
To whom it may concern
I Chadwick Greek being the CEO of WestPoint Company certify that Mr. Bridge Brown has been an employee of this company for the period of December 2016 to March 2018.
During his stay at our company, he is at the post of Sales Manager and is responsible for carrying out sales by our company and also keeps its record. He was very good at building positive professional and personal relationships with the clients.
The company has issued this letter upon the request of the said employee for whatever purpose it may serve him.
Yours truly,
Chadwick Greek
CEO WestPoint.
Letter of employment for renting
HR Assistant
Henry Joe
CBD Corporation Ltd.
173 Milky Way,
234 Green springs' villas
Toronto
5th February 2019
To whom it may concern
Please accept this letter as confirmation that Mr. John Wick is an Accounts Assistance in CBD Corporation Ltd and earns a salary of $2000 per week. He has a good reputation among all staff members and is very hard working and loyal gentleman.
Please feel free to contact at our office number (0098-7856-321) if you have any question.
Yours truly,
HR Assistant
Henry Joe.