Oh! Sad to know that it's been 100 years and you haven't been promoted even once: if that's the case and you think you have potential and are committed yet not promoted, there are ways we can help you get a promotion.
You can write a promotion request letter to your boss. Yeah! There are two ways to write a promotion request letter. One is to seek promotion by persuading the employer that you've potential and are ready to accept even harder responsibilities. The other way is that since employers usually fill the exclusive vacancies with the employees they already have, you've got a golden chance to avail yourself.
Few tips before you write…
If there's a vacant seat in the office that you wish to acquire, your dream can possibly come true by writing a potential promotion request letter. But on how to write a promotion request letter let's give you some tips.
A promotion request letter is a professional letter. Keep it professional by using a business letter format.
Write about your achievements and background to help the employer analyze your potential.
There is no need to compare you with other employees. This shows jealousy or otherwise prejudice, both will give a bad impression.
Once you're done with your detailed achievements with your current position, convince the employer how are you a good choice for the open vacancy or to acquire a higher position in the office.
Don't go out of the way in your persuasion and don't include any complaints in your letter.
A decent, polite, humble and properly persuasive letter has more potential to bring you a "Yes".
Always close the promotion request letter with proper salutations and say that you'll be pleased to have a response be it a 'Yes' or a 'No'.
Huff! You know too much about promotion request letters now. Check this sample too and we're sure you'll be celebrating your promotion party soon, that too after 100 years! Wow
Preview and Details of Template
#1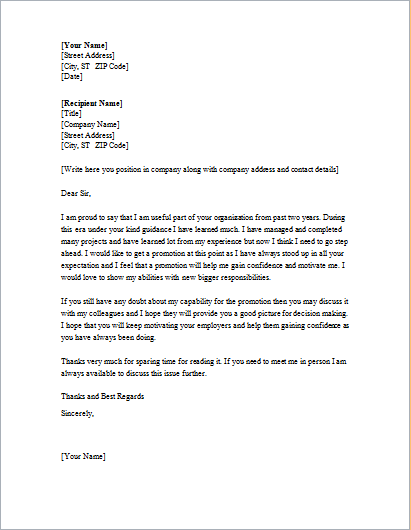 #2
Promotion Request Letter to CEO
Subject: Promotion request regarding [XYZ]
Dear Sir,
I hope you will be doing well. My name is Anderson, and I am honored to work with your esteemed organization. I want to bring it to your notice that I have been working as an assistant manager in the supply chain department for the last five years. Throughout this time, I worked honestly and with my full potential to achieve the organizational goals.
Due to my diligent work, I was also awarded the employee of the year award, 202X. Now, this is the time when I should send you my formal request for a higher position. I am an active employee, filled with a sense of accomplishment since the very first day of my joining. I believe that you must recommend my name for promotion.
As per the existing policy of the company, an employee is entitled to ask for a promotion after five years of continuous service. Moreover, my successful journey in this organization has provided me with enough ground for promotion. I have always proved my devotion through hard work. Whenever it was needed, I came up with innovative ideas and provided the best possible solutions to various problems being faced in the supply chain department. This is how I played my part in the success of the company.
I fulfilled the prescribed criteria to get a promotion. Moreover, based on my excellent service, knowledge, and qualifications, I request to promote to the rank of manager. I know this job role requires a great set of skills from me and I am confident enough to skillfully perform all the responsibilities entrusted to me. Rest assured, I have deeply observed the daily routines of the ex-manager and I fully understand the responsibilities associated with this post. If you promote me, I will prove myself the right choice.
I know that my promotion will render my position vacant, and I want to offer my help to make the transition process as smooth as possible. If you select any potential candidate, I will fully train him for the role of assistant manager. I would be thankful if you schedule my promotion interview as soon as possible.
Sincerely.