Oh! Sad to know that it's been 100 years and you haven't been promoted even once: if that's the case and you think you have potential and committed yet not promoted, there are ways we can help you get a promotion.
You can write a promotion request letter to your boss. Yeah! There are two ways to write a promotion request letter. One is to seek promotion by persuading the employer that you're potential and ready to accept even harder responsibilities. The other way is that since business people usually fill the exclusive vacancies with the employees they already have, you've got a golden chance to avail.
If there's a vacant seat in the office that you wish to acquire, your dream can possibly come true by writing a potential promotion request letter. But how to write a promotion request letter let's give you some tips.
A promotion request letter is a professional letter. Keep it professional by using a business letter format.
Write about your achievements and background to help the employer analyze your potentials.
There is no need to compare you with other employees. This shows jealousy or otherwise prejudice, both will give a bad impression.
Once you're done with your detailed achievements with your current position, convince the employer how are you a good choice for the open vacancy or to acquire a higher position in the office.
Don't go out of the way in your persuasion and don't include any complaints in your letter.
A decent, polite, humble and a properly persuasive letter has more potential to bring you a "Yes".
Always close the promotion request letter with proper salutations and saying that you'll be pleased to have a response be it a 'Yes' or a 'No'.
Huff! You know too much about promotion request letters now. Check this sample too and we're sure you'll be celebrating your promotion party soon, that too after 100 years! Wow
Preview and Details of Template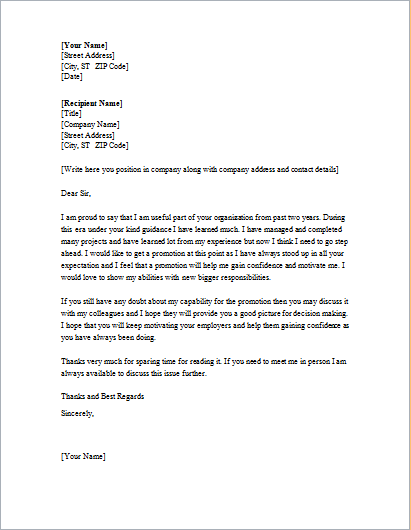 File: Word (.docx) 2007+ and iPad
Size 32 Kb |
Download
---