A probation completion certificate refers to the official and legal document provided by the employer for the successful completion of the probation period. It is awarded to newcomers after they have put up with the grinding of probation. The probation period lasts for 2 to 3 months whereas it can be extended by different companies based on their policies. It is basically a trial period that a company arranges to choose the most suitable employee for their vacancy.
Every company welcomes newcomers or fresh graduates to help them learn how companies function and include their innovative ideas to make things better. Most of these jobs are paid so that individuals are motivated to participate and bring more ideas to the table.
At the end of probation, companies often hire permanent employees while awarding certificates to the rest and letting them go. Probation is not a permanent job at the company rather it is a way to prepare individuals for the practical part of their studies.
Acknowledge the efforts of young individuals
During probation, employees are considered temporary and their skills are evaluated by assigning projects and assignments. Certificates of probation completion are awarded by higher management to acknowledge the efforts of young individuals. These certificates can also be added to their resumes to secure a good position at any other company. Whereas some employees are selected for a permanent position based on their expertise and skillset.
These certificates usually appreciate the hard work of the employee and provide the following information,
Name of employee
Registration number
Probation period
Job description
Name of department
Name of supervisor
Field of interest
Name of company
Contact information.
Adding details to a certificate
Contents may also include further information about the projects completed by the employee and their significant contributions towards achieving the goals of the company.
Probation completion certificates are considered significant because of the following reasons,
These certificates act as proof that an employee served their time and efforts at a respective place of employment.
The contributions of an employee mentioned on certificates can be a good source for scoring a better job.
It acts as an acknowledgment of the employee's hard work and dedication during the probationary period.
Many companies provide completion certificates to employees who have made it to the permanent position thus, these certificates are also termed as promotion letters.
These certificates motivate employees to perform in a better manner to receive appreciation from higher management.
Sample certificate
Probation completion certificates are usually concise and simple because they are presented as an award. Some companies issue probation completion certificates in the form of letters thus, explaining all the efforts of the employee in detail.
The generally used sample for probation completion certificate is given below,
[XYZ Company]
It is to certify that Mr./Ms./Mrs. [NAME HERE] has successfully completed her probation of [Time Period] on [DATE] under the supervision of [Name of Supervisor] in [Department Name]. [Name]'s contributions to [X] projects are highly appreciated. He/she is a remarkable individual with an amazing skillset and curious mind.
___________________
Signature of employee
____________________
Signature of supervisor
Word Templates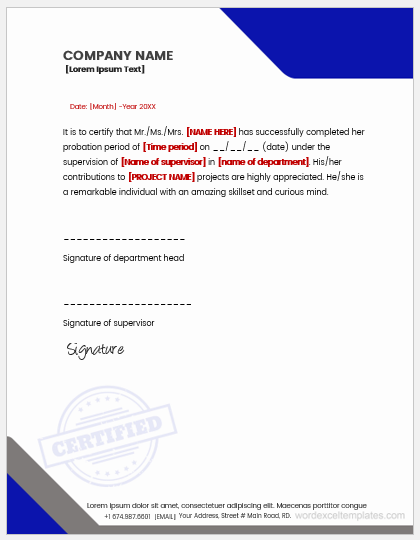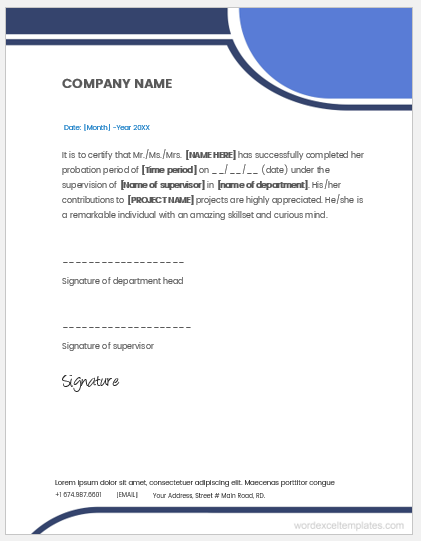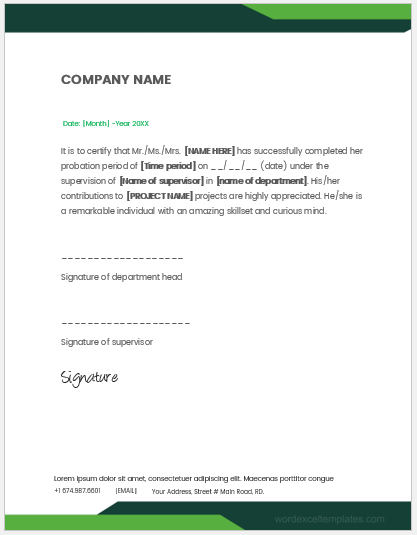 See also: