These days, everyone needs work experience to be able to be considered an eligible candidate for most job positions. People who don't have any work experience are not considered useful assets for an organization because they are yet to learn a lot. They cannot contribute to the success of a company because of being naïve. This is the reason, the different organizations only hire those people who have gained work experience.
This situation creates problems for those who have freshly graduated or mastered an educational institute. Such institutes should start working while they are studying. Many organizations such as NGOs and banks offer paid or unpaid internships to individuals looking for an opportunity to get work experience.
Internship programs are initiated to help freshly graduated aspirants to gain experience in work. Such programs are very helpful for candidates who want to learn a lot before they practically enter professional life.
What is a bank internship?
In the bank internship program, a candidate is allowed to work in the bank for a specific time duration. The internship can be paid or unpaid. Some individuals choose to work for a bank without getting paid because they want to get the experience and exposure that is much more precious than money.
What is an internship completion certificate from the bank?
Just like a conventional job, a candidate gets the certificate when he or she completes the committed work in the bank. This certificate certifies that the individual who has earned it has worked for the bank on a specific post.
What is the benefit of the internship completion certificate?
A certificate is a useful credential for people who have completed their education. Here are a few benefits one can achieve:
It strengthens the profile of a candidate:
To avail of an employment opportunity in a world in which there are so many people competing with you, you will need to make your profile very strong. For this, you should know the attributes of a strong profile.
Your profile becomes better and starts to stand out when you mention your qualification and work experience in your resume. If you don't have any experience and your profile is not so competitive, having an internship certificate will help you boost the look of your profile.
It is proof of skills and expertise:
Many people are skilled but cannot demonstrate or prove it because they don't have any credentials or official documents to prove it. This is the reason the bank issues the completion certificate of internship with the position on which the candidate has worked. Mentioning the name of the position automatically mentions the skills of the person or the recruiters get the idea about the expertise.
It shows that the recipient has got real-world experience:
No matter how high a level of degree you have achieved, if you don't have experience working in the real world, you will have no worth in the job market. This certificate is clear proof that a person has got exposure to the world whether it is about working in tense work conditions or dealing with customers.
When to issue the completion certificate?
As the name of the certificate suggests, people manage to earn this certificate when they complete the internship duration. When a person joins a bank for a specific time duration, it is a commitment between the bank and that aspirant. After the successful completion of the bank internship, it is the responsibility of the bank to issue the certificate at the time of completion of the certificate.
What is mentioned in the certificate of internship completion at the bank?
This certificate gives all the useful details regarding the internship that help the recipient of the certificate successfully enter professional life and hope for a bright and successful career in the field of banking. Following are some common details to add:
Bank's name
Candidate's name
Title of the certificate
Starting and ending dates of the internship
Position on which the candidate has worked during the internship
Signatures of authorities of the bank
Sample Certificate Statements
#1
I am David Stern and writing this statement to certify that George Seth has successfully accomplished his internship with [XYZ]. His internship duration consisted of three months and he performed wonderfully during this time. He was always punctual and never disappointed us. He carried out all the tasks in the given time and remained readily available to assist his coworkers. He worked with us as manager of operations and we also learned a lot of new things from him.
He is endowed with exceptional qualities of gratitude and hard work. He behaves professionally and knows well the ethics of the workplace. His personality is unmatchable and he will excel in the accounts field in the future. My kind prayers are with him and I want to see him progress in his future endeavors.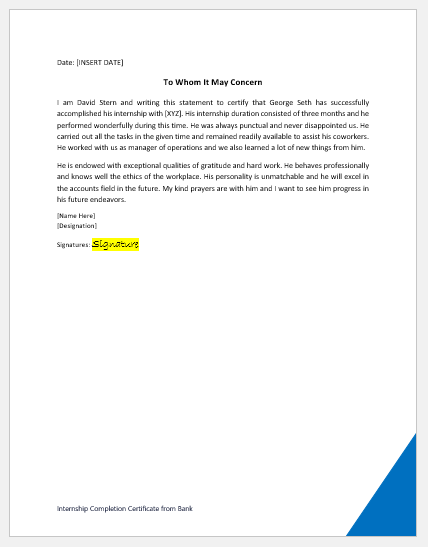 #2
This statement serves for William Jackson n successfully completing his internship tenure in our bank. He joined us on [mention date] to [mention date]. His internship tenure is full of achievements and learning new opportunities. He is an honest and hardworking employee who takes a keen interest in any task he is assigned. I found him punctual and committed to his work.
I did not receive any complaint against him and his colleagues also admit this thing. He strictly remained stuck to our bank's rules and regulations and worked extra hours.
We provided him with the best opportunities for professional maturation. He has a great passion for learning and his disciplined nature will earn him a lot of success. I believe that the time he spent with us will add noteworthy value to his resume. His internship has been completed successfully and I am honored that he has worked with us. He will prove a great asset to any institution he will join in the future.