Re. Tender Submission for IT Services Installation
Dear Client, I hope this email finds you well. I am writing on behalf of [mention the name of the company] which provides IT services to different organizations, companies, and institutes. We have been in this business for more than [X] years and take pride in completing more than [X] projects in IT installation services in eminent and extensive organizations and institutes. We have been providing these services with great professionalism and are committed to keep providing our best in the future as well.
I am very glad to have this opportunity to submit a tender proposal for the project of installation of IT services in your company. I am delighted to inform you that we have a team of experts and highly skilled professionals who have been working with us for more than [x] years. All of them are highly qualified, perfectly skilled, and experienced.
We believe in the delivery of quality services, therefore, we assure transparency and client involvement in the project. We have a hundred satisfied clients around the country who have worked with us on projects related to IT. We provide IT consultation, project management, budget details, and deliverables.
We work on the installation programs by using goal-oriented and detail-oriented strategies. We have a group of technicians, IT professionals, and software experts who engineer IT services in an institute. The timeline of the project depends on the conditions stipulated for the work and the workforce demanded by the client. However, a generic timeline required for average installation takes three to four days.
Like the timeline, the budget is also directly linked with the project stipulations and client requirements. Our budget is flexible and we charge according to the market trends of the pricing of IT installations. We deliver high-quality services at comparatively lower prices as our programs include extra services for an extendable period of time.
If you perceive our tender proposal to be worthy of this project, please let us know and provide your availability to schedule a meeting and discuss further. We would love to have this opportunity to work with you and build a strong professional relationship in our community. If you have any questions, please directly contact me at [mention phone number] or respond to me at the same email address.
Thank you for your consideration.
Best Regards,
[Your Name]
[Your Position]
[Name of the Company/Firm]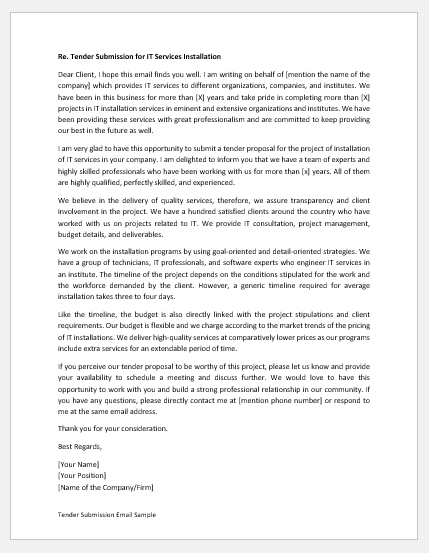 #2
Subject: Tender Submission for the Office Furniture & Interior Designing of the New Floor w.r.t. Invitation to Tender Dated [date]
Dear [Client's Name],
We are pleased to submit our tender to you concerning the invitation to tender on [mention the date]. We are willing to provide our services at the most reasonable prices with our commitment to high quality, professional management, and efficient coordination.
We have gone through the list of office supplies, furniture, and interior designing requisite and have consulted your requirements with our team of client coordination and project management. After extensive discussion, we have chalked out a tender plan for the delivery of our services to you.
The required services can be delivered within an estimated time of one week concerning office supplies and furniture. However, interior designing of the floor required a minimum of three weeks. Concurrently, we will be looking for ways to minimize the timeline to manage your opening of the floor for employees.
We request you schedule a meeting with us at your earliest convenience where we can discuss further the project timeline and the budget details. It will be too early to conclude at any point of budget, timeline, or project delivery. Please find attached a brief proposal letter with details on how we should carry the project further.
If you have any questions or suggestions, you can coordinate with our project manager, [mention the name], at [phone number] or [email address]. Thank you for providing us with this opportunity. We are looking forward to working with you on this project.
Kind Regards,
[Supplier's Name]
[Supplier's Title]
[Supplier's Company Name]