A character certificate is a formal document discussing the character of the subject. This certificate is generally issued by government authorities such as the police in which it is stated that the person who is the subject of the certificate has no criminal record.
Why is a character certificate needed?
There are many situations when a person needs a character certificate. Some companies do not recruit an individual unless he submits this document. To get admission to the medical institute, a medical student also needs to submit a character certificate. This document has a lot of significance because it lets people know that you don't have any crime on your record.
Importance of having a character certificate:
People with good moral and ethical character are always welcomed and liked. There are some attributes in the character of every person that you cannot come to know about unless you spend some time with that person. In the same way, there are some aspects of the character that are recorded and then they go against a person.
For instance, if a person had a minor or major dispute because of which he was jailed, it would remain on the record of the police forever. The character certificate will indicate that the record definitely will never be in the favor of the candidate. Furthermore, it will let everyone in the medical institute know that the person has this kind of criminal record. 
What are the benefits?
People with criminal records are a threat to society. No organization wants to have such people working with innocent people. Therefore, they check the character certificate issued by the police. Here are the benefits of this document:
It ensures safety:
Many students have some type of psychological disorder that makes them a little violent or aggressive and lead them to commit a crime. Such people are dangerous to society. Medical institutes like any other institutes are responsible for taking care of their students. Therefore, they make sure that the person does not have any criminal history. So, they ask for a certificate and this way, they ensure safety.
It keeps everyone disciplined:
Sometimes, things happen accidentally or people who commit a minor crime don't have any potential to commit a crime. Sometimes, they get into trouble because of their wayward friends and get a taint on their character. When people know that their future is based on how they behave in society, they try to remain cautious and don't commit any crime. This way, everyone in society remains disciplined.
It is useful to know the record:
People who are cautious about giving admission to medical institutes don't have to doubt everyone in the institute who is coming to get admission. They can simply check the character certificate to be sure of the fact that the person has a clean character and deserves to not be rejected based on bad character.
What information is specified in the character certificate?
A character certificate includes the following key details about the subject:
Full name and photograph:
The certificate mentions the full name along with the photograph of the individual which makes it clear that the right person has been mentioned in the certificate.
Address:
The certificate mentions the address or the name of the city of the subject and also tells for how long the subject has been living in that area. A person is recommended to get the certificate from the area where he has spent most of his life.
Statement of the character:
Here comes the statement of the good or bad character about the subject from the authoritarians. They mention why a has a good or bad character. It is important to mention it clearly that the subject of the certificate does not have any criminal record and therefore, he should be considered for the opportunity whatever he has been trying to avail himself.
How to get the character certificate?
To get the certificate, you are required to visit the police station and request it. In some countries, you can also apply online for it. 
Sample Statements
#1
This is to certify that Kenneth Chomsky has been a brilliant student of our college. He has earned the highest A's in A Level and has made the institution proud with great dignity. He belongs to a good family.
Chomsky, as a student, possessed remarkable qualities and was always deferential towards his friends. He was never involved in any criminal activity and never skipped classes. I always found his teachers appreciating him and passing good remarks about him.
He not only performed well in his studies but also actively participated in sports and games. He also remained readily available for welfare work and helped deserving students with his pocket money. It is his dream to join the medical profession and he is a perfect match for this. You will find him a good person inside and out and he would be good incorporation in the medical field. He is mature and demonstrates virtuous decorum.
I certify that he is free from all social evils and possesses sound character. You can call me for any query; it would be my pleasure to talk on his behalf.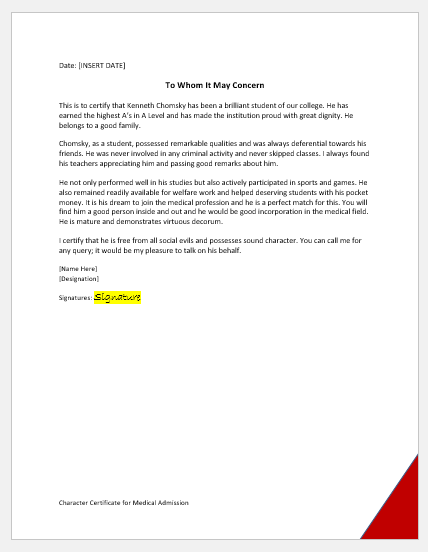 Character Certificate 98 Kb
#2
This statement certifies Miss Julia as a good student of ABC Institute. She has been our student since 3rd grade and since that day we never received any complaint made against her. She is endowed with humble nature and mannerisms that made her a distinguished student of her class. She showed great interest in science subjects and got 1st position in grade 10th.
She is sharp-minded and analyses things deeply and does a lot of research. Her name is a shining star that will sparkle forever. She is a role model for many students who showed keen interest in many fields. She would be a perfect choice for your medical school and I highly recommend her.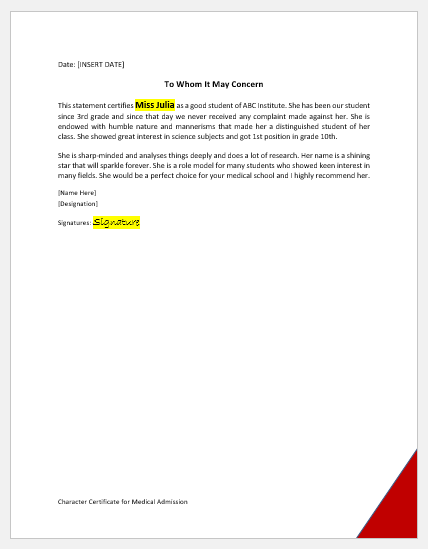 Character Certificate 98 Kb