Various educational institutes including colleges and universities provide opportunities for fresh and experienced candidates to intern in certain programs and fields and learn the skills to cater to the field network and essential experience.
There are various non-educational institutes as well that provide opportunities for internship in different programs as non-government organizations (NGOs) and different industrial sectors. Other sectors include finance, marketing, digital media marketing, journalism, corporate and non-corporate, education, networking and ethernet, management and administration, accounting and auditing, business economics, software engineering, fashion designing, textile, and various others.
Internship Procedure and Policies:
Companies/Institutes/organizations put an advertisement through any medium for the opening of the opportunities for the interested candidates. Candidates apply for the recruitment, and they are hired after specific processing and screening. After the duration of the internship ends, the principal institute provides an internship completion certificate to the intern. Internships, whether paid or non-paid, are concluded with granting internship completion certificates to the internees.
What to add to an Internship Completion Certificate?
An internship completion certificate is a certified piece of paper that is a symbol of validation of completing an internship program in a given period in a certain field of research or work. Internship completion certificates are authentication of the internship completion in a better way.
This is an official document that is bestowed by the authority indicating the completion of the internship in a project, research program, or training. Some of the internship completion certificates are granted for the free training programs held virtually.
Elements of an Internship Completion Certificates:
Following are the elements to be included in an internship completion certificate. Without these elements, certificates can have a stumbled validation and can confront objections at any point of time in the future.
Name of the company
Logo of the company (different placements)
Date of certification
 Internship program name
Duration of the internship
Indication of successful completion
Projection of the distinguished traits of the candidate
Issuing authority
Stamp
Contact details (optional)
Benefits of Internship Completion Certificates:
Following are the practical uses and benefits of having an internship completion certificate:
Expansion of experience in the field of work
Learning of latest research methods and techniques
Introduction to the new technology and its application
Business methods
Resume/CV boost
Better chances of being recruited in the fields
Gaining supplementary skills
Reinvigoration
Discovering new working opportunities and better career
Better opportunities in establishing a network
Internship Completion Certificates Templates/Samples:
Internship completion certificates are widely used by the companies and authorities who provide the certificates to the candidates who have effectively completed the internship programs. This is one of the most professional and official-most ways of recognizing the services rendered by the intern.
A wide range of templates or samples is available on this website having astonishing designs for the certificates. There are different designs and templates available so that anyone who wants to design an internship completion certificate can download it and use it after necessary customization.  
#1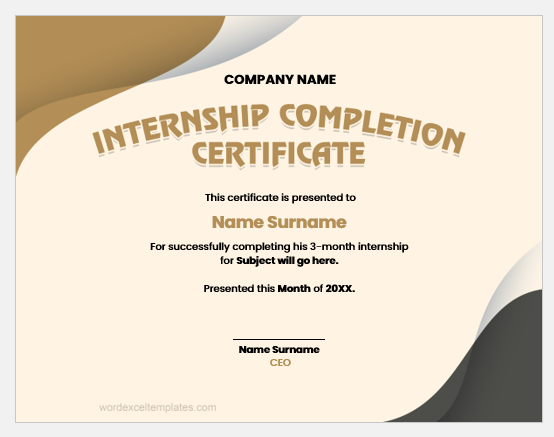 File: Word (.docx) 2007+ and iPad
Size 28 KB
#2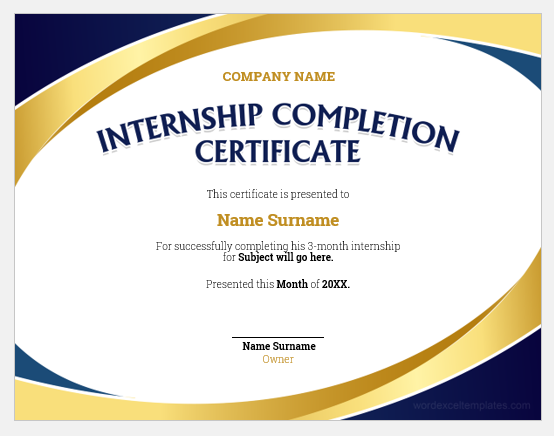 File: Word (.docx) 2007+ and iPad
Size 28 KB
#3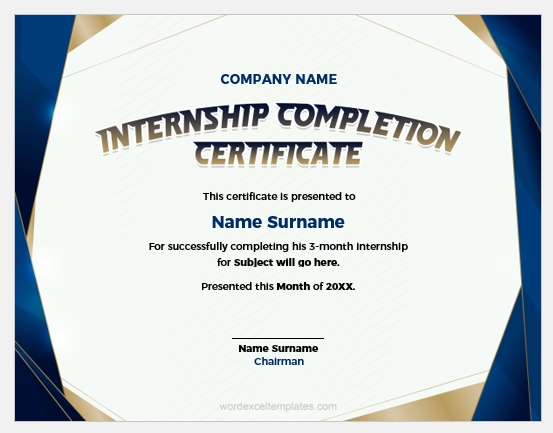 File: Word (.docx) 2007+ and iPad
Size 28 KB
#4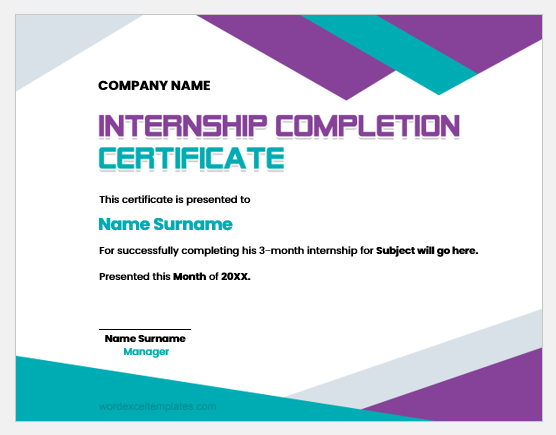 File: Word (.docx) 2007+ and iPad
Size 28 KB
#5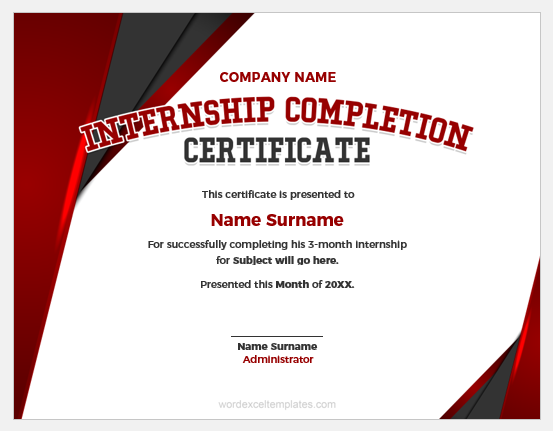 File: Word (.docx) 2007+ and iPad
Size 28 KB