Harassment at the workplace is rampant these days. Thanks to strict policies and procedures, harassment is not ignored at all, and those who show involvement in any kind of harassment are taken to task. Whenever you receive a complaint from any employee regarding harassment, you should conduct a thorough investigation to find the guilty people and then deal with them according to their offense.
What is a warning letter for harassing the guard?
If you have come to know that the guard in your company has been harassed by an employee in your company, you can write a letter to that employee and warn him about his misconduct. The purpose of this letter is to make the employee that he cannot get away with the disciplinary action and legal proceedings if he gets involved in the act of harassment. Rather, he will have to face serious outcomes.
What are the benefits?
Organizations that have a strict policy regarding harassment successfully reduce the number of harassment cases at the workplace. This results in a safer work environment and the productivity of every worker also increases.
The harassment warning letter shows that no one is above the law and those who tease others and make them uncomfortable in any way will have to face the outcomes.
People who have the potential to harass others are identified and their behavior can be corrected.
When a company writes a warning, it shows that it has no tolerance for such kind of misconduct. The guard and every person working on any post and in any area deserve to be respected and valued.
Why write a warning letter upon harassment?
A warning letter is written to criticize an employee when he has been proved to be a guilty person for harassing the guard of the company. If the misconduct is minor and you believe that the employee's behavior can be corrected with a written warning, it is better to write a warning letter instead of taking serious actions such as dismissing him from the job.
People who care about their careers will never want to get dismissed because of charges of harassment as it will make it difficult for them to get any job in the future. So, a warning letter helps them correct their unprofessional behavior
By writing a warning letter, an employer informs his employee that he must change his behavior or serious actions such as legal actions can be taken against him. This letter is the best way to stop someone from harassing someone working in the same company. Through this letter, you give the last chance for him to correct his behavior before you finally decide to go for legal proceedings.
Tips for writing a warning letter when harassment takes place:
You might find it very easy to put down a warning. However, you often fail to do things right because you don't consider the tips given below:
Conduct thorough investigation before writing:
Writing someone to criticize them because they have been involved in the act of harassment is a very critical task. You cannot do it without any confirmation. So, if you are not sure whether the person you are addressing is the real culprit, don't write this letter.
Keep the record:
There should always be two copies of this letter. One copy should be sent to the employee and the other copy should be kept in your record.
Don't add irrelevant details:
Try to remain focused on the main issue. If there are some more topics to be discussed, don't discuss them in this letter because it might create confusion and you will also not be able to put forward your point.
Discuss possible outcomes:
Make the recipient aware of the consequences if he does not stop harassing the guard. Let him know what possible actions can be taken against him and how these things can malign his reputation. Also, refer to the employment contract to remind him of the employee's agreement with the company regarding harassment.
Use a template
If you think that you cannot write the warning as effectively as a professional prosecutor can, take help from him or download a readymade template.
Sample Letter
Date:
To,
Name of Employee,
Subject: Warning for harassing the guard [X]
This is to bring to your notice that the company is not pleased with how you harassed the guard. This is unprofessional behavior that we cannot tolerate. You did this on (date).
According to our rules, it is against our policy to harass any member of the team. This includes the guard. Complaints have been issued about your behavior.
This warning letter serves to inform you that if this happens again, action will be taken. (State what action will be taken). We hope you will apologize to the guard.
Yours sincerely,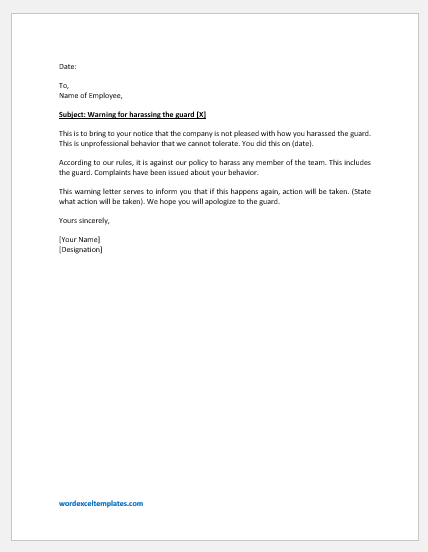 File: Word (.docx) 2007+ and iPad
Size 28 KB