There are times when you want to take some time off from work. At other times, it's an urgency due to which you have to take a leave from work. In professional settings where every single employee is on a tough schedule doing specific tasks, going off without notification can be costly.
A leave application letter is a professional way to request some off time from work. But it is interesting that not all leaves are granted. For some people, their leave application is hardly taken seriously. This is because their application letter is not adequate and convincing enough.
What could be the necessary elements for writing a leave application letter? Let's help you with a few tips;
Write your application letter in professional business letter format
Don't try to sharpen lame reasons to get a leave. Be honest about why you want to leave work
If you write your application a little earlier, there are more chances that your leave will be accepted
Try to mention dates on which you wish to go on a leave
The most convincing leave letter is where the applicant also writes about how things will be managed in his absence
If you think your leave is a due right, try to mention the clause of office rules or other relevant laws there
Since acceptance or rejection of the application depends on your employer, it is, however, your major part as to how you convince him for your leave. There are many ways to write a leave letter, but only a few really work.
To help you write a potential leave application we're presenting to you our freshly written leave letter samples. Next time, when you wish to take a leave, try using one of our samples and see the results yourself.
Sample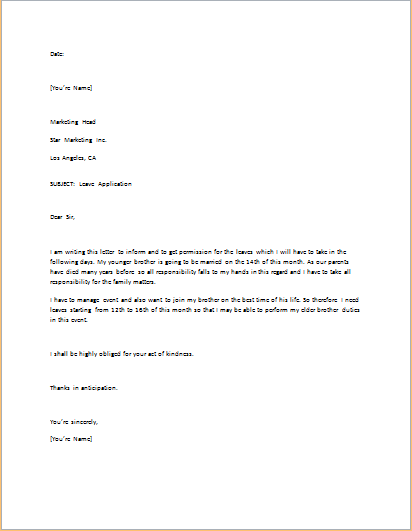 1: Dentist Visit Leave
The purpose of writing this sudden leave application to you is that I am suffering from a very sharp toothache right now.
I know that it sounds quite a lame excuse to ask for a day off work but I do have a letter from my dentist in which it is mentioned that I have to be anesthetized for the treatment today for filling purposes.
If I must come to work without getting the proper treatment I would not be able to focus on my work.
I am also afraid that the unbearable pain could take away my knack to concentrate on work resulting in making unwanted mistakes that could cause chaos. I ask for forgiveness for the short notice.
Thank you for your consideration.
2: Medical Leave
I am writing this application to you to yield an official request for a medical leave of absence due to my own solemn health condition that entails an operation. My surgeon has slated a precise way on [INSERT DATE] and anticipates that I will need [INSERT NUMBER] of weeks for recapture before being free to return to work.
My GP will be content to offer an official remedial endorsement document on my behalf. Kindly let me know the further strides I should take to secure consent for this request.
Thanking you in anticipation for your concern.
3: Doctor Visit
Please accept this letter as written notification that I won't be able to appear for work on [INSERT DATE] due to an already arranged doctor's appointment.
I express my regret for not having informed you by providing advanced notice. Kindly inform me if I can offer any further documentation in this respect.
Thank you for your understanding.
4: Maternity Leave
I am [MENTION NAME] from the [MENTION PROJECT NAME] project. I am very happy to inform you that I am in the family way. I am in the fifth month of my pregnancy. My delivery date is on [MENTION DATE]. I would like to take advantage of my childbearing leave. I will also need two more months to take proper rest and cherish my baby in the best way.
Therefore, I beseech you to kindly grant me a month/year of leave, i.e., from [INSERT DATE] to INSERT DATE]. I will rejoin the office on [INSERT DATE]. Mr.\Miss [INSERT NAME] will be my gridlock in my time off. S/he also can be communicated in case of matters allied to bangs.
Nevertheless, I will be accessible for calls in case of an emergency. Contact: [MENTION CONTACT].
5: Annual Leave Request
I am writing this letter to request you for my yearly leave which I haven't benefited from yet according to the course of action of the company. I haven't availed any of the leaves for the last seven months. Now I am applying for the leave active from [INSERT DATE] to [INSERT DATE].
The basic purpose of this dispensation is that I must assist my grandmother during her gallbladder removal surgery. I want to be with her for quite some time as this procedure involves a month of repose. I would like to be there for her throughout the operation and rehabilitation for over a month.
I have talked to my colleague [INSERT NAME] to take over all my duties and explicated to him every minor detail. So that she could explain all the needed details to me upon my return. I will be back to take up again my work from [INSERT DATE].
Here are my contact details. Kindly contact me on the given number for further information.
Phone Number: [INSERT NUMBER]
6: Leave of Absence
This application serves as an official notification of the absence of leave. Since I already mentioned this leave due to [STATE A PARTICULAR REASON IN DETAIL], I would like to ask for a leave of absence from [INSERT DATE] to [INSERT DATE]. I will be back at work right on [INSERT DATE\DAY].
Kindly tell me if you want further information or any query to be answered.
Thanking you in anticipation for your understanding in this matter.
7: Paternity Leave Application
This letter has been written to you in order to demand paternity leave since it was announced in the office on the last day that I fathered a baby girl yesterday. The problem is that my older girl who is only four years old is all alone at home and she cannot be left alone all by herself no matter what.
I don't think that I will be able to manage the office and home both at the same time. My wife is supposed to stay in the hospital for over a week since she went under the knife due to the cesarean section.
Hence, I request you grant me paternity leave for fifteen days from [INSERT DATE] to [INSERT DATE].
8: One-Day Leave Application for School
With due respect, it is stated that I find it extremely difficult to attend school today as I have caught by severe cold. I cannot stop shivering badly since I first breathed this day. I know the importance of today's exam and I assure you that I am fully prepared for that as well but the only thing that is keeping me from coming to school is nonstop quivering.
My mother said that I need to take uninterrupted rest the whole day if I don't intend to miss more tests. It would be a great favor if you grant me a leave for today [INSERT DATE].
9: Family Support Leave
I am Ms.\Mr.[INSERT NAME], employed in the firm in the post of [INSERT DESIGNATION] for almost half a decade. The purpose of writing this letter to you is to inform you that I am willing to fill out my leave application for a week.    
My family has planned a trip to the northern areas to enjoy the enchanting beauty of nature in the best possible way. I want to join them in this superb adventure as it is my utmost passion to relish the beauty of mountains and especially the bewitching sights of mother nature.
I am quite optimistic that I will be granted this request as I didn't have any holiday in the past eight months consecutive. I have asked Mr.\Ms.[INSERT NAME] to attend my work until I return from my leave.
If you still encounter any problems regarding my work you can straight contact me via a given email account or phone number.