So, how many things are there that you can make the agreement for! many? The same is true for agreement letters. Agreement letters can be written for tens of diverse purposes. It depends on what are you dealing with. Is it a business deal, a goods purchase, leasing process, sales matter, scholarship program, or whatever, if it's an agreement you'll need agreement letter. When there is an agreement on a matter between people or parties, the letters used to record the agreements are called agreement letters.
We always give you guidelines or tips about writing letters along with our samples, but since agreement letters are of such diverse nature that it is not possible to point out features of every single agreement letter, we have therefore tried to tell you the elements that are essential in all agreement letters. Here we go;
Because the agreement is among more than one person. The details of involved parties should clearly be mentioned no matter what the agreement is about.
If there are terms and conditions involved, either add them to the letter or mention a reference about them.
If the letter has a mention of amount, be cautious to make no mistake in writing
Let the agreement be properly signed by the individuals involved.
Approve the agreement from an attorney or notary public especially if it's a large-scale agreement.
Phew! It sounds like a tiring job. Doesn't it? But the question is why you would spend time designing agreements when someone has already done it for you. We're here to serve you with our tens of professionally made agreement letter samples. Just choose, download, modify, and make your agreement. Eureka!
The Text of the letter include
I have read and signed the agreement form which you sent with your letter and I hereby announce my consent for the agreement which is to begin on [enter date] and will end on [enter date]. I also add that I will try to abide by the terms and conditions as mentioned in the agreement form. I understand that breaking of any clause will have the potential to take me to the court bars for legal action. Please accept this letter from my side as the final letter in order to initiate our agreement about [enter details]. Please find the signature form is enclosed within the letter. I have maintained a copy of the form as well as the letter with me.
I hope we'll have good relations as the agreement member. Thank you!
Preview and Details of Template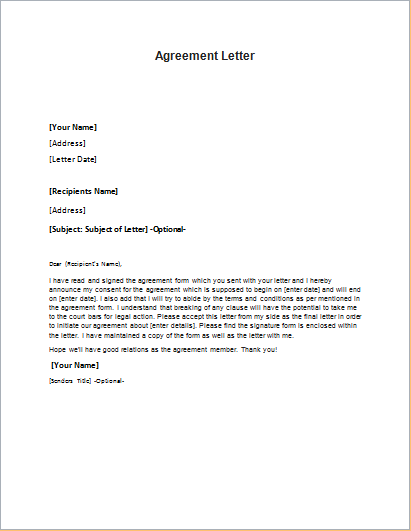 Agreement Letter Template
File: Word (.doc) 2007+ and iPad 
Size 26 Kb   | Download
File: OpenOffice (.odt) Writer [Writer]
Size 16 Kb   | Download
License: ENERGY  (Personal Use Only)
(Distribution) by Kate Elizabeth(CEO)