Hi, I hope you are fine. We receive your appreciation message for the service we provided you. Thank you, sir, for such kind words. Your appreciation means a lot to us. It helps our team to work with courage and sincerity. Even this encourages them to bring variation and improve the quality of work. Everyone needs encouragement and your way of responding to us is very nice. Thank you, sir, and will feel good if you give us suggestions too.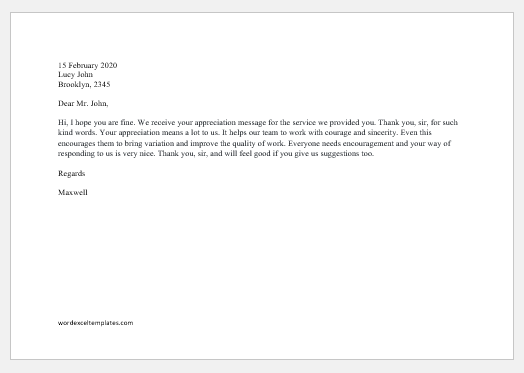 File: Word (.docx) 2007+ and iPad Size 16 Kb |
Download
---
Dear ma'am, thank you so much for giving your precious time and leaving such a nice message for our team. We really appreciate the way you express your feelings for our store. We need that kindness as it encourages the workers and they try to work with heart. The little words help them to work courageously and they feel happy too. I hope you will keep on responding to us positively so we get motivated and keep on struggling in the future in the way you expect from us. Thank you once again for the good, and quick response.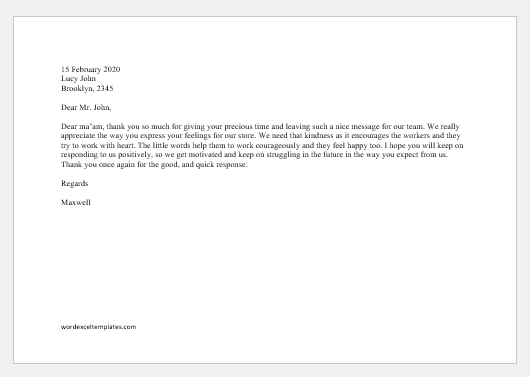 File: Word (.docx) 2007+ and iPad Size 17 Kb |
Download
---
Hi sir, I am thankful for your positive feedback for our workers. We appreciate your insights as it helps users to grow in the field. Last time you pointed out some weaknesses in our work, that we fully tried to manage. This time you appreciated as our team member has handled the situation, according to your suggestions. Thank you so much for your positive response. There is a surprise for you. It is our company rule when we get sincere appreciation, we send a gift voucher for the client. You will receive it soon. Thanks again and love the way you responded to our team.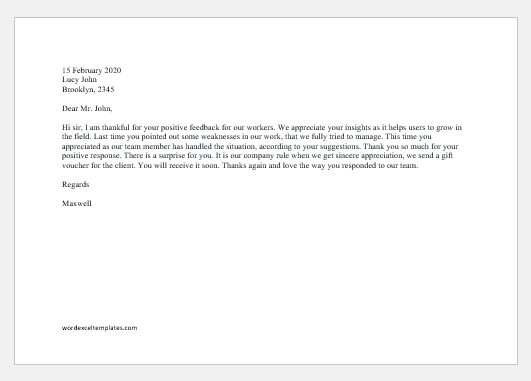 File: Word (.docx) 2007+ and iPad Size 17 Kb |
Download
---
Sir, I just want to say thank you for your kind words. I am happy to hear about the good experience during interaction with our team. I understand how wonderful it feels when someone gets the solution in minutes. I am also glad that our team efficiently handle the problem and resolved it according to your expectations. I will forward your message to my team members; it is really encouraging for them. When we get the response, it helps us to improve and we get to know that how we are working. I appreciate having time for us and sending such a nice message to our team.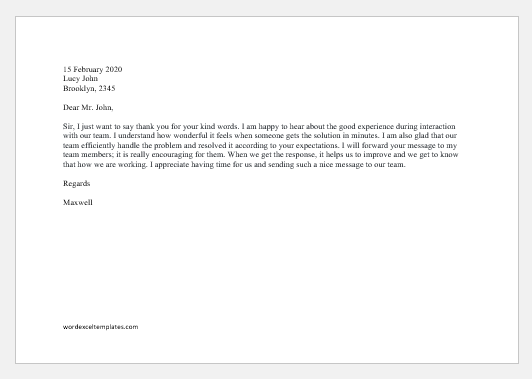 File: Word (.docx) 2007+ and iPad Size 18 Kb |
Download
---
Dear sir, I am glad to know about your good experience with my team members. I am sorry I couldn't reply to you yesterday. I was a bit busy with the repair work of the office. Your feedback is much needed for my workers. Actually, we got complaints and our workers did the effort and try to resolve the problem. But now your positive response will help them to know that they are performing well and cope up with situations in a good way. Thank you for the nice words as well as the suggestions that will help us in the future for the growth of our company.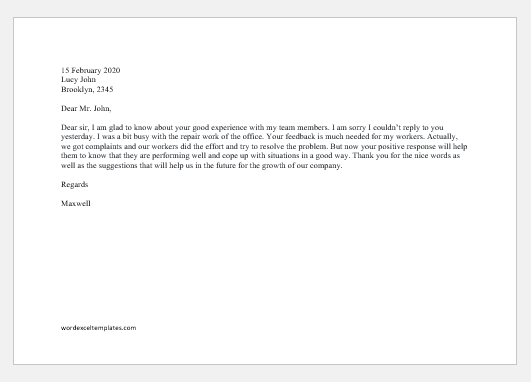 File: Word (.docx) 2007+ and iPad Size 18 Kb |
Download
---