If you're in the workplace and observe something wrong going on, raise your voice, and show your concern. A grievance letter is a good way to do so. Grievance letters are used by employees to request the employer to take action on a certain issue. These letters are basically complaint letters. The issue, however, may or may not be related to the person complaining.
If you write a grievance letter to your employer, make sure that you're using proper discourses, proofs, and arguments to back your grievance. Letters that are not convincing are not usually given any importance. Here are a few tips to follow while writing a grievance letter;
Use a business letter format.
Explain your grievance in detail and how is it affecting you.
Avoid using unethical or harsh language as this may cause you to harm by creating your bad impression.
Tell the reader how you have tried to solve the matter before passing it on to him/her.
Within a grievance letter, request the reader to arrange a meeting with you so that you could explain the addressed matter in detail.
It leaves a good impression if your grievance letter contains a suggestion for the employer on how to resolve the matter.
The most convincing part of a grievance letter is where you insert references of employment law act (if any) that are being violated. If your raised issue has a direct or indirect relation to employment laws or policies, do mention them.
Since we know that if you're searching for grievance letters, you must be in genuine need, so we passionately want your voice to be heard. There are some professionally made grievance letters on our website that will help you write an effective grievance letter. Raise your voice, write the letter now!
Preview and Details of Template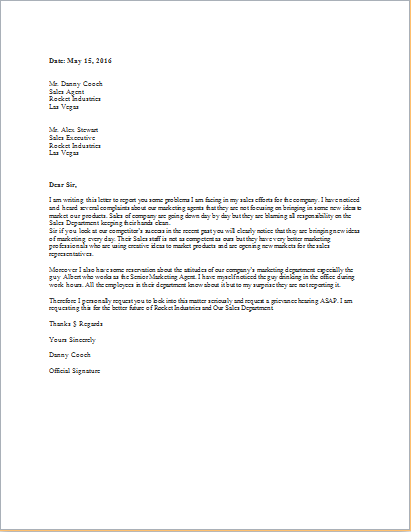 File: Word (.docx) 2007+ and iPad
Size 35 Kb |
Download
---
Grievance Letter for Bullying
How are you and the kids doing these days?
You and your family have been very old and close friends with us. It was so devastating for me to know that my son has been bullying your daughter along with his friends.
I got to hear this sad news from the school coordinator. It was very embarrassing for me and my husband. I have always been the kind of mother who keeps a very strict eye on kids.
We have always tried to bring our kids up in the best way we can. However, this instance has raised a lot of red flags for us. We tried to get Jason to involve with us and tell us the reasons behind bullying Anna. It seems like lately, he has been spending time in a bad company. His new friends are leaving a very bad influence on him.
But the good thing is Jason has promised us to apologize to Anna and never repeat his behavior again. We are planning to visit you over the weekend to sort things out between our kids. I hope this will not affect our relationship.
With Love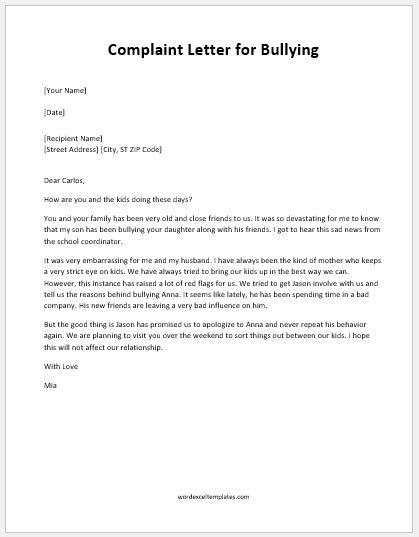 File: Word (.docx) 2007+ and iPad
Size 36 Kb |
Download
---
Grievance Letter to Employer about Pay
Dear McKayla,
I wanted to see you at work. But I got to know that you have been keeping very busy. I know it is one of the busiest times of the year. I have been very upset and depressed these days. It feels like work stress is taking over me. So, I felt that it is a better option to speak it out rather than letting the anger build inside me.
I am one of the most experienced and oldest employees in the department. I have put a lot of hard work and worked effortlessly. When you work with all your commitment, you do expect to receive an equal reward as well. As the appraisal period was approaching, I was sure to make a great difference in my salary this time. However, it is such a shame to see that I have not been promoted and my salary has not increased. This has led to a drastic decrease in my work morale.
It would be great if you could review this decision again. I have been very loyal to my company and do not wish to switch my job for small reasons.
With thanks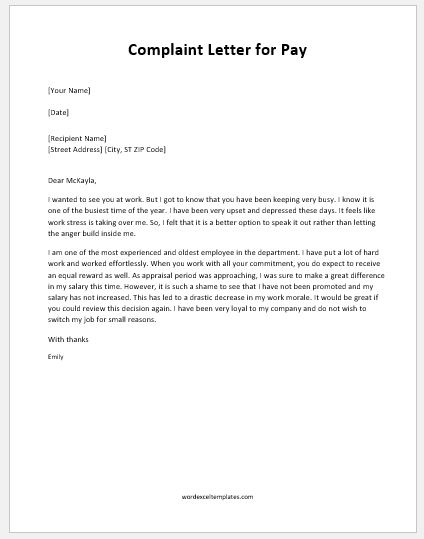 File: Word (.docx) 2007+ and iPad
Size 23 Kb |
Download
---
Grievance Letter to Employer for Breach of contract
Dear Stuart,
I hope you're having a fresh start to the new week.
I wrote you an email while you were off for the training conference. As you know, we are short of staff these days. Due to this reason I have been working quite a lot of overtime. I have been doing overtime for two months. Not just that, I worked a couple of weekends as well. But when I received my salary, I was paid only for my basic salary.
I was confused regarding my salary so I reviewed my contract. My contract has a clause that makes me eligible for the overtime salary. This is not just a breach of my contract but also a set back to the trust that I have over you. I would like you to review my contract and back pay me if possible.
With thanks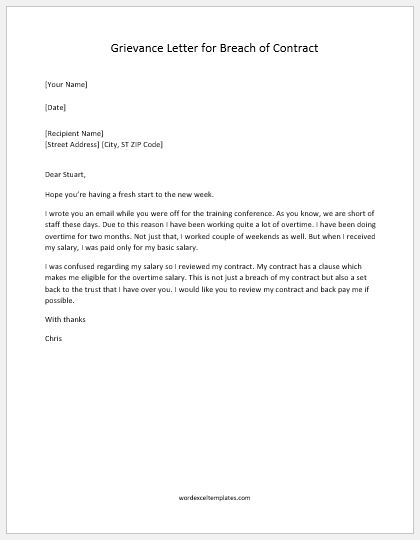 File: Word (.docx) 2007+ and iPad
Size 23 Kb |
Download
---
Grievance Letter to Employer for Discrimination
Dear Harry,
I hope you had a wonderful weekend.
Mondays are always hard to start off the week with a lot of stress and bad news coming. I would also like to share bad news with you. I have been very disappointed with the company, policies, department and most of it, with yourself.
I have always thought very highly of you. You have been my mentor and inspiration. I always look upon you when things go wrong. It is hard for me to absorb, that I have been discriminated in your presence.
I have worked very hard to be where I am. I know every industry is led and promoted by men. But I do not see it a very fair reason to be promoted on the grounds of gender. Similarly, getting rejected on the basis of my gender seems to be very discriminating to me. All the women working around you, are not just modern-day independent women, they are also very hard working and have everything it takes to be successful. I would like you to cater to this issue and let's not promote discrimination to create a better environment.
With thanks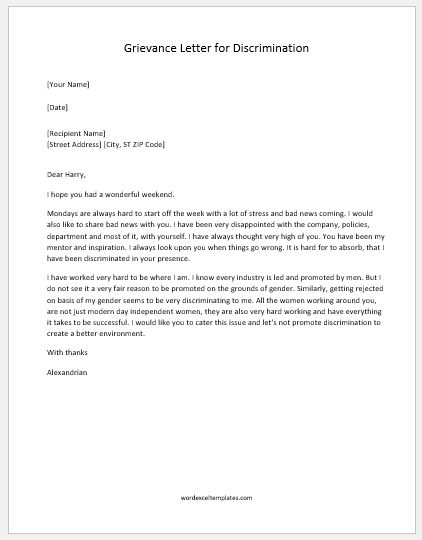 File: Word (.docx) 2007+ and iPad
Size 21 Kb |
Download
---
Grievance Letter to Employer for Safety Concern
Dear Luke,
How are you?
I hardly see you at work these days. It seems like you are very busy these days. I have been looking around for you. I wanted to touch base with you regarding some safety concerns that I raised at the last meeting. Not just the meeting, I even emailed you. Unfortunately, I never heard back from you, and neither did I see any improvements.
As you know we are working with very toxic chemicals and dangerous equipment every day. It calls for a lot of health and safety measures. This is not just the requirement of the department but also the compilation of the policies and rules of the industry.
As the manager, I must ensure that my subordinates work in safe environments. But it is very hurting for me to see that no security measures have been taken so far. If our employee falls sick due to such lacking, it will be a huge loss for the person as well as the company.
Many Thanks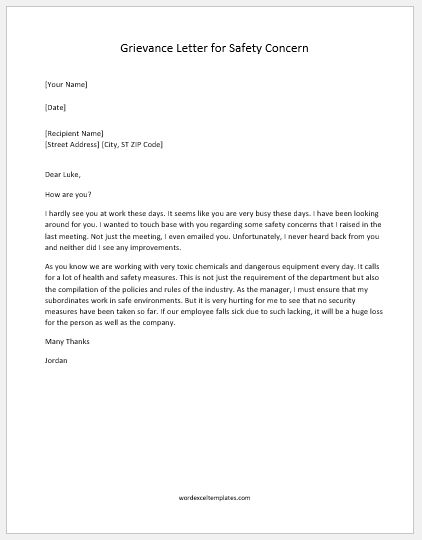 File: Word (.docx) 2007+ and iPad
Size 17 Kb |
Download
---