Many people open public welfare organizations and projects but too soon they end up in failure. In many cases, the major reason is insufficient funds. Since such institutes and projects usually rely on donations, people administrating them fail to collect enough donations for the required purpose.
Since the donation is a volunteer giving, no one can be insisted on it though convincing can be done. As people need to make sure that their money is going right because it is your duty to satisfy them if you're asking for donations.
Asking for donations isn't easy. Even writing a letter to ask for donations is a tricky task. Donation letters are usually not written for the common public. They are written for special people who have the potential to give huge money for your cause. It is, therefore, important that your letters do not lack all the convincing elements that are necessary to get you a positive reply. In order to write a letter for donation, note these points;
The very first thing is to address your recipient properly
Before asking for anything, introduce yourself to the reader in detail
Once you're done with your introduction, introduce your organization/cause in detail. How it works, what does it do, etc.?
Now that your reader knows you as well as your cause, request him decently to assist the cause. Also, add how his donations will make a positive effect.
Apart from telling the reader how his help will help you, elaborate on how your case may get affected if he refuses to help
Make a closing with proper salutations and thank the recipient for his time to read the letter
Looking for donations? We won't let your trust end up in failure due to insufficient funds dear visitor. Make use of our donation letter sample here. Follow the format and style but don't forget to make necessary modifications.
Samples and Details of Templates
#1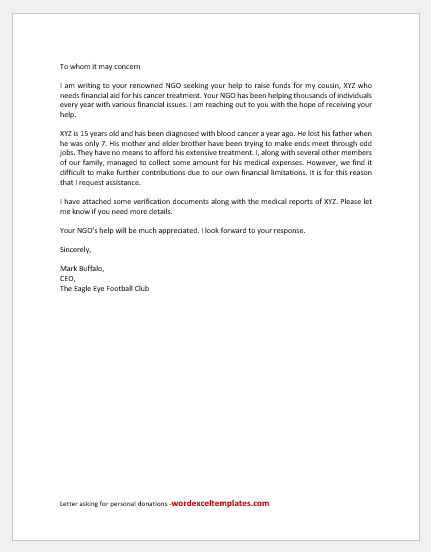 Letter asking for personal donations
Letter File 34 KB
#2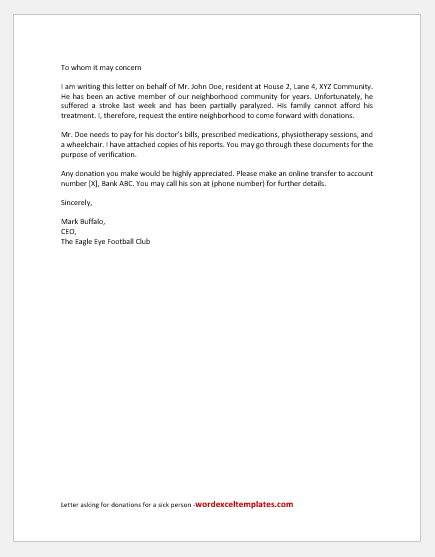 Letter asking for a donation for a sick person
Letter File 34 KB
#3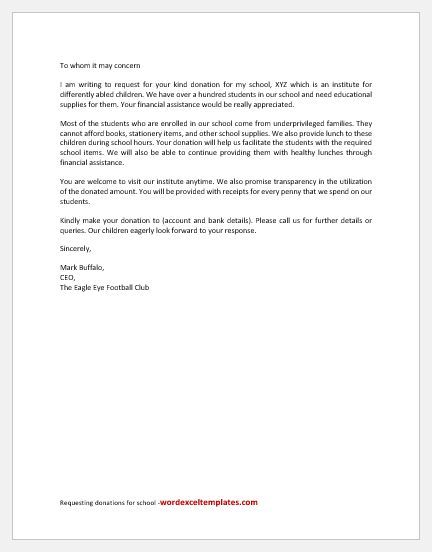 Requesting donation for a school
Letter File 34 KB
#4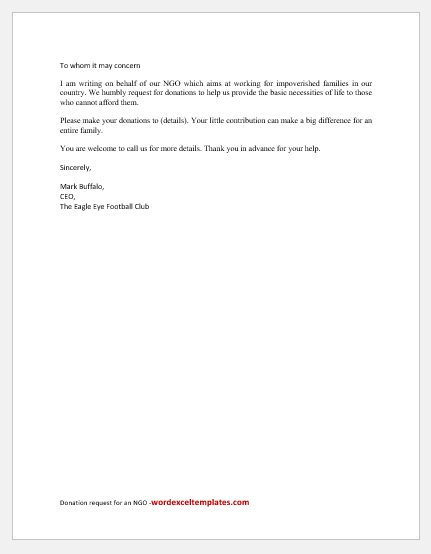 Donation request for an NGO
Letter File 34 KB
#5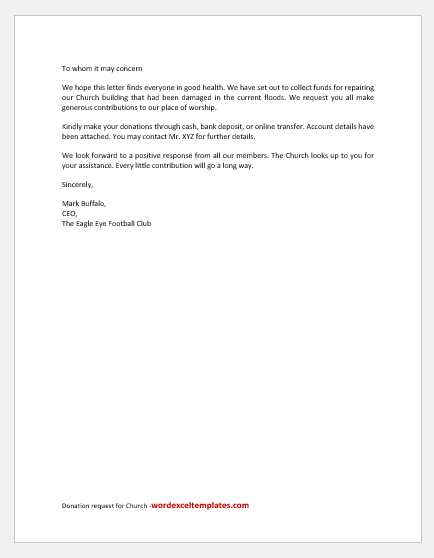 Donation request for Church
Letter File 34 KB
Donation Request Letter for Sports Team
I, Daniel Greg, the coach of the Red Dragons sports team, am writing this letter to request a donation from your organization to my team. As you may have heard, or watched us play, Red Dragons have made quite an impact in the district's Basketball matches. Our team players are not only winning district-level matches but also making the city proud by mentioning our city's heritage and values.
Since now we are heading towards state-level competitions, our expenditures are increasing by leaps and bounds and unluckily our budget does not comply with that. Previously, we had figured things out on our own through sponsorships and multiple other strategies, but it seems like we will not be able to keep pace with the rapidly growing demands of staying in the game.
Henceforth, we are approaching organizations in the city like you to plead a donation for our team. We believe, with mutual investment and participation, we can craft a productive environment and encourage youngsters of the town to make use of their energies and talents.
Your organization has been investing in the community in multiple ways through several platforms in the past that proved a milestone for the progress of the town. We completely assure you, not only that we will make the best use of your donations, but we will prove ourselves worthy of many more achievements.
Should you have any queries related to this, please feel free to contact me at 000-000-000. You can also email me at [EMAIL].
Sincerely,
Daniel Greg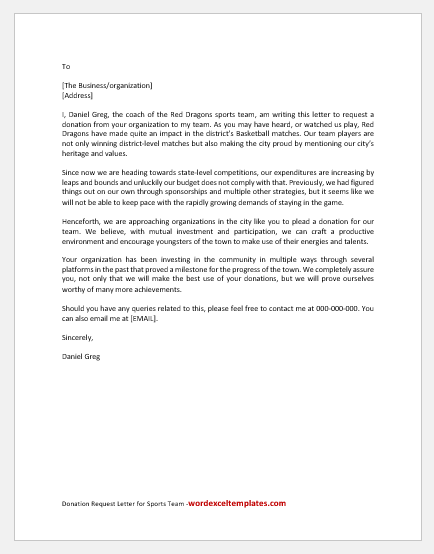 Donation request for a club
Dear Ma'am,
I am Martha Charles, and I am writing on behalf of the Little Warriors club. We are a karate club for girls under 14 and we aim to teach young girls self-defense. It has been more than 3-years since we started, and we are still on our way toward establishing our roots well into the ground.
During these 3 years, we have trained many young girls from many places, and it was all within our budget. But unfortunately, our lack of funds is now becoming a great obstacle in our journey. From travel expenses to necessities, we are lacking short of finances in every area to a point that we are intimidated by our closure now.
This is why we are now reaching the city's oldest and most reputed business with a request to donate to our club. Your donation will not only favor our club but invest in safety and a better future for the young girls of the town. This will be a huge favor for the community we live in and your business thrives from. After all, the benefit of the community is a benefit for the town's businesses as well.
If you have any terms and conditions, I am all up for hearing them. Should you have any questions regarding the request, please feel free to contact me at 000-000-000.
Sincerely,
Martha Charles
See also: