Letter asking for personal donations
I am writing to your renowned NGO seeking your help to raise funds for my cousin, XYZ who needs financial aid for his cancer treatment. Your NGO has been helping thousands of individuals every year with various financial issues. I am reaching out to you with the hope of receiving your help.
XYZ is 15 years old and has been diagnosed with blood cancer a year ago. He lost his father when he was only 7. His mother and elder brother have been trying to make ends meet through odd jobs. They have no means to afford his extensive treatment. I, along with several other members of our family, managed to collect some amount for his medical expenses. However, we find it difficult to make further contributions due to our own financial limitations. It is for this reason that I request assistance.
I have attached some verification documents along with the medical reports of XYZ. Please let me know if you need more details.
Your NGO's help will be much appreciated. I look forward to your response.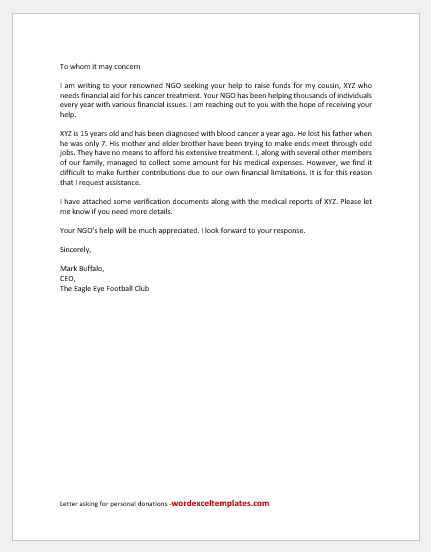 Letter asking for donations for a sick person
I am writing this letter on behalf of Mr. John Doe, resident at House 2, Lane 4, XYZ Community. He has been an active member of our neighborhood community for years. Unfortunately, he suffered a stroke last week and has been partially paralyzed. His family cannot afford his treatment. I, therefore, request the entire neighborhood to come forward with donations.
Mr. Doe needs to pay for his doctor's bills, prescribed medications, physiotherapy sessions, and a wheelchair. I have attached copies of his reports. You may go through these documents for the purpose of verification.
Any donation you make would be highly appreciated. Please make an online transfer to account number [X], Bank ABC. You may call his son at (phone number) for further details.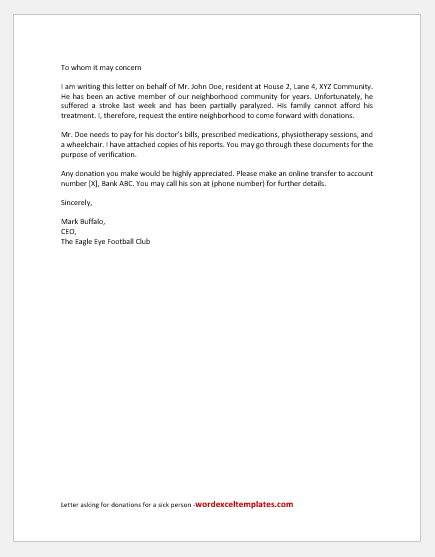 Requesting donations for school
I am writing to request for your kind donation for my school, XYZ which is an institute for differently abled children. We have over a hundred students in our school and need educational supplies for them. Your financial assistance would be really appreciated.
Most of the students who are enrolled in our school come from underprivileged families. They cannot afford books, stationery items, and other school supplies. We also provide lunch to these children during school hours. Your donation will help us facilitate the students with the required school items. We will also be able to continue providing them with healthy lunches through financial assistance.
You are welcome to visit our institute anytime. We also promise transparency in the utilization of the donated amount. You will be provided with receipts for every penny that we spend on our students.
Kindly make your donation to (account and bank details). Please call us for further details or queries. Our children eagerly look forward to your response.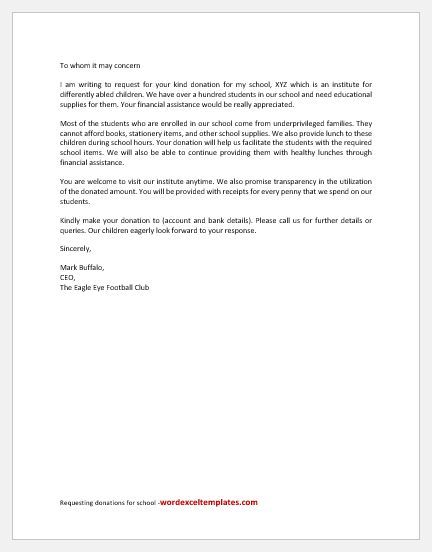 Donation request for an NGO
I am writing on behalf of our NGO which aims at working for impoverished families in our country. We humbly request for donations to help us provide the basic necessities of life to those who cannot afford them.
Please make your donations to (details). Your little contribution can make a big difference for an entire family.
You are welcome to call us for more details. Thank you in advance for your help.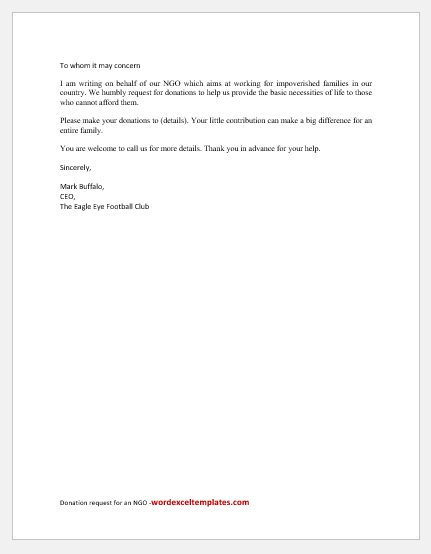 Donation request for Church
We hope this letter finds everyone in good health. We have set out to collect funds for repairing our Church building that had been damaged in the current floods. We request you all make generous contributions to our place of worship.
Kindly make your donations through cash, bank deposit, or online transfer. Account details have been attached. You may contact Mr. XYZ for further details.
We look forward to a positive response from all our members. The Church looks up to you for your assistance. Every little contribution will go a long way.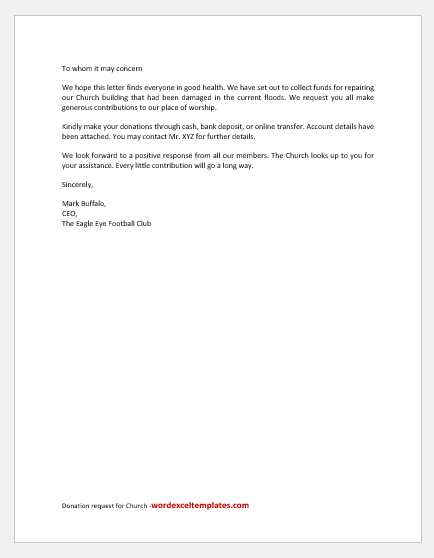 See also: