Where technology has eased many things, it has made working from home possible. Previously, the employees had to be present in the physical office to work for a company whereas now, the internet, possible distant network connections, video chats, etc. allows the employees to work even if they are not sitting in the office building. Sometimes, employees feel more comfortable working from home as they can manage household chores as well along with the work and sometimes, due to other factors, such as being in a different city, official trips, health issues, etc., distant working is often opted for.
The employees usually write emails to their employers to request allowing of part-time working from home. The employers while approving such requests, however, ensure that the overall productivity gets increased.
Sample Email 1:
Dear Susy,
As you know, last week, I had an accident and hurt my back with severe bruises which is why I was on the medical leave. Now, the medical leave has ended and I want to join back in but my back still hurts and it would not be possible for me to sit in a chair for straight hours.
I know my work is being affected which is why I do not want to extend my medical leave. I am writing this email to request you to allow me to work from home for at least two weeks. I will be working for the same number of hours every day and visiting the office for a few hours two days a week to keep in the loop.
I hope you understand and approve my request. Rest, I ensure you about my productivity. Thank you in advance. Let me know if you want to ask something about the hours' arrangements.
Regards,
John Smith.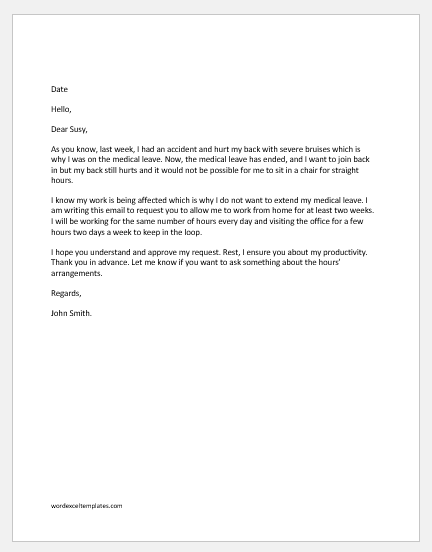 Sample Email 2:
Dear Will,
My maternity leave has ended but I still have not found a nanny for my baby. My health, however, allows me to work now which is why I do not want an extension of the leave. I want to request you to allow me to work from home for a month or so until I find a good nanny. I will come back on my regular schedule after that until then, kindly allow me flexible working hours and working from home.
I hope you understand my situation and approve my request. I will try to join back in, in the same routine, as soon as possible. Also, meanwhile, I will try to give you equally productive work.
Waiting for your reply. Let me know if you want any other details.
Regards,
Emily Watson.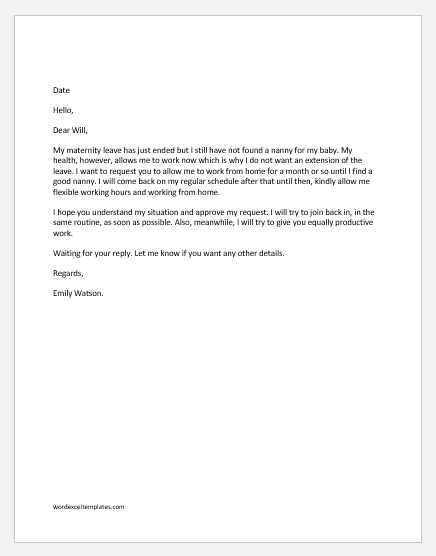 Sample Email 3:
Dear James,
I have recently shifted to a locality which is far off from the workplace. It takes me around two hours to reach the office now. As you know, my work entails technical issues which need to be resolved immediately otherwise the company suffers huge losses.
Since last month, I have been experiencing many problems. For instance, at one time, during my commute to the office, a technical issue arose but nobody was able to reach me due to the low signals on the road. Plus, I think my productivity is being affected as I get tired of moving to and fro for around four hours in total every day.
As I can connect to the network servers from home as well, I want to request you to allow me to work from home part-time for three days a week. I will continue coming to the office for two days every week i.e. Monday and Friday. I ascertain you that I will give you optimal results with all my best efforts.
I hope you understand my situation and allow me to work part-time from home. Let me know if you want any further details before the approval. Looking forward to a positive reply.
Regards,
Jill Juan.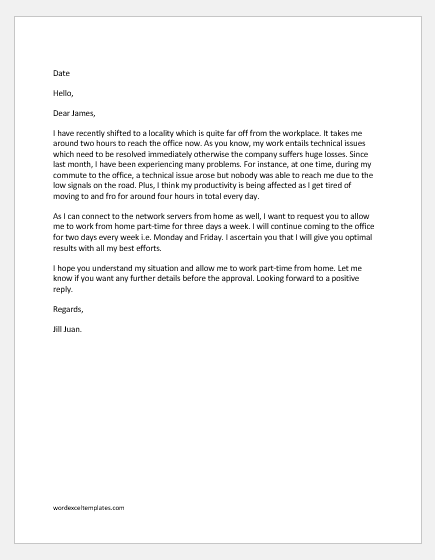 Sample Email 4:
Dear Jennifer,
When you hired me for consultancy services, your employees needed continuous assistance. Now that I have trained them, I was thinking that it is not necessary to come to the office every day. There are two months remaining in the ending of our contract and I was thinking to request you for working from home part-time of the contractual period.
As the training sessions are on the Wednesdays only, I will be coming on that day. For the rest of the days, I can prepare them at home in a more effective way. If my services are required for any of such days that I am working at home, however, I will certainly come to the office.
It has been a wonderful experience working with you and your employees. I will ensure the same relationship to continue over rest of the period. Let me know if you have any questions.
Waiting for a positive reply. Thank you in advance.
Regards,
Susan Smith.