Employee management is a critical component of overall business management. The human resource department is responsible for the management, satisfaction, and motivation of employees. Any issues that employee's faces are handled by the HR. Similarly, if there are complaints about an employee's behavior, they are also officially the responsibility of HR.
Often there are some instances that may be defined as misconduct. Such instances need to be dealt with strictly in order to maintain a healthy and respectful environment within an organization. Often if an employee exhibits a series of misconducts, they are issued a warning letter which could lead to disciplinary action, suspension or even termination. A warning letter is issued so that the due process of giving an employee a chance to remedy his/her behavior is completed. Thus when disciplinary action is taken against an employee, he/she cannot say that they had not been warned.
Misconduct has quite a broad definition. It can be in terms of ethical, moral or behavioral aspect. Misconducts can be minor and also serious. Minor misconducts might be overlooked frequently; however serious misconducts cannot and should not be easily let go. Here is a list of behavior that constitutes as misconduct in any professional setting:
Lying incessantly so as to disrupt office environment
Degrading others
Abusing fellow workers, supervisor or subordinates
Passing racial comments
Sexual harassment
Physical or psychological harassment
Threatening others
Use of illegal drugs or alcohol
Stealing or destroying office property
Falsifying accounts/records/documents
Engaging in espionage
Shouting or throwing things at co-workers in aggression
Disobeying direct orders from the supervisor
Any deliberate behavior that violates the terms of an employment contract
Any other conduct that causes damage to health and safety of individual him/herself or co-workers
Any conduct that causes damage to the profitability, or reputation of the organization
At least one warning must be given to the employee for misconduct. Being late to work, missing a deadline or meeting, or making unintentional errors are not counted as misconduct.
If an employee is reported for misconduct, the first person to react to such reports is usually the supervisor. The supervisor decides whether the reported action/words/incident is indeed a misconduct and what is the relative intensity of the misconduct. Here are ways to deal with misconduct:
If it is minor, the supervisor may simply talk to the employee for his/her behavior and encourage better behavior in the future.
If this is a repeated situation, the supervisor may use a strict tone and verbally reprimand them. If the situation is serious, the supervisor may bring the situation to the notice of HR which will then issue a warning letter to the employee.
Writing warning letters is often challenging since the wordings must be thought out very carefully. If you are looking for a sample warning letter, then here are a few samples to help you draft a wise warning letter.
Sample warning letter 1:
Date:
To: [employee name]
Subject: Warning letter for misconduct
It has been reported that on [enter date] you came to work heavily intoxicated. Under the influence, you are also reported to have misbehaved with fellow workers and used indecent language. Such behavior is absolutely intolerable at the workplace. We at [enter company name] endeavor to maintain a healthy and comfortable environment for our employees. Any behavior or actions that violate the comfort of employees shall be strictly dealt with.
This notice is a warning against such future behavior. Failure to comply with organizational norms and disrupting office environment will lead to disciplinary action against you. You are required to issue a formal apology for your behavior. A copy of this warning will also be added to your employee record.
Sincerely,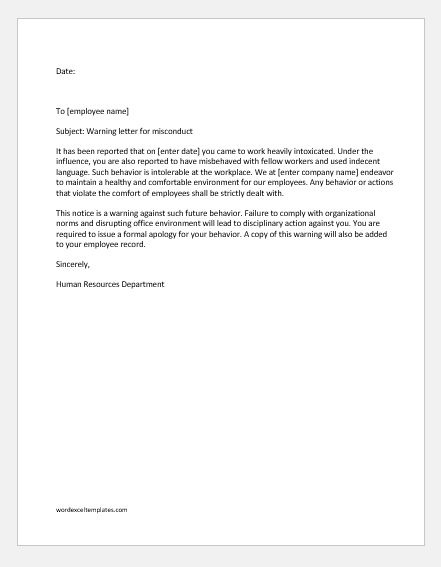 Sample warning letter 2:
Warning for a financial discrepancy
Date:
To: [employee name]
Subject: Warning letter for misconduct
It has come to our knowledge that you have been part of a financial misconduct. On [enter date] you were asked by [enter another employee name] to make a financial record of some undocumented expenses. You displayed gross negligence when you recorded those transactions without any proof of receipts. It was later discovered that this was a fraudulent activity on part of [enter same employee name as above] to use company accounts for non-business payments. This is a serious offense that is not tolerated at our organization.
Mr/Ms is already being investigated for his/her conduct and a disciplinary committee will soon sit down to take a decision on this case. This letter is a warning against negligence in the future. You as a financial expert must understand the importance of receipts before you make any adjustments to the company's financial records.
You may be called in for an explanation by the disciplinary committee in the coming week. You are expected to cooperate with the committee.
Sincerely,