Product or service introduction letters are written by the companies to their existing or potential customers. In this letter, the company announces the introduction of its new product or service or additional features of an existing product or service.
One of the purposes the letter serves, apart from informing the customers, is related to the promotional aspect of the product or service. By informing the customers, the company makes them aware as well as entice them to use the new product or service. This will help the company in increasing its revenues leading to increased profits.
The general format usually used to write this letter is:
Date
Details of the company
Details of the recipient/customer
Details of the new product or service or new features
Details of the benefits of the offering and the need or want it may satisfy
Statement to show the customers why your product is better than the competitors or tell them if it is an innovative product which is one of its kind
Statement to encourage buying of the product or service
Offer free samples (if possible) or request them to attend any product introduction event (if it is being held)
Offer discounts
Leave room for any questions
The letter needs to be professional, concise and is usually issued on a company letterhead. In addition, it should serve the purpose of informing the customers appropriately about the new addition in the company offerings.
Sample -1
We at JS are very proud to announce the successful launch of kids wears in our clothing line. Now we will not only devise clothing which best suits women but also kids. Our much too different clothes will cater to the needs of children aged 7-16 years old. Our exquisite designs will certainly please you and you will go for no other options.
We are offering a discount of 20% for our valued customers. We promise to deliver you the best.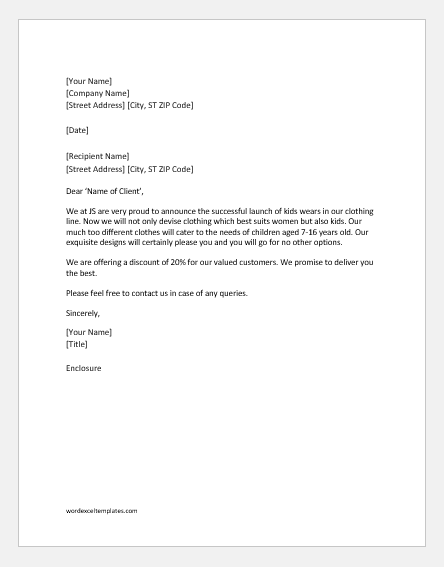 Sample -2
The wait is over! Yes, we take pride in announcing the launch of ladies' handbags in our product line. Now ladies can easily get a bag matched with their clothing from our latest collection of bags. Promising for value-added services; we have introduced a variety of casual bags for ladies which would add a lot more value to their clothes. Moreover, we are offering a discount of 15% if you purchase a bag with a suit.
For more information see the attached pamphlet or visit your nearby store.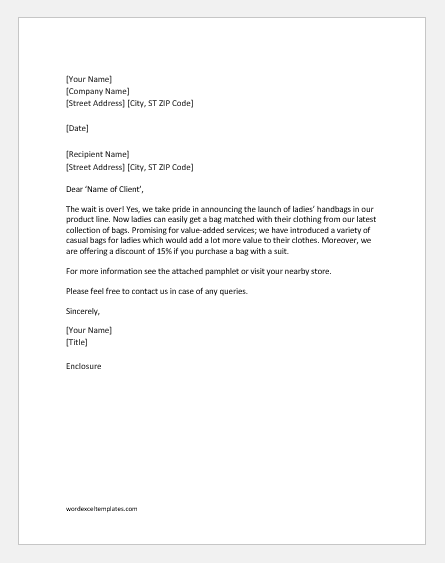 Sample -3
The TRG group has always enjoyed the privilege of meeting the needs of its prestigious customers through innovative ideas. Yes, we have introduced a new line of grocery products. Catering to your needs we have introduced a wide range of grocery products which will be made available at our both outlets. We intend to satisfy our customers by providing them with the best.
Attached is a pamphlet containing details of all the products along with their prices. Do visit our stores.