There may be different needs of an employee for which s/he applies for a bank loan. A salary certificate is one of the most important documents that is needed by the bank to process the request for loan issuance.
Every employee demands salary certificate when s/he wants the bank to issue the loan. The salary certificate is an official document which is issued by the employer when employee requests for it.
This certificate contains the information about the employee such as total salary, total deductions on monthly basis, and summary of net salary received by the employee and a lot more.  These details are important for any bank to obtain so that it can know the financial condition of the person asking for a loan.  Based on salary certificate, the bank decides whether the employee should be issued the loan.
The salary certificates are very important for the employees who want to get some loan. It is mandatory for the employee to submit their salary certificate in the bank to avail the loan service of the bank. This document is primarily used by the bank to verify the income and the ability of the borrower to pay off the loan.
The salary request letter is written briefly. There is no need to add unnecessary details to it. The reason for requesting for salary certificate should be given in this letter. However, it is not mandatory.
Write the letter in a formal tone. End the letter on a positive note. You can also state the exact amount that you want to get so that the company can know if salary certificate is going to help you.
See also: salary certificate templates

See also: 10 best salary certificate formats
Letter -1
I have been working in your company as a sales manager for the last 5 years. I need to apply for bank loan. It is the requirement of the bank to provide salary certificate. I am therefore requesting you to issue me the salary certificate. I would like to request you to process my request application at your earliest convenience.
Yours sincerely,
---
Letter -2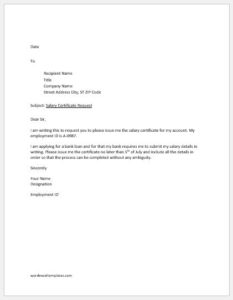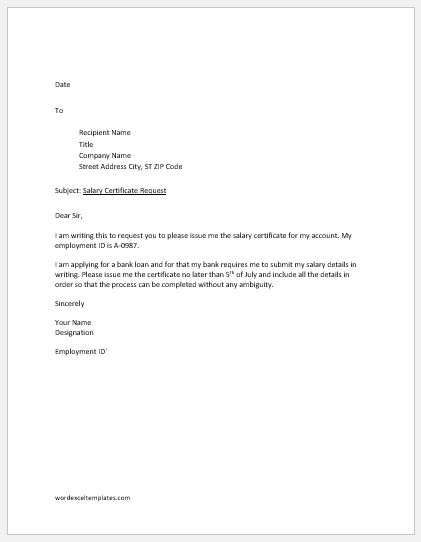 Hello Mike,
I am writing this to request you to please issue me the salary certificate for my account. My employment ID is A-0987.
I am applying for a bank loan and for that my bank requires me to submit my salary details in writing. Please issue me the certificate no later than 5th of July and include all the details in order so that the process can be completed without any ambiguity.
Regards,
---
Letter -3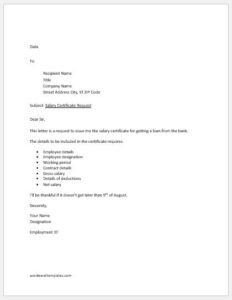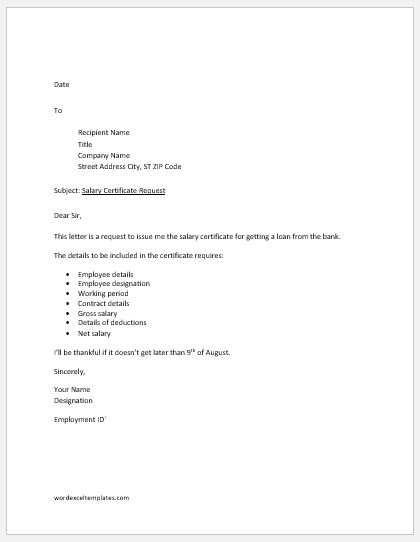 This letter is a request to issue me the salary certificate for getting a loan from the bank.
The details to be included in the certificate requires:
Employee details
Employee designation
Working period
Contract details
Gross salary
Details of deductions
Net salary
I'll be thankful if it doesn't get later than 9th of August.
Sincerely,