The Foundation of every business, company, institute, or any other workplace is based on the efforts of its employees. Many multinational companies are run by hundreds, thousands of employees working in different countries and helping in the overall growth. Employees are hired based on their knowledge and experience and are then assigned different designations, which suit their mental capability.
Employees working at different ranks have different job descriptions and thus, different salaries. They are paid according to the services they provide and are also offered bonuses and other allowances.
Employees working at higher ranks not only enjoy more salaries but are given more benefits and services which may include foreign trips, food coupons, spa days, entertainment activities, and much more.
Employees working in lower ranks are awarded smaller benefits to appreciate their hard work and boost their morale to make their place in higher ranks. With the passage of time, experienced employees are promoted, and the cycle continues.
An employee salary certificate is an official statement or document provided by their workplace and can be used for various purposes. These certificates are very crucial documents and are handed down to every employee. They are proof that employees are being paid by their workplace.
These certificates are issued by an authorized person of the organization and are printed on the letterhead of that organization. It is also a proof of attachment of employees to their workplace and contains the required material information which can be used by the employee for different purposes.
Contents of the certificate
Contents of salary certificates may vary from one organization to another based on their working criteria and policies related to employees. Some of the details that are almost similar among the contents of salary certificates from different organizations are given below,
Name of employee
Code of employee
Designation at workplace
Date of birth of the employee
Address of employee
Name of the concerned department
Name of organization/ company/ business
Date of joining the workplace
Date of Retirement
Gross salary, net salary, and total salary of the employee
Allowances awarded to an employee
Deduction i.e., employee provident fund, loans medical assistance, and other deductions
Common uses of the certificate
Employee salary certificate can be used for various purposes and is of utmost importance to the employee. Some of its important uses are given below,
For an employee, it is documented proof of employment at the organization.
Provides detailed information on all the deductions and additions to the salary to help an employee understand the whole procedure in a better manner.
Act as an identity proof for the employee at any other organization or company.
When applying for a house or car loan, banks require salary certificates of employees, and their salaries are an important factor in deciding the amount of the loan and how it would be paid in installments.
These salary certificates can be used for a salary raise while being interviewed at another organization.
At many organizations and workplaces, salary certificates are termed different and are known as salary slips. A salary slip is issued every month to the employee and the salary is transferred to their personal bank accounts through an authorized officer at the organization whereas, a salary certificate at these workplaces is issued for a particular period upon request of an employee while applying for any loan at the bank.
These salary certificates may be of 6 months, a year, or of complete tenure of an employee.
Format of the certificate
The format of an employee salary certificate is similar for all employees working at different workplaces. It provides a detailed view of his net salary that can be used by him. In addition, it also provides a list of allowances such as food coupons, domestic trips, foreign trips, etc.
Signature of employee: __________
Name: ________. Date of Birth: _________
Code #: ________. Date of joining: ________
Designation: ____. Date of retirement: ____
Department: ___. Company: ___________
Logo of Company
It is to certify that Mr./ Ms./ Mrs. ________, S/o, D/o, W/o, ____________, residing at ____________ is the permanent employee of the company and serves at ___________ department. Pay allowance for the month of __________ (Year) is given as follows,
| | |
| --- | --- |
| Gross Salary | Deductions |
| Basic Pay | EPF |
| DA | Home loan |
| Medical Allowance | Car loan |
| Misc. | Misc. |
| Gross salary: ______Rs. | Total deductions: _______Rs. |
Sample Format
Net Salary: [X]/_
Net Salary (In Dollar): ___________ $.
Signature of an authorized officer
Place: ____________.
Stamp
Date: __/__/__
10 Templates for MS Word
One of the demanding and mandatory official documents used by companies and organizations is the salary certificate. We provide the 10 best salary certificate templates for 20XX which grants you an amazing opportunity to get your desired one that suits your needs.
This great margin of selection is surely brilliant and ensures to provide all the mandatory details in it by covering both major and minor aspects of the salary. The regular and dependable income of the employee is gets confirmed by this official document. A salary certificate is required when a person wants to get a loan from the bank or finance a car etc.
Creatively Design Salary Certificate Templates
All 10 salary certificate templates for 20XX are worthy enough to represent your company and fulfill the intended needs. The use of splendid color and styles are quite charming. Have a glimpse of these and enjoy using them as per your company's requirements.
All the mandatory information is displayed on these templates in a stylish manner. Designing and styling are made in a highly professional way which leaves a great impact on the company when the employee uses it to apply for a loan, credit card, purchase an apartment, take a loan, etc. All 10 templates differ from each other and each of these is impressively likable.
Details on the Templates:
All the details of the employee salary are mentioned on the templates such as basic salary, conveyance amount, salary for the overtime, house rent allowance, and the net salary.
Other details include the company name, written statement, company logo, employee name, employment ID, employee designation, the date from when he started working in the company, and at the end the signature of the manager to give it the official and authentic appeal.
Preview and Details of Templates
#1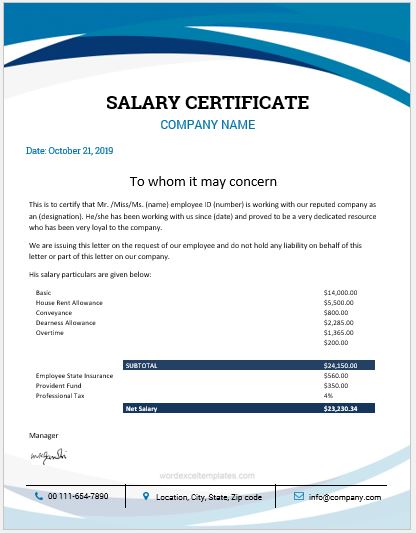 #2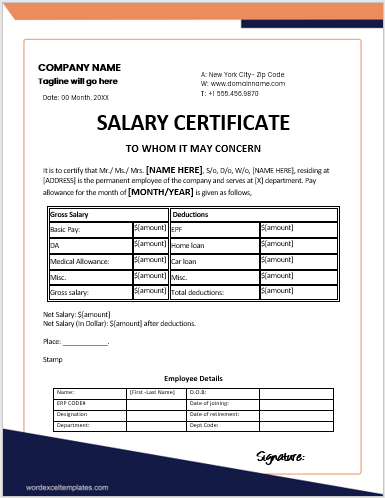 #3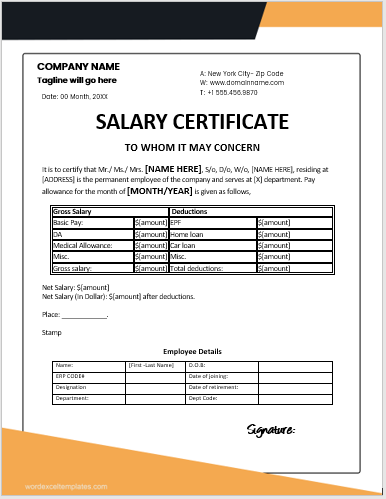 #4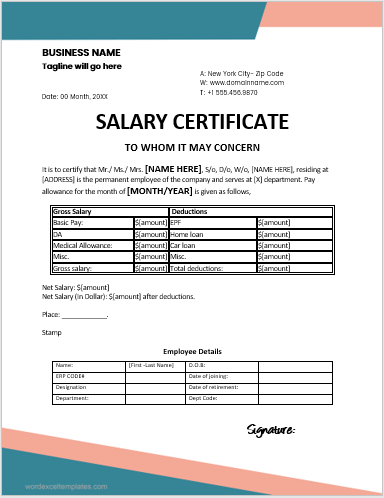 #5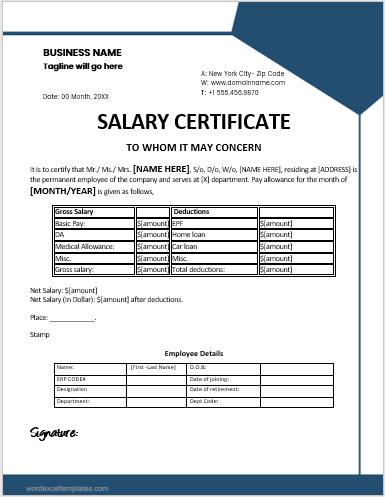 #6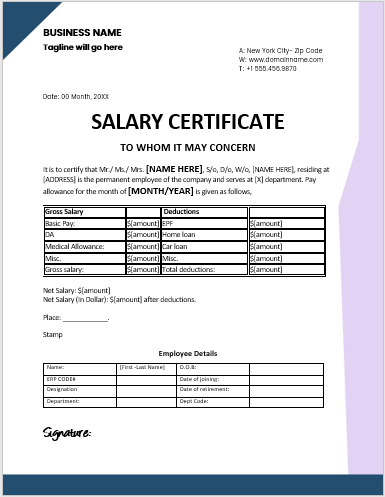 #7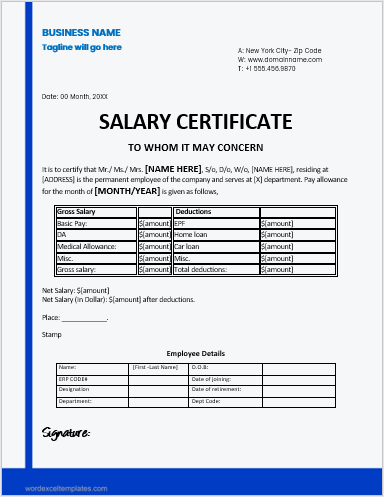 #8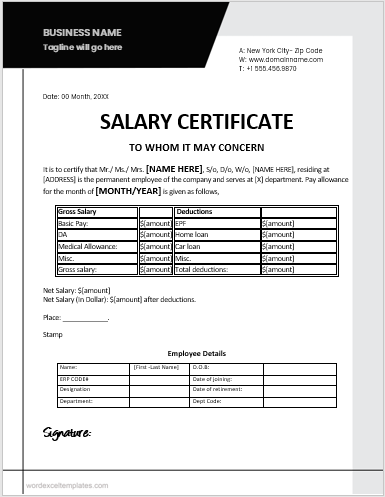 #9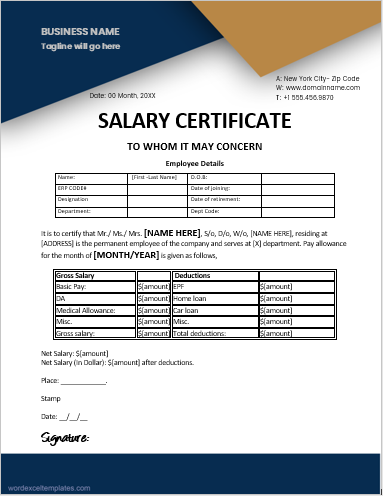 #10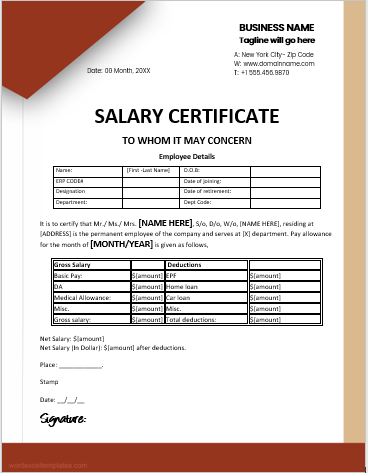 #11