Company Letterhead Templates
The way every individual has an identity, companies have identities too. The money that they spend on branding is all to maintain a successful identity to become different from their competitors. Letterhead is one of the ways for branding. A company designs a letterhead for writing letters, emails and other notifications.
A letterhead is most commonly used for business correspondence with clients and businesses. It contains all the necessary information that you want to communicate to others. A letterhead is the easiest way to find the company contacts. You might not remember the address or telephone number otherwise, but if you have the letterhead, you have it all.
Every company has some important elements that they mention on their letterhead as below:
Image
Every letterhead has at least one image. This image could be the logo of the company. A logo is the face of the company. Companies spend millions of dollars to get the best logo. Why? Because logos become the identity of success. Logos are normally placed on the top of the company letterhead to any side. If a company has the awareness to design a logo, they should be smart enough to know that the logo should be designed and printed on a good quality paper to maintain the quality.
Contact Information
The contact information such as the phone number, address, email ID and even the social media links further define the identity of the company. It gives the users an easy access to your contact information. The success of every company is based on the service they provide these days. If your customer service is not good, the customer will switch instantly. With so many options available, the customer gets frustrated quickly. They will not go out and search for your contacts, rather than that they will look for an easy way.
Tag Lines
This is the world of digital marketing where everything is about creating hype. For this reason, companies develop their tag lines. Tag lines are small and catchy slogans which relate to the brand and concept of the company. These tag lines can be mentioned on the top of the page along with the company logo.
Paper Quality
Quality is the major component of success these days. So don't forget to print your letterhead on a good quality paper. It will help you to present everything effectively on one page.
Following letterhead templates are prepared for you. Download the one you like and use it for your company.
#1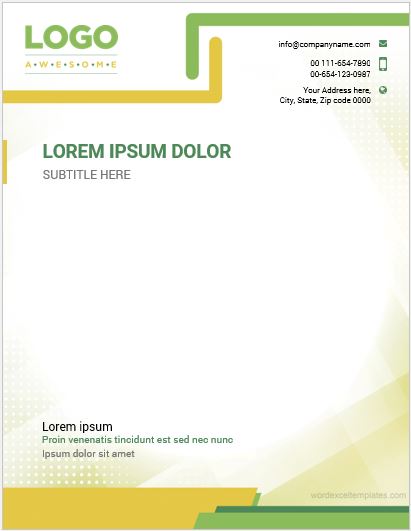 Green

&

Yellow

File: Word (.doc) 2003+ and iPad 
Size 1470 Kb |  Download

[Personal Use Only]
---
#2

Blue
&
White
File: Word (.doc) 2003+ and iPad 
Size 677 Kb |  Download
[Personal Use Only]
---
#3

Brown

&

Red
File: Word (.doc) 2003+ and iPad 
Size 1518 Kb |  Download
[Personal Use Only]
---
#4

Yellow

 & 

White
File: Word (.doc) 2003+ and iPad 
Size 1163 Kb |  Download
[Personal Use Only]
---
#5

Cyan

 & 

White
File: Word (.doc) 2003+ and iPad 
Size 1756 Kb |  Download
[Personal Use Only]
---
#6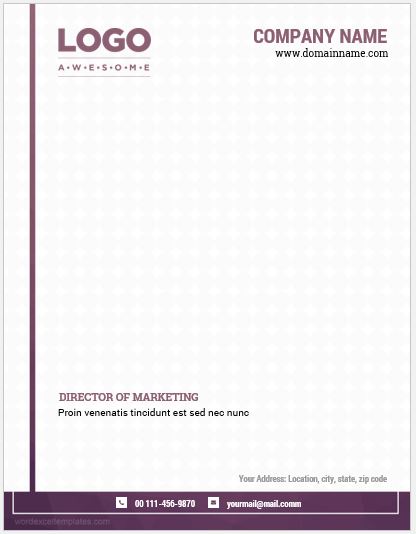 Purple

 & 

White
File: Word (.doc) 2003+ and iPad 
Size 733 Kb |  Download
[Personal Use Only]
---
#7

Brown

 & 

White
File: Word (.doc) 2003+ and iPad 
Size 1024 Kb |  Download
[Personal Use Only]
---
#8

Parrot

 & 

White
File: Word (.doc) 2003+ and iPad 
Size 4046 Kb |  Download
[Personal Use Only]
---
#9

Brown

 & 

White
File: Word (.doc) 2003+ and iPad 
Size 2128 Kb |  Download
[Personal Use Only]
---
#10

Parrot,

 Blue

&

 

White
File: Word (.doc) 2003+ and iPad 
Size 935 Kb |  Download
[Personal Use Only]