Every doctor with a professional approach uses the letterhead whenever s/he is required to prescribe the medicine to his patients.
A doctor's letterhead is a document that provides information about the doctor using that letterhead and the hospital in which he is working. In general, the doctor's letterheads are used for writing prescriptions for patients. When the patient receives the prescription written on the letterhead, it conveys the message that the prescription has been generated from authentic sources.
Doctor's letterheads are used by doctors whenever they have to communicate with someone as a doctor. Generally, the letterhead is printed on the top of the page. The doctor has to write the prescription under that letterhead. The prescription should not be written on the letterhead. In other words, the letterhead should be visible on every prescription issued by the doctor.
Major content of the letterhead
A simple and easy-to-use doctor letterhead contains the details about the doctor which are
The name of the doctor.
Name of the hospital or the clinic in which the doctor practices his work.
The contact details of the hospital or clinic.
The qualification of the doctor.
The department to which the doctor belongs.
The closing and opening timings of the clinic.
In order to make the letterhead look more beautiful, the doctors use different designs of letterheads that make them stand out from the crowd.
Using a doctor's letterhead…
It is mandatory for the doctor to use the letterhead for writing the prescription. The prescription becomes written evidence that it has been issued by the doctor whose name is written on the letterhead.
Furthermore, people also get a medical certificate from the doctor which is also printed on the letterhead. The certificate also describes which doctor has issued it. The concerned authorities can contact the doctor if they want to confirm the illness of the person who was issued the certificate.
In this way, the doctor becomes responsible for issuing the certificate. So, the doctor's letterhead holds a lot of significance for the doctor.
When you want to create the letterhead, you will be required to consider the following things.
The letterhead you create should include all the basic details of the doctor that are needed by people to know about the doctor.
The font of the letterhead should be large and easy to read. In order to make the letterhead attractive, you can use some attractive and unique fonts.
Keep the letterhead simple and make sure that it imparts a professional look. The letterhead should not cover the maximum part of the page which means that there should be enough space on the page after the letterhead where the doctor can easily write the prescription.
If you find it hard to create the letterhead, you can download the readymade template to help you create the letterhead of your choice.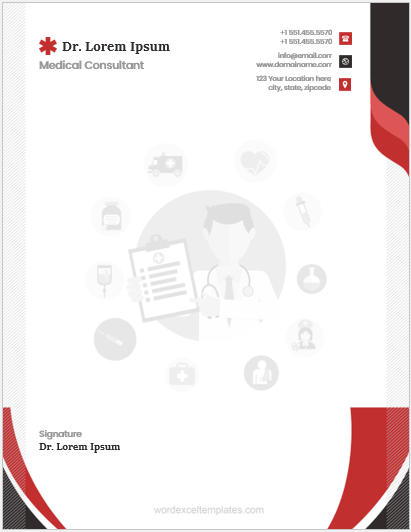 #1
File: Word (.docx) and iPad Size 939 Kb |
Download
---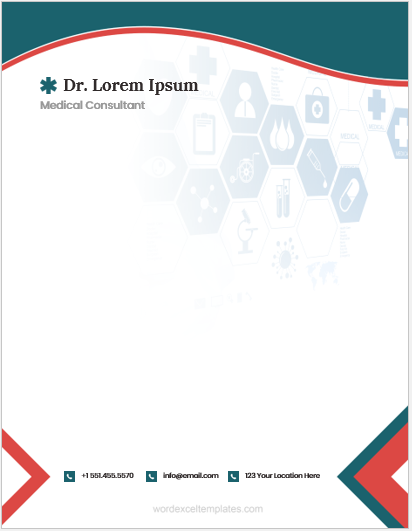 #2
File: Word (.docx) and iPad Size 753 Kb |
Download
---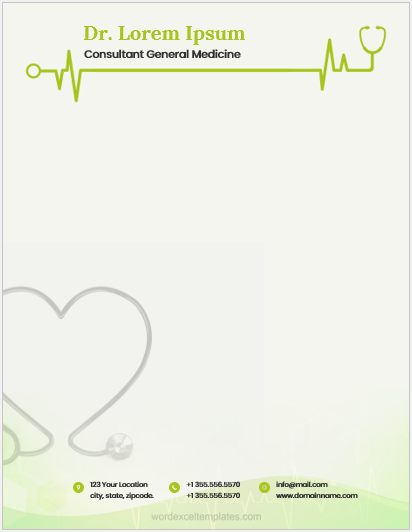 #3
File: Word (.docx) and iPad Size 969 Kb |
Download
---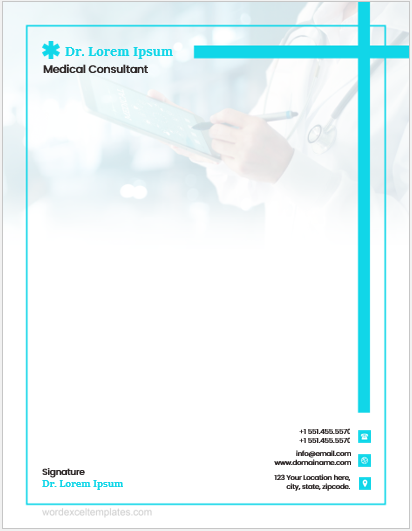 #4
File: Word (.docx) and iPad Size 2123 Kb |
Download
---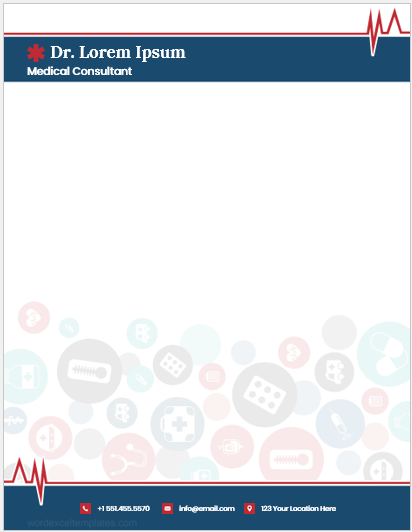 #5
File: Word (.docx) and iPad Size 482 Kb |
Download
---