The apology letter to teacher for misbehavior is written by a student who has committed misbehavior with his/her teacher. The letter is written to admit that the misbehavior was done and you seek an apology for the same reason. Sometimes the letter also describes the circumstances that lead to the situation of misbehaving with the teacher.
Misbehaving to the teacher in class is really a bad thing. The teacher needs the same respect as our parents. So, one should be careful in class and behave with good manners so that the teacher doesn't get hurt. In case, if someone feels that he has misbehaved in the class and the teacher has felt bad then it is important to apologize.
For writing an apology letter to the teacher, one must be sincere and formal. He should use such words that melt the teacher's heart and he/she accept your apology. One should use such words that express the sorry and teacher accept the way of your apology.
When you are writing an apology letter you should be careful about the following things.
First, you must be straightforward and use such words that are soft to speak.
You must address your teacher in a way you address in the classroom.
Keep your tone formal.
Define the reason behind misbehaving.
Use proper wording in expressing your feelings.
Last but not least, write a few lines on a promise that you will not do such misconduct again and you will be careful. In this way, you will be able to write the exact message that you want to convey to your teacher and you will be confident that your mentor accepts your sincere apology.
Letter -1
Date
Name of student
Address
Dear teacher.
I am sorry for the incident that happened yesterday. I really don't want to involve in that situation, but I don't know how I did. Actually, I was tense due to an emergency at my home. My mother was not well and I awoke with her the whole night. The next day, I didn't want to miss school and came here without having a peaceful sleep. I was not in my senses as I was thinking about my mother. When you asked about the assignment and pointed out the mistakes, I became rude with you. Although the irrelevant things in the assignment were purely my mistakes. At that time, I must accept them and I must tell you the situation. Rather, I got rude and misbehaved with you.
I know it was not a good impression that I created in the class. I must be careful at that time. I assure you I didn't do willingly. I was disturbed and I am really sorry about that. You know well that I am always on time and get A-plus grades in all assignments. I am ashamed of what I did. I hope you understand and accept my apology.
Regards,
Student name.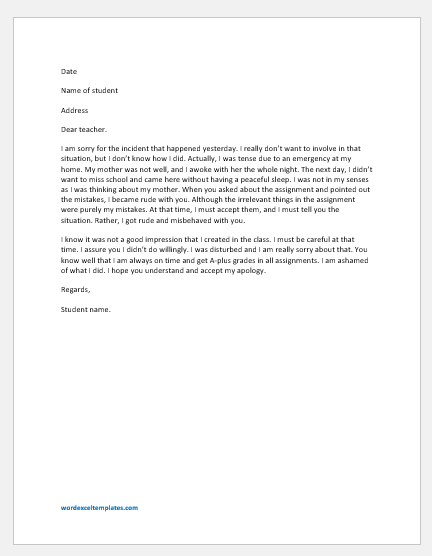 File: Word (.docx) 2007+ and iPad Size 19 Kb |
Download
---
Letter -2
Date
Name of student
Address
Dear teacher
I am writing this letter to sorry you on misconduct I and my friends did with you on Friday. I know you warned us two times but we were so involved in our cell phone that we didn't take the notice. Actually, one of my cousins met an accident and his brother shared all the pictures of the incident. We were looking and reading all the aspects of the accident. We were so involved in it. Thus, we remain inattentive in class. One of my friends asked me to switch off mobile, the teacher had been staring at us, but I didn't focus on him and continue to remain involved in the cell phone.
I am sorry, we should be careful. We should not have done such misbehave in the class. In the end, we are ashamed of being inattentive in class and for not responding to you at that time. I promise you this will not happen next time. I and my fellows will keep our cell phone off. Please accept our apology and allow us to sit in class. It is our request that please doesn't forward our misconducting issue to our parents or principal. I am sorry once again. I hope you will accept my apology, thanks in advance.
Regards
Student name.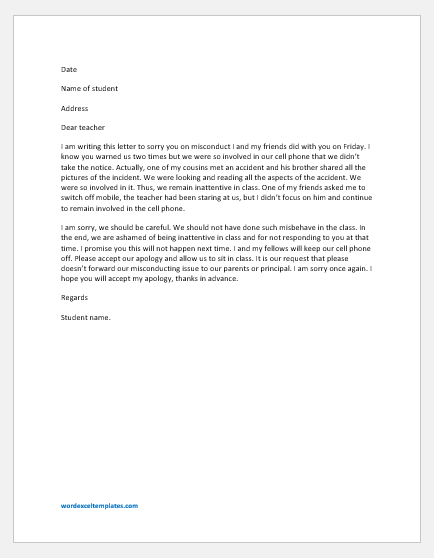 File: Word (.docx) 2007+ and iPad Size 18 Kb |
Download
---