A letter to a landlord is written to respond to alleged lease violations. It is an awful situation when the landlord violates the lease agreement. The letter should be written in a polite way because if the landlord finds it harsh, he may kick the tenant out of his property. Especially when you are paying a low rent as compared to most of the apartments,
If your landlord is violating the agreement and you want to write a letter of lease violation to your landlord, then it is important for you to have all the documents proving the violations. You must provide every detail regarding the violation.
You first need to explain the history of the problem in the letter and the attempts made by you to resolve the issue(s). Next, you need to mention that you need the violation corrected.
Sign and date the letter, and then send it to the post office, requesting the signature of your landlord. It will be good to keep all these records with you if you want to take any legal action in the future.
There are many minor and major ways in which the landlord can violate the lease agreement. Such as
Not repairing the minor problems
Do not give back the security deposit
Does not clear driveways and walkways
Does not pay interest to the tenant on the security deposit
In all of these situations, a letter to the landlord can be written.
Alleged lease violation response letter
Preview and details of the template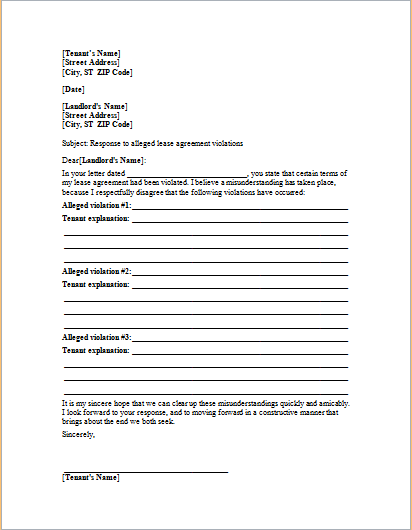 File: Word (.doc) 2007+ and iPad
Size: 28 KB
Response letter to landlord for alleged lease violations
I got your letter yesterday in which you stated some supposed things that are far from reality. That is why I am writing to you as soon as I receive your letter. I am sure that you have been mistaken in those allegations that you mentioned in the notice. In our lease agreement, it was clearly written that any misunderstanding would be addressed properly. So here is my clarification regarding all the allegations you made.
Allegation 1: [MENTION ALLEGATION]
Clarification: [STATE CLARIFICATION]
Allegation 2: [MENTION ALLEGATION]
Clarification: [STATE CLARIFICATION]
So, I have mentioned every minor detail of these alleged lease violations, which I never made. Hopefully, I am clear now. I would appreciate it if you wrote me back as soon as you had time for that. I assure you that I am a responsible citizen and will keep my word, come what may.
Hope to hear satisfactory words from you soon.
Eviction Response Letter to Landlord (Positive)
I received your legal notice on [INSERT DATE AND DAY] in which you asked me to evacuate until next week as you want to move here with your family. I completely understand it as it was your second legal letter this month. I have asked two agents to find me a decent residency so that we can leave as soon as possible.
It was an amazing experience here, as you are a great human being and understand the utmost importance of privacy. That is why we are sure that there must be a genuine reason for sending this evacuation notice. So most likely, we will abandon your place until [INSERT DATE].
Maybe in the future, we could come into contact again. Blessings!    
Eviction response letter to landlord (Negative)
Your letter was received yesterday on [INSERT DATE], in which you asked us to vacate your premises by the end of the next week. Well! I am extremely sorry that I cannot fulfill your request as soon as you are demanding it.
I have attached a copy of our lease agreement as well, in which it is clearly inscribed that you are bound to provide us with a notice at least a month prior to the date you want us to evacuate. If you want us to abandon your place immediately, you have to pay us the rent for two months so that we can find a suitable place.
Sadly, none of the two conditions have been fulfilled or even addressed in your notice.
So, with due respect, it is a no from our side since we can get the legal notice for that as well. Either you find us a new place, or you have to refund the rent for two months.
I am waiting for your next letter to finalize things in light of what you decide.
Reply letter to landlord for rent increase
The notice you sent on [INSERT DATE] left me in a state of awe. You asked for a sudden increment of [MENTION AMOUNT IN $]. You must have an idea about the extreme price increases in the states. This is beyond the increment you have asked for.
The place where we are living isn't in good condition at all since renovation is badly needed. We are already paying relatively higher rent, as we know many people in our surroundings live in better places with lower charges. I can even state their names, so you can see if I am stating the facts or not.
You can tell us in your next letter if the already agreed rent isn't enough for you, so we can find some other decent place for ourselves.
I'm waiting for your prompt reply to start searching for better premises!
Breach of contract letter to landlord
You are alerted that on [INSERT DATE], you indulged in the defilement of our contract engaged on [MENTION DATE]. You are in breach of our contract as [State the nature of the alleged breach], which speaks for the violation of our contract [describe the ephemeral violation].
I would like you to hold a meeting so that we can discuss things in a one-on-one setting. Since you are accountable for all the reparations resulting from this rupture, we need to talk about the appropriate recompense for this damage.
You have the duration until [MENTION TIME] to bid a reparation for the breach in our contract so that we can finalize things accordingly.
Thanks for your consideration.