#1
I hope you are enjoying good health. I am writing this to let you know about our revised service price quote for our old customers. At XYZ Company, we take great pride in serving our customers to the best of our ability and do not leave any room for inconvenience or disturbance. We have appreciated your interest in our company for many years; therefore, we decided to officially inform you about the price quote for our provided services.
Recently, our company has revised their price quote for all the services but this revised edition is only for new customers joining in. All existing customers enjoy the benefit of staying with us for years. Please go through the price quote attached to the following letter and let us know your feedback. We are always available to provide round-the-clock customer care. I hope you are satisfied with our services. Thank you for choosing our business.
#2
I am writing this email to thank you for your continued support of our business. It means a great deal to us that you chose to continue doing business with us for the longest span of ten years. It is not easy to maintain a business of quality during this period of inflation, but we can never compromise on quality; therefore, we have decided to revise our price quote for all the services provided by our business.
The overall change in pricing structure is kept low for our existing customers as compared to new customers. Additionally, existing customers can also enjoy coupons that will be awarded after the completion of services under the revised pricing structure. To give an overview, the prices of the most popular services are given below.
Service #1:
Old price: _______
New price: ______
Service #2:
Old price: _______
New price: ________
Service #3:
Old price: _________
New price: _________
A hike in all these prices was essential to maintaining quality so that our customers could enjoy uninterrupted services at their best. I hope you will understand the overall situation and continue to trust our business. We are very thankful for your support.
#3
I hope this letter finds you well. We highly appreciate your trust in the services provided by ABC Business and plan to serve you for the foreseeable future. We value all of our customers and always strive to provide great services; therefore, it is important for a company to maintain a feasible price structure that not only ensures quality but also gains customer satisfaction.
A hike in the prices of raw materials adds up to a significant figure, which makes it difficult to compensate the company; this makes it impossible to provide services at the same rate. I hope you understand the situation and cooperate with our company because we value your trust and loyalty to our business a lot.
As compensation, our business has decided to offer special bundle offers for our existing customers at discounted prices.
Some of these bundle offers include:
Bundle offer #1
Service A:
Service B:
Service C:
Price:
Bundle offer #2
Service C:
Service D:
Price:
In case of any inconvenience, feel free to contact us at our email address. We would be happy to help you in any way.
#4
I am writing this letter to formally inform you about a price hike related to the services provided by ABC Company. It is important for a business to take care of all aspects pertaining to it to ensure quality and worthy services. A business must be worthy of its valued customers; otherwise, it does not have the capacity to make its mark.
Acquiring the attention and loyalty of its customers are the major goals of a business and can only be achieved through customer satisfaction. We are deeply grateful to our customers for staying with us through hard times. Following the economic conditions of our country, a change in the price quote for our services was crucial. This step is taken to maintain a constant flow of top-notch services without any hassle.
The change in the price of services is given below.
Service A
Old price:
New price:
Service B
Old price:
New price:
I hope that this price will not affect our customer base.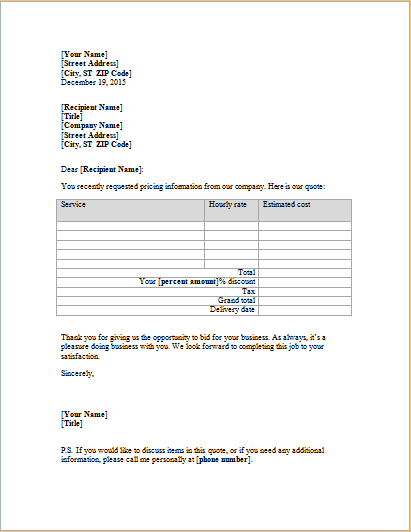 File: Word (.doc) 2007+ and iPad 
Size: 35 KB