Resignation letters are written when you want to inform the employer about your decision of quitting the job. The best way to resign from the job is to give two months or weeks' notice prior to leaving and offer help to the employer in transition.
Life circumstances are not always the same. You may have to leave immediately because of any personal issue or problem. However, it is not a professional approach to leave without giving notice.
It is very hard to write an immediate resignation letter because you will have to talk to your employer about the sudden things that happened in your life that caused you to make the decision of leaving.
Writing the immediate resignation letter may be confusing when it comes to deciding whether you should share your personal reason for leaving the job or not.
You can stay away from this confusion easily by using the readymade immediate resignation letter. The purpose of using the immediate resignation letter template is to know what you should add to this letter.
It should be kept in mind that it is not obligatory for you to write the reasons in this letter. you can leave the job without giving any reason. Make sure that you write this letter only in some specific types of situations.
Tips to write the immediate resignation letter:
It is always recommended to inform your employer about the news you are leaving in person or on a phone call. Although you have provided the verbal resignation, you should always write a written resignation letter to back you the verbal one. Moreover, it is always essential to have documented all your important documents.
A good and professionally written resignation letter always includes a satisfactory explanation to leave the job especially when you should resign on an urgent basis.
This will maintain your relationship with your employer which is likely to be ruined because of your sudden decision of leaving. Your sudden resignation letter may be troublesome for the organization. It is therefore important to write in a professional way.
Preview and Details of Templates
Immediate Resignation Letter without Mentioning the Reason
1-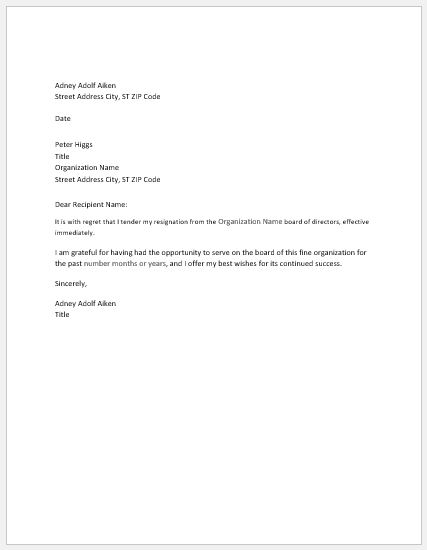 This is a very straightforward resignation from the job. It highlights the position you are resigning from and some good words about the organization you are leaving.
2-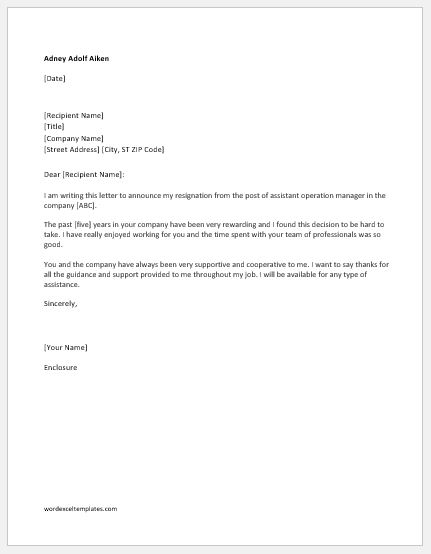 Again this is a resignation letter without mentioning the reason to leave. In this letter, you announce your immediate resignation and appreciate your employer's efforts, support, and guidance that s/he provided you during your stay at the work.
Immediate Resignation Letter for New Job
1-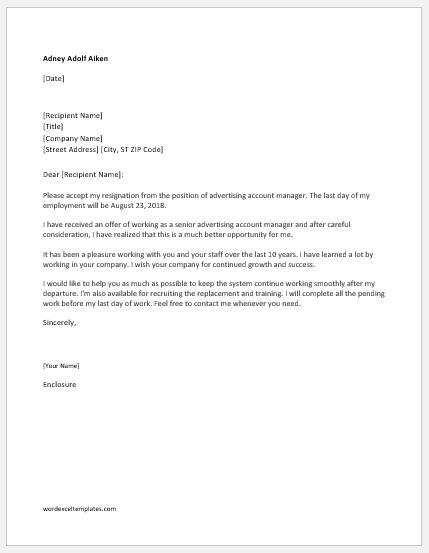 You can use this resignation letter for immediate resignation from the job. In this letter, you can highlight that you have received a job offer that is better for your professional growth and more challenging for your career. But don't forget to appreciate your current employer for all the support and good that s/he has done for you.
2-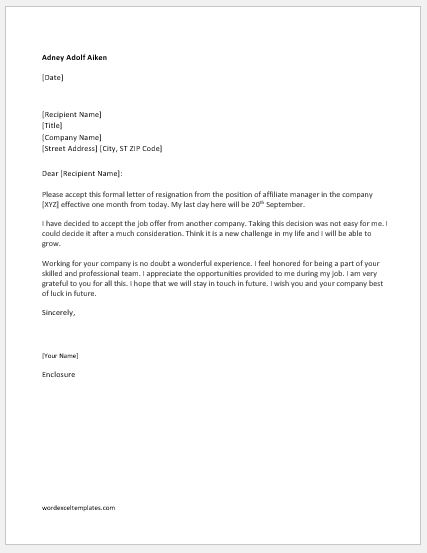 Use this letter to present your resignation on an immediate basis. The reason for presenting your resignation is that you have accepted a new job offer and you must join within a few days. Resigning immediately may cause a problem for an employee as it is against the terms & conditions usually followed by most companies. However, it is a good idea to appreciate your current employer for all the good things s/he had made for you during the employment period. Recognizing the employer's efforts is a good gesture as it creates a positive image of yours in his/her eyes. Don't forget to mention any good thing in particular if it has happened to you during your employment.
See also: