When you want to get leave from your job, it is important for you to bring your request for leave in writing. Writing a leave request letter is important for documentation purpose. It also makes it easier for the manager to understand what you are asking for.
When you write a written request letter, the chances of your request letter acceptance increase as it shows your professionalism towards your job.
What should be included in leave request letter? 
The main details to be added to this letter are:
The reason for requesting for the leave should be explained in the letter. Your reason can be any personal problem, health problems, wanting a break from the stressful work.
It should also be explained in the letter that how you are going to help to prepare the organization for your leave. You can help the organization by training the replacement or completing all the pending work before leaving.
The dates of your departure, as well as return, should also be mentioned in the letter.
It is very important for you to write a formal type of written letter because it becomes the part of your personal file to undertake the process of granting leave. It is also very important for documentation so that your application or request for leave can be approved.
Every company has its own policies for granting the leave. It is important for you to follow these policies.
When should you write the leave request letter? 
If you are not able to perform your duties for a specific period, you are supposed to write a leave request letter to your employer asking for leave.
This letter is very important for any organization because it is a formal way of informing the employees about the leave so that you can prepare the organization accordingly.
Informing the employer beforehand is a very professional approach. It is always recommended you write the leave request whenever you are in need to stay away from the job. You can also download the leave request letter template available on the Internet in readymade format.
Preview and Details of Templates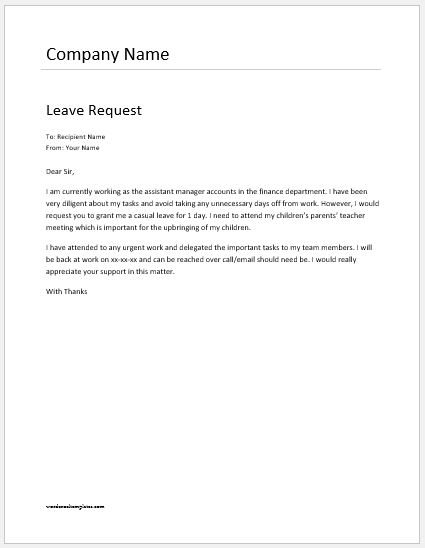 Leave Request Letter
File: Word (.doc) 2007+ and iPad 
Size 24 Kb   | Download
[Personal Use Only]
---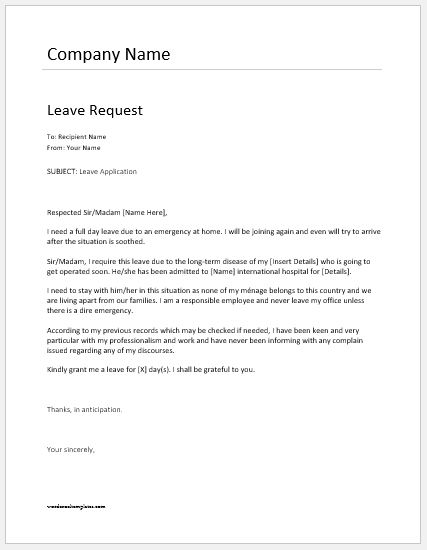 Leave Application
File: Word (.doc) 2007+ and iPad 
Size 26 Kb   | Download
[Personal Use Only]
---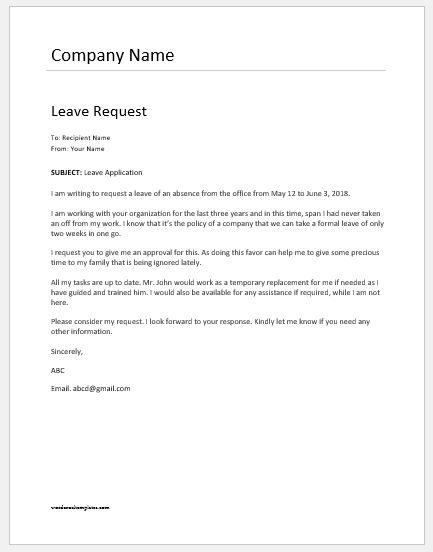 Leave Application to spend time with family
File: Word (.doc) 2007+ and iPad 
Size 26 Kb   | Download
[Personal Use Only]