Misuse of authority or power is simply a felony. It has a serious penalty as prescribed by the company policies. Correspondingly, bullying is never acceptable in the workplace too.
Any kind of maltreatment or hurting did to weak and guiltless people by the ones who are empowered with superiority is bullying. It creates an overall catastrophe in the organization both directly and indirectly. Because when one starts oppressing or frightening the weak ones, he/she can go to any extreme. Even, it can ruin the whole organization. So, in-time check and control are much better than crying over spilled milk due to negligence.
Resignation letter due to bullying is an official document that is prepared by an employee and presented to the manager of the company. The letter states the matter of bullying against the writer. In the end, it must announce the resignation as per the employment contract.
People put an immediate resign due to bullying in the workplace. The resign covers many situations that are as follows:
When an employee is bullied by senior management of the company just to mesmerize his/her competent abilities.
When colleagues bully other colleagues at the workplace on behalf of personal powers for the sake of ruining one's good reputation at the workplace.
When the authorities bully the employees for telling a lie about serious failure during audits.
When negligence concerning death cases at the workplace are hidden by bullying the witnesses' personnel.
A resignation due to bullying can be put in all the above-mentioned scenarios. The resignation must enclose the whole predicament in detail. All the references regarding the situation must be highlighted. The desired date to quit should be highlighted. The pertinent names, company name, significant signatures could be added.
A template is as follows.
Sample Letter
With due respect, this letter is my resignation from the post as [INSERT DESIGNATION] effective [INSERT DATE]. I spoke to you about my concerns many times and you always assured me of dealing the matter yourself but unfortunately, it never happened.
Since the day I have joined the company, I am working in a hostile condition due to my different ethnicity. I am being bullied for that by the employees as well as supervisors.
They make me work for extra hours and treat me as if I am beneath disgust. They look down upon me and jeer at me anytime I pass by them.
This situation has become worst in recent times and I am unable to continue working like this. I thank you for providing me the chance to work in your esteemed company with a team of high professionals. It was a great experience anyway.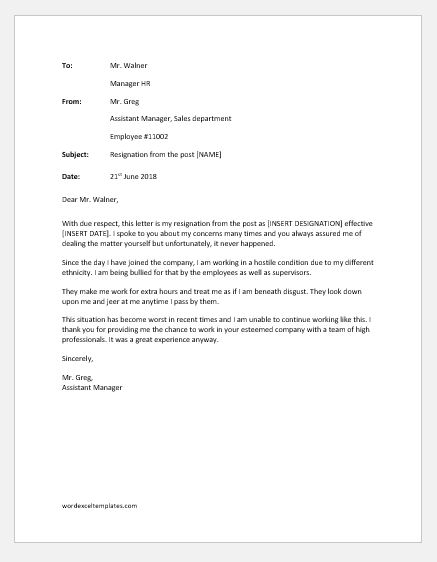 The letter template
Format: MS Word [.docx]
Options: Download