A salary proposal letter also called a compensation proposal is a letter written by an employee and is addressed to the employer. It focuses on the employee's request for a salary raise.
When an employee thinks he/she deserves a better salary package than the one that is being offered, he formally asks the employer to consider raising his/her salary. The employee tries to persuade the employer through reasoning and evidence of why he/she deserves a better salary.
By making use of a salary proposal letter, an employee is making the process formal which is beneficial in two ways. One, it can be formally channeled through the organization and would be kept in the record. Secondly, the use of the letter instead of orally asking the employer for a salary raise would help the employer to properly process and evaluate the request rather than having to decide on the spot.
A salary proposal letter can be written by:
Existing employee for the current position – If an employee thinks he deserves a better salary for his current responsibilities or because the market is offering a better rate, he presents his case in front of his employer through a 'Salary Proposal Letter'.
Existing employee for a promoted position – If an employee is being promoted but considers the increased salary package is not fully balanced with increased duties, he requests the employer to improve the package.
A newly selected candidate who is to be hired – When an organization selects a candidate but the candidate thinks the salary is not competitive enough, he asks his new employer to bring in an increase.
Sample Letter
Date
Name of Employee and designation
Address
Dear Mr. Edison,
I, Greg Smith, want to forward a formal request for the evaluation of my current salary. I have been working with this company (XYZ) since 2008 and have experienced the evolution of my career. I have always stood with the company in the difficult times, like recession periods, even without a six-month salary.
I have always been a cooperative employee and have welcomed any responsibilities bestowed upon me. I have always tried to render my services in the best possible way which can be evidenced by my track record and yearly evaluation reports. An analysis of my record, industry average salaries and my recent achievements would support my request for a rise of at least 15% in my annual salary figure.
I have been serving as a procurement officer for the past three years and due to the death of two senior employees in my department, I have undertaken many of their responsibilities as well. For the past one and a half year, I have been directly involved in staff management of my department, budget making along with my other duties as well. Some of my recent achievements are stated here to further support my request.
I have improved budget conformance in terms of time and money. For the past six months, 27,000/- dollars have been saved as calculated by the accounts department (details attached with this letter).
The staff performance in my department has been improved as well and the HR department can certainly provide you with the details.
My yearly evaluation letters (attached in here) further provide an analysis of fulfillment of my added responsibilities.
In addition, I have also done some research which might be helpful in the processing of my request. Therefore, I am providing the details here. According to Payscale.com, the industry average annual salary for the 'procurement officer' is around 50,000/- dollars which are 24% less than my annual income of 38,000/- dollars. However, I am still requesting a 15% increase.
I will be very grateful to you if you entertain my request. I am open to negotiation.
Regards,
Greg Smith.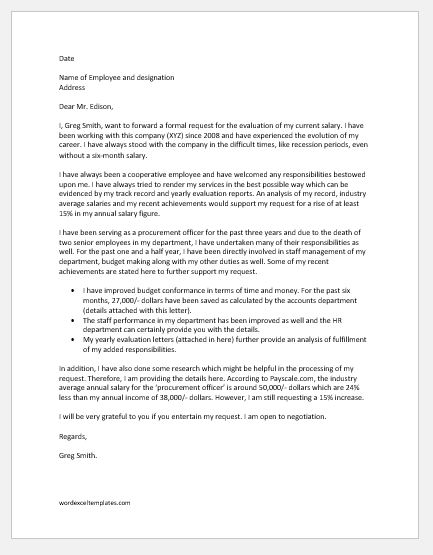 The letter template
Format: MS Word [.docx]
Options: Download