Discussing issues can help one relieve from much worries and pains. Instead of pain taking one should try all the best possible measures to resolve the problem one is facing. In spite, one should choose to take advice from the most trustworthy person in one's life. Similarly, in professionalism, one can face many hindrances or issues regarding his job. The success occurs when one understands the underlying problem and has enough speaking power to raise one's voice for the prompt resolution of the issue.
The request letter is written by an employee to the boss or to the HR department so that a problem related to salary can be resolved. The issue can be related to an unpaid salary, salary rejection or the salary appraisal.
Many organizations are troublesome in the salary parameter. They need a resolution. One can write a request letter to solve the salary problem in the following circumstances:
If an employee is receiving a salary very late. Like more than a month or two months.
If one is receiving an untold cutting from the salary for consecutive months.
If an employee is not receiving the revised salary increments since months.
If an employee is not receiving the salary slip for personal records. It can be important for a bank loan, the opening of accounts etc.
Hence, all these issues can be dealt with by writing a request letter. The request must be polite and to-the-point. The employee's signature, name, position, and date should be mentioned. The department and departmental manager's name could be added. The reason must be written concisely and accurately. The letter must be sequenced and formal.
A sample request letter to solve the salary problem is as under.
Sample Letter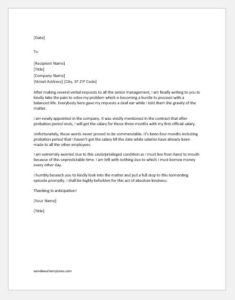 After making several verbal requests to all the senior management, I am finally writing to you to kindly take the pain to solve my problem which is becoming a hurdle to proceed with a balanced life. Everybody here gave my requests a deaf ear while I told them the gravity of the matter.
I am newly appointed in the company. It was vividly mentioned in the contract that after probation period ends, I will get the salary for those three months with my first official salary.
Unfortunately, those words never proved to be commendable. It's been four months including probation period that I haven't got the salary till the date while salaries have already been made to all the other employees.
I am extremely worried due to this underprivileged condition as I must live from hand to mouth because of this unpredictable time. I am left with nothing due to which I must borrow money every other day.
I humbly beseech you to kindly look into the matter and put a full stop to this tormenting episode promptly. I shall be highly beholden for this act of absolute kindness.
Thanking in anticipation!