A salary certificate, also known as a salary verification letter, entails the employment details of an employee on whose request it is being issued. These details mainly include information about:
Basic details such as name, address, phone number, designation and name of the company an employee are working in
Salary details and the deductions details
Employment status including joining and retirement date
Purpose of the issue of salary certificate
Authorized person details and signature
A salary certificate is a document that is issued by an authority to an applicant for the purpose of verification of remuneration.
The organization an employee is working in is authorized to issue a 'Salary Certificate'. The request is usually made by an employee on the arousal of some financial need. For instance, if an employee wants to take a loan or deal with a debt, etc.
This document serves as an income proof of an employee. Financial institutions such as banks often require such letters to be sure of the credibility of a client requesting for a transaction with them. They want the certainty of repayment of their lent money and salary certificates acts like a security to them.
When an employee makes a request for a salary certificate, the management asks for the purpose/reason of the request and after evaluation, issues one.
The certificate is printed on company letterhead and it is stamped and signed by an authorized person.
However, some employees choose the wrong path when the need of having a salary certificate arises. They rely on fake salary certificates.
Fake salary certificates are forged with wrong details especially the details related to salary and income of an employee. Although, sometimes, other details are forged as well.
The fake certificates become the choice of an employee to increase his/her creditworthiness. When transactions with financial institutions are to be carried out, the higher salaries or reliable income details increase the chances of getting through with the transaction.
However, there are certainly other scenarios as well in which an employee creates a fake salary certificate. For instance, if an employee is a freelancer and the financial institution still requires a proof of the income, it would lead an employee to make a fake certificate.
In addition, sometimes, a company provides salary to its employees in the form of cash and not a cheque or bank deposit which means an absence of the provision of salary slips.
As proofs to the income are required when making borrowing transactions with banks or lenders, employees make use of 'fake salary certificates'.
Although the choice of fake salary certificates seems luring and easy at the required time, but employees need to understand that it is illegal to do so.
Being involved in such forgery and provision of incorrect information can force financial institutions to take legal action against them which would not just affect their credibility for later borrowings but affect their current and future probable employers as well.
Templates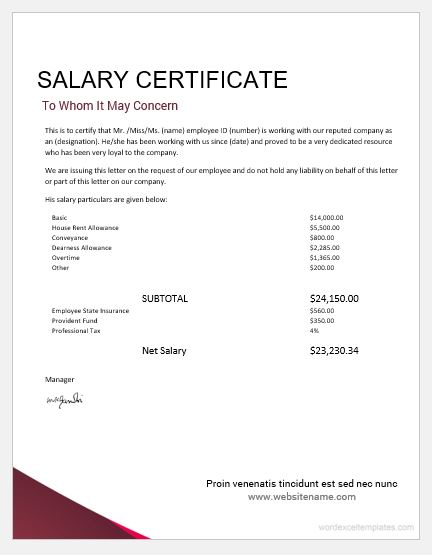 Format: MS Word [.docx]
---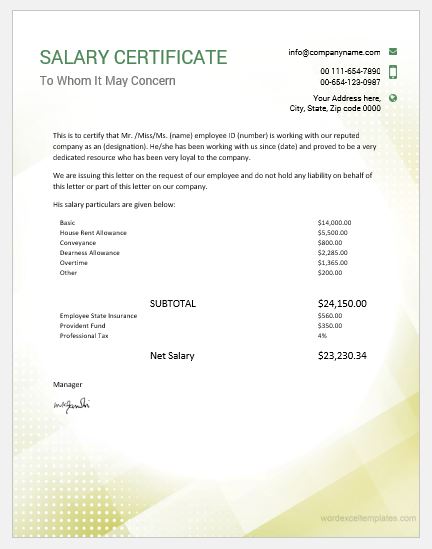 Format: MS Word [.docx]
---
Format: MS Word [.docx]
---
Format: MS Word [.docx]