The personality and behavior of a person strongly maneuver the society and surroundings. All the affiliated people are strongly affected by one's behavior and manners. It means that a person must be careful in every manner regarding the behavior and way of talking. One should also be using the words carefully. The abusive language is not at all acceptable both personally and professionally.
The people must be known to the general norms and manners before signing a job contract. Additionally, the terms and condition of signing the contract must also be read before signing. Similarly, the organization is also responsible for making sure that each member is doing well regarding the behavior and way of talking.
Sometimes, it happens that the authorities never take notice of verbal abuses. The victim then chooses for a resignation.
The resignation letter due to verbal abuse highlights the issue of verbal abuse against an employee and the writer declare his decision of quitting the job for the same reason.
The resignation can be put in different scenarios like:
When an employee is becoming a victim of verbal abusing. The higher authorities are just taking it light without any serious action.
When an employee is getting verbal abuses from the seniors/managers due to their unprofessional attitude.
When colleagues are verbally abusing for personal gain.
All these scenarios and many other similar to can lead to extreme anxiety. As a result, the resignation letter is sent. The resignation letter must show grievance and lack of trust so that organizations must understand their downside. Additionally, all interrelated names must be added. The dates, signatures and pertinent dates should be mentioned.
A sample is attached.
Sample Letter
This letter serves you as my resignation from the position of [INSERET DESIGNATION] from the company [INSERT NAME] effective [DATE].
I am very sorry to say that the environment of the workplace is not up to the mark and constructive at all. Though I am a newcomer to this company, this period is enough to understand the surroundings. I had no idea that abusing here is considered as a part of fun even during working hours which made me think otherwise.
Earning a good sum of money is not the only purpose of joining a company. In fact, a well-reputed organization teaches you professionalism and ethics and makes you an amazing person inside out.
In this company, from supervisors to the subordinates all use abusive language which negates mannerism and annihilates the decorum of organization.
This misconduct has affected me in a very negative way and therefore I have decided not to be a part of this firm anymore.
Undoubtedly, I learned many techniques and good things too in this short span and those will always benefit me in one way or the other. I am very thankful to you for that.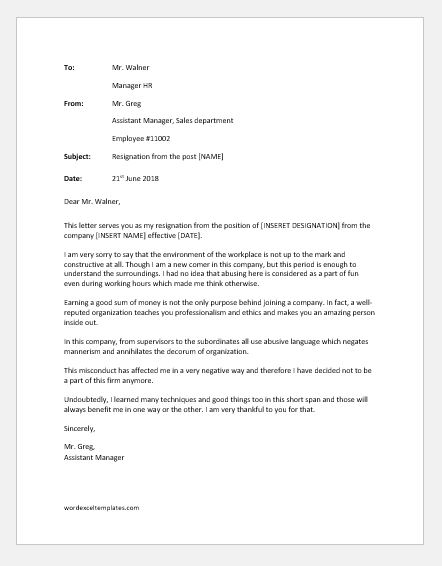 The letter template
Format: MS Word [.docx]
Options: Download