Any threatening or offensive behavior is always alarming for the individual. The innocent people always stay frightened due to harassment. Especially those who are so weak and cannot take any serious action in return tend to get more pain or worries rather than those who are strong and can cope up with this issue.
Harassment at the workplace is a common issue. Firstly, the organization should make sure that the planning and control regarding people's right are appropriate and nobody is a victim of harassment in any way.
The letter is written by an employee who believes that s/he has been harassed at the workplace. The letter is written in a formal tone and is presented to the manager. The writer lets the reader know that s/he is quitting the job for the reason.
A resignation letter due to harassment can be written in any of the following cases.
When sexual harassment occurs and no strict action was taken on the complaint. People put a resignation.
When senior authorities harass juniors for the sake of some personal gains. People write a resignation.
When colleagues harass other colleagues for the sake of pleasure and management never takes notice. People opt for resignation.
When employees are being harassed due to some natural disability and the management stays dumb in return. The affected put a resignation.
When the harasser harasses other colleagues due to religion, culture, cast etc. People opt for resignation.
Hence, the resignation letter due to harassment must be put promptly as a result of the dumb management system. The letter includes all the pertinent names, company name, and the address. It also includes the signature and desired date to leave. The reason must be detailed with all the references.
A sample is as follows.
Sample Letter
Please accept my resignation from the post [INSRT DESIGNATION] at the company [INSERT NAME] effective [INSERT DATE].
It was a difficult decision for me as I always loved working for this company. All the supervisors are very happy with my performance and it is my utmost guilt for which I am quitting the job. My colleagues started treating me in a strange way as if I have committed some crime.
It didn't stop here I am being harassed in the worst probable way by a group of employees. They treat me with dubious words for spoiling my reputation.
I tried hard to stick to my job but now it has become the need of the hour to leave. I complained to HR about this pathetic situation but of no use. I am explaining this to you so that any other employee won't have to suffer from the pain that I felt for long.
Once again thank you for your great moral support which made me capable of achieving whatever I aim.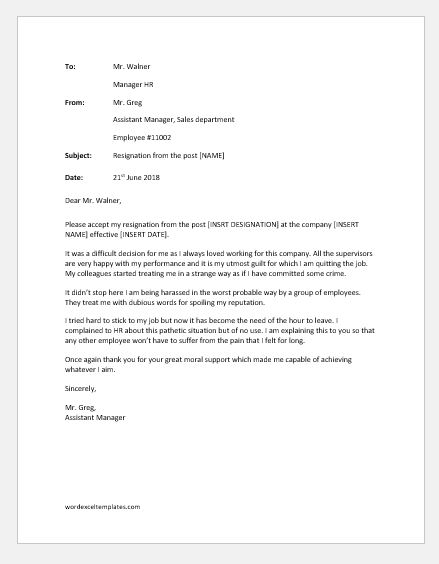 The letter template
Format: MS Word [.docx]
Options: Download